Jamie Carrier
---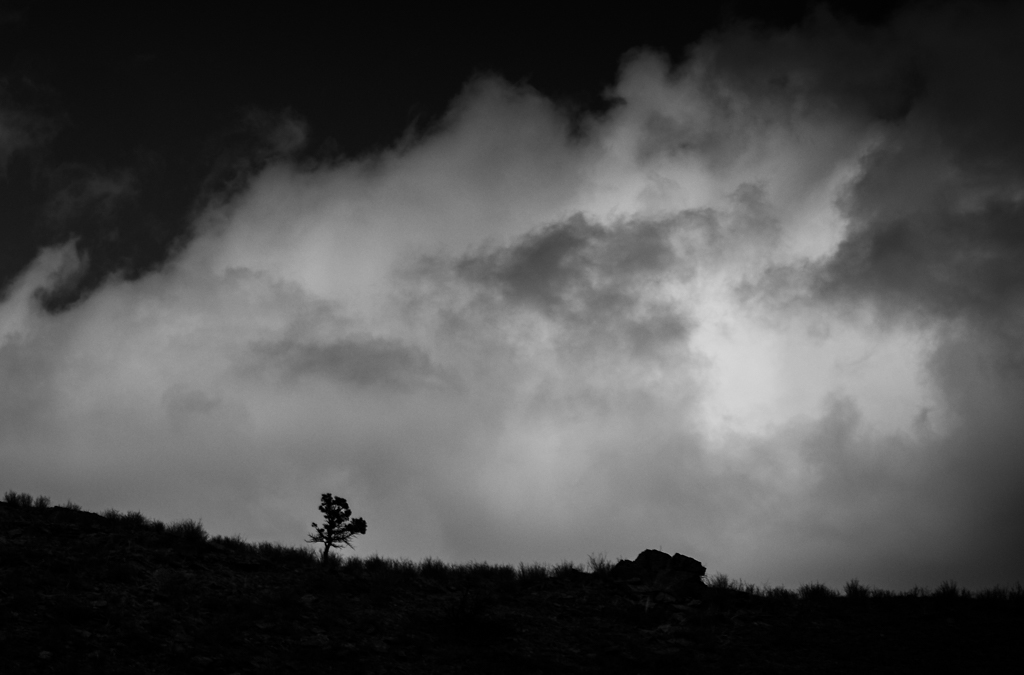 May 2020 - Lone Tree
Original
About the Image(s)
My husband and I had to get out of the house during this Lock Down. We took a drive up the Poudre Canyon. While my husband was flying his drone up and down the Poudre River, I took my camera and found some beautiful reflections, but nothing jumped at me to even process. I looked over my shoulder and found this approaching cloud and a lone tree. Black and white seemed to give me more to work with. I cropped, used the slider and worked with the contrast and exposure as well as sharpening and clarity.
---
This round's discussion is now closed!
6 comments posted
Julie Deer
Hi Jamie, I wonder if you could look at your crop again. I'm thinking a portrait orientation may work - but keep those wonderful clouds. I feel the foreground should either be lighter or darker. At the moment, I can see some hint of bushes and that takes my interest away from the tree as I try to work out what is there. I love the clouds and the mono treatment of the image. &nbsp Posted: 05/03/2020 20:28:36
---
Anne Nettles
Hi Jamie! Being a graphic designer, I am very drawn to this compostion because of its graphic qualities. I definitely think it is much stronger in black and white than color. Love the low horizon and the drama to the clouds. I also like the lone tree in the bottom left-hand third. The landscape format works well for me. I wonder if you took out the rock and replaced it with more grass using the clone tool or rubber stamp, that it might make your composition stronger. Odd numbers of subjects are typically more interesting than even. Take a look at English photograper Michael Kenna's work in black and white, your compostion reminds me of his work with lone subjects. I am attaching one of his more popular photographs from his 'Japan' series. He is hands down my favorite photographer. Nice job.
Photo credit Michael Kenna &nbsp
Posted: 05/07/2020 10:05:39
---
Andrew Hersom
This demonstrates the importance of looking behind you, there are images there. I think I am with Anne on this and agree that some severe cropping would be effective (yes, I know I crop too much). &nbsp Posted: 05/10/2020 10:32:29
---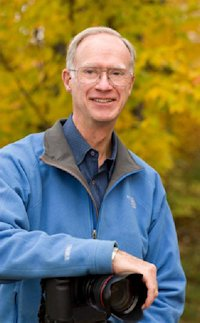 Henry Roberts
Jamie, I think that you are right that black & white works for this image.

For me, I personally am not excited by it. Perhaps if you cropped in closer to the tree and the bolder on the right it would have more strength.

Anne has some interesting insights to think about. &nbsp Posted: 05/10/2020 19:00:22
---
Catherine Honigsberg
I really like the black and white. I think I would crop the left to make the tree more important. Really gives you a cold chill! &nbsp Posted: 05/18/2020 13:47:24
---
Alison McMahan
Your instinct to take this image to B&W is great. It is absolutely a perfect image for B&W, with the cloud texture and high contrast.
I think it is perfectly cropped. If you crop further you will lose the black corner of sky which gives the image it's power.
I love the way the grass on the ridge is foregrounded by your cropping. Great work!
I've been looking for an article I saw recently that I thought you would enjoy. It was about how Ansel Adams dodged and burned "Moonrise over Hernandez." The sky in that image is black. The original sky is gray. Adams brought it down to black. When someone asked he said "of course the sky isn't black, have you ever seen a black sky like that?" He dodged and burned the hard way, with a wall of light bulbs at different settings that ran with a series of switches.
I think this is the first article I read:
https://petapixel.com/2018/11/07/the-story-behind-ansel-adams-iconic-moonrise-hernandez/
Here is another one that shows his dodging and burning setup:
https://photofocus.com/photography/a-look-inside-ansel-adams-darkroom-magic/
&nbsp
Posted: 05/28/2020 09:59:44
---