David Halgrimson
---
April 2021 - Mean Mean Stang
About the Image(s)
I took this last summer at Brainerd International Raceway during a TransAm race. I went to many different corners and finally found one where they were coming right at me and I could shoot from in front of the cars, yes, barricades and fence between us but there was a hole in the fence I could shoot through. They were close but they look closer than they were...kind of.

I used my Olympus EM 1 MK II, an Olympus 40-150mm at 90mm. Settings were 1/6400, f/4, ISO 800.

Processed in LR, adjusting the Highlights, Shadows, Whites, Blacks, Texture and clarity. Then opened in PS selected the car and added a Path Blur to the foreground and background.

Converted to B&W in Topaz Silver Efex Pro 2 and used the preset #6 High Structure Smooth.

I also included the original color shot and the color version after the Path Blur was added.
---
7 comments posted
---
---
---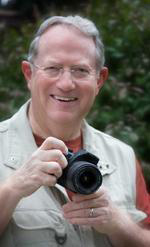 Jerry Hug
A winner Dave. Your added motion blur is the kicker! Very sharp image and I love the B/W better than the color which has a really bad orange? (My opinion)

Super conversion. Very impressive! Jerry &nbsp Posted: 04/02/2021 16:25:32
David Halgrimson
Day glow orange, beware! &nbsp Posted: 04/02/2021 16:33:44
---
---
---
M. Arfan Asif
Fantastic use of the filter to make a striking image. The ps work is very good. Good light to you. &nbsp Posted: 04/03/2021 11:03:28
---
---
---
Steve Knight
Terrific conversion. The path blur is the ticket. Awesome capture. &nbsp Posted: 04/04/2021 22:47:59
---
---
---
Vincent Cochain
The right man, at the right place (after having moved several times) at the right time, to take a marvelous picture.
You captured the sensation of power and speed. Very well-done.
The PS work also brings al lot to the picture. &nbsp Posted: 04/08/2021 05:50:37
---
---
---
Paul Hoffman
There is always one in the pack and its going to be me.
You have got yourself into a great position to capture the images of the cars and you have captured the car well. You have all the detail and advertising and importantly the race number. Monochrome conversion suits the image very well.
Lets start with the minor niggle, the back wheel and front left have hard white lines that need removing. Having spent twenty years shooting cars you always have to problem with blur, the camera will stop it dead in its track, you can slow to camera down to say 1/60 and shot at that to get some blur but you have to be spot on with your focusing. So you apply the focus afterwards. What you have applied does look dramatic at first sight, but you then realise that the car is going right to left and the blur is going left to right and behind the car looks like a vortex trying to suck the car back in. I have tried to do the right directional blur but I don't have your tonal work as I don't have topaz. &nbsp
Posted: 04/13/2021 08:39:54
---
---
---
David Halgrimson
Thanks, I see what you mean about the blur, it takes an experienced eye to catch that. Not sure what the hard white lines on the wheels are. I added blur to them for more motion, maybe that's what it is. I like your version it is more realistic, and, I like mine for a non-realistic but creative look, they both work for me. Great feedback, thanks for pointing out these things, if I try something like this again I will know more what to do or not to do. &nbsp Posted: 04/13/2021 09:40:41
---
---
---
Please log in to post a comment