David Halgrimson
---
November 2020 - The good Lord provides, sometimes through others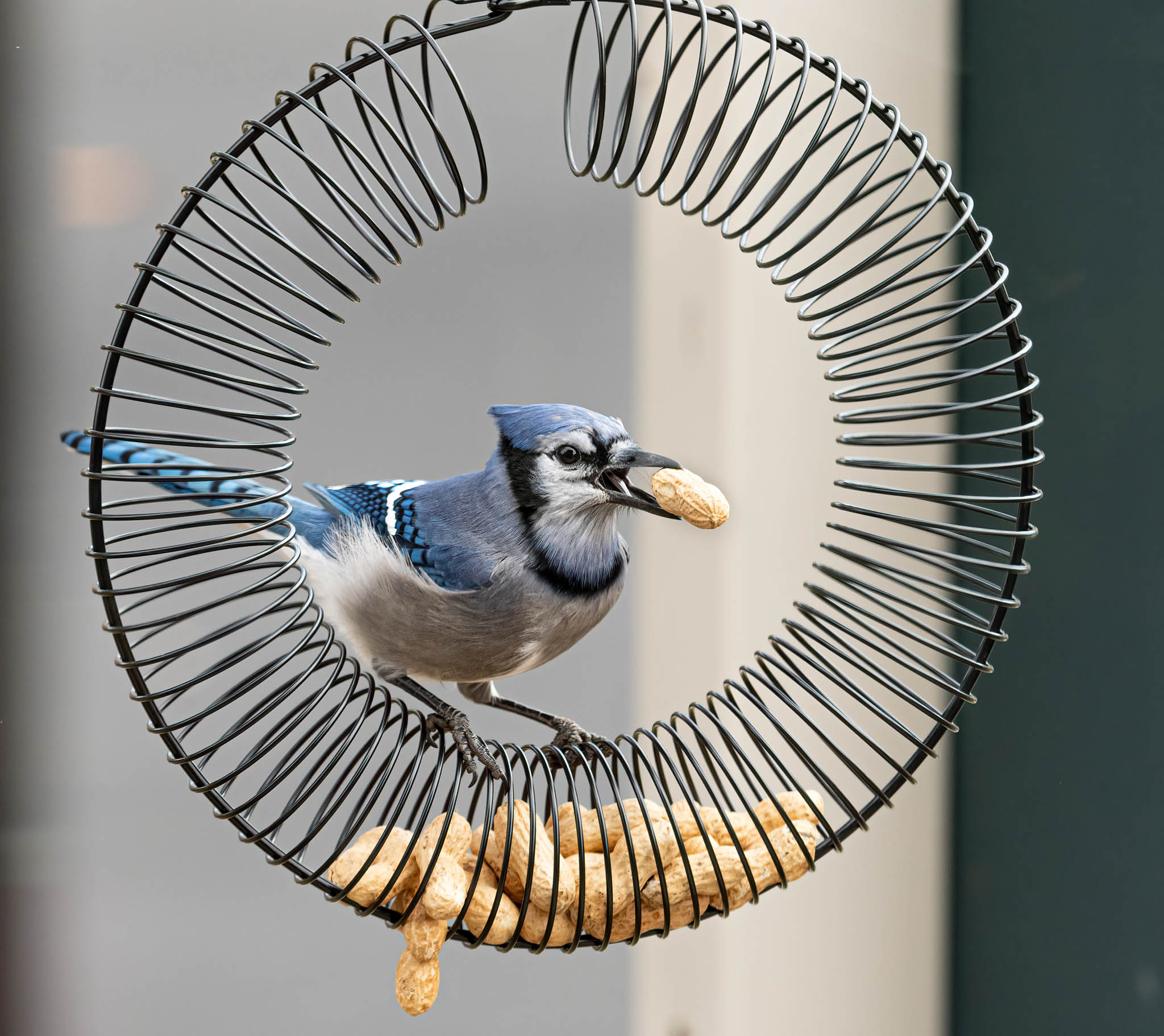 Original
About the Image(s)
I live in a small community of condominiums/townhomes and we have a sun room with windows on three sides. The grass area is only about 5 feet wide so we don't really have any yard. We do have a row of shrubs where I can put Shepard's hooks to hang bird feeders on. Never thought I could get Blue Jays to this small area but decided to try it this year. This feeder is like a slinky attached to a circular wire. The Blue Jays can pull the peanuts out pretty easy. So far they have taken about 20 pounds of peanuts. I set up my camera right up to the window so it is about 4 feet from the feeder. They don't appear bothered by me being that close so I can just shoot away. There is also a small tree near the feeder so I can also get more natural shots when they sit in the tree and peck at the peanut shell to open them. There is also a squirrel or two that come around for the peanuts but I have not gotten any shots of them yet.

Taken with an Olympus EM-1 MK II, Olympus 40-150mm at 150mm. Processed in LR by raising the highlights, shadows, lowering the blacks, adding texture and clarity. Then processed in Silver Efex Pro 2 using #23 preset and using a control point over the Jay. Then back in LR for a luminosity adjustment.
---
This round's discussion is now closed!
5 comments posted
---
---
---
Larry Crook
The light is beautiful in this image, the tones are very nice, and the bird's head and eye are tack sharp. I'm a bit bothered by the background on the right. If you moved the camera to your right a little you might get a more uniform background. The slinky feeder looks good, but I would like to see the entire top - "the circle unbroken". This is an excellent example of making interesting images while staying home. &nbsp Posted: 11/16/2020 11:57:29
David Halgrimson
I agree with the background and getting more of the feeder, the problem is, the window I was able to shoot through is pained with no way to move the camera. Since taking some this way I moved the feeder to change the background. Still the pains in the window will not let me shoot wide so getting all of the feeder is near impossible. We have to take what we can some times I guess. &nbsp Posted: 11/17/2020 12:33:32
---
---
---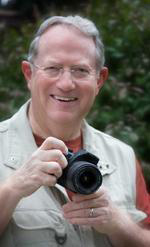 Jerry Hug
So neat. What a creative way to have winter shooting fun and for sure with the Covid 19 times we are living with. You have also found a way to avoid reflections through the glass. Everything is tack sharp. The B/W really gives a winter look. Very nice Dave. &nbsp Posted: 11/23/2020 06:08:48
---
---
---
M. Arfan Asif
Interesting one Dave. I like it. I had concerns on the background being split in an odd way and not having the complete element in. But after your response I understand the inherent challenges and agree with you, that we need to take what we get and you did the best possible. Also agree with Jerry. Indeed we have to make the best of the possible during these tough times. &nbsp Posted: 11/24/2020 01:22:10
---
---
---
Vincent Cochain
Everything is already mentioned.
First comments when seeing the picture are the good sharpness (+) and the cut circle (-). A circle in a square format is always great.
We didn't always pay attention at the background when taking a picture, but as mentioned, if possible it can be improved to improve the picture.
I think beautiful pictures are taken within 5 miles from home and not
5.000
miles in a safari. Good job? I have not yet done it, and I should. &nbsp
Posted: 11/26/2020 02:40:02
---
---
---