Larry Crook
---
November 2020 - The Elk
Original
About the Image(s)
My wife and I went to the Hoh Rainforest in the Olympic National Park last month and as we were driving out we saw this elk by the side of the road. My wife pulled over so that I could take several shots. He stopped eating grass, slowly raised his head, looked at me, and then walked away.

The camera was a Nikon D750 with a 28-300 zoom lens shot at 28mm. F 3.5, 1/250 second, ISO 1,250.

I converted the RAW file into black and white using SEP2 - starting with preset High Dynamic Range.
Finally, I removed the spot on his shoulder in PS using the clone stamp tool.
---
This round's discussion is now closed!
5 comments posted
---
---
---
David Halgrimson
Larry, this is quite dramatic, looks like you are about 10 feet away. I think I prefer the color version as it shows more detail in its face and head. Yet, the B&W has great contrast and tones. The DOF is very well done as I can seen into the woods behind the Elk and it feels like standing there. I have been to the Hoh Rainforest, spent about 7 days in the Olympic National Park just photographing, never saw anything like this though. A great place for photo ops, would love to get back there again. &nbsp Posted: 11/04/2020 21:03:50
---
---
---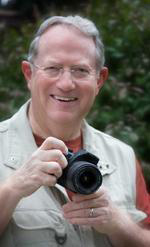 Jerry Hug
Again, I very much like the B/W version over the color. The textures and hair on the back of the Elk are outstanding. I probably would have taken that one little spot off his back. Good shadows and wonderful highlights. Jerry &nbsp Posted: 11/06/2020 12:49:56
---
---
---
Paul Hoffman
You do have his attention, the detail on the monochrome version is very strong, the hairs on the body that have come out is very good. I love the shape of the head and ankles to the body and he does look like he is about to charge you.
Quite dramatic shot for a drive by shot, every time I have tried this they have run a mile, what aftershave do you wear? &nbsp Posted: 11/13/2020 07:14:11
---
---
---
M. Arfan Asif
Good one Larry. The image is interesting and has its own charm. The tonal quality is good, but the blacks are a bit muddy and need to be dealt with slightly below the mouth and
legs.The
other areas are well handled. Also if you have a few mm below and on top it would help as I see it a bit tight at the lower and upper edge, but more at the lower.I think you were quite close and therefore the resulting compo. Still a good one and I like the moment you captured. &nbsp
Posted: 11/24/2020 02:04:29
---
---
---
Vincent Cochain
Incredible to have the elk taking the right pose for your picture. His look and position are perfect.
28 mm, really close to him. The frame is just at dimensions. No time to change of lens... &nbsp Posted: 11/26/2020 06:21:20
---
---
---