Paul Hoffman
---
November 2020 - Lady Chapel, Chester Cathedral.
Original
About the Image(s)
Hope you are well and safe, mad time for you over there, 31st and elections at the same time.
Good luck. I have included the colour version for comparison.

Stay well.

Paul

Sony A550 – Minolta 17-36mm 2.8 @ 17mm ISO200 F16 2.5secs. Tripod

Turned monochrome and some tonal work in Lightroom. In PS, solved converging verticals, work in the separate grey tones with TK7 panel Luminosity Masks. Slight Smart sharpen and keyline.

Chester Cathedral was founded as an Benedictine Abbey in 1092, the original church was built in the Romanesque or Norman Style which part is still visible, The Cathedral you see today was started in 1250 and to complete took 275 years. With its red brick formation is does stand out and it sits dead center of Chester. I did my normal checks to see what was on and all was clear an turned up to spend an enjoyable day in the Cathedral to find the BBC had turned up three days early to set up for a programme that was not happening for a week. So, I was only able to see the side chapel, cloisters and the tea rooms which was lovely as they have the full history of the Kings and Queens, wives and direct siblings on the wall.

I have included the colour version so you can see how the glow of the lights works so well with the bricks of the Cathedral. Must go back when we are allowed out to play again.

---
This round's discussion is now closed!
6 comments posted
---
---
---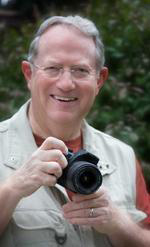 Jerry Hug
Paul, I love how you have mastered TK Luminosity Masks. This B/W interior just zings in my heart. You really have so much control of the lights. Many of my interior church shots are good but the lighting is usually over bright and when I go to select each light and work on it, the bulb becomes a very ugly grey. There is no question in my mind that I need to learn how to do them especially with B/W.

A very unique Cathedral. I do like the B/W over the color. I get more into the age of the building with B/W. I would not tire of looking at the B/W version but I would of the color. &nbsp Posted: 11/06/2020 12:42:54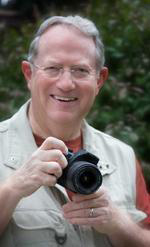 Jerry Hug
This image will make a great gallery print. Bravo! &nbsp Posted: 11/06/2020 16:42:26
---
---
---
David Halgrimson
Great details, tones, contrast and lighting. The vertical format and low perspectives provides a good DOF. Even though it is good as a vertical I wish I could see more on each side, feels too narrow. For whatever reason the color version appears wider, just a visual anomaly maybe. Still a strong image. &nbsp Posted: 11/07/2020 13:54:24
---
---
---
Larry Crook
The color version is very warm and inviting and makes more of an emotional impact on me, while the b/w version is more about the detail. Technically, the b/w is excellent but I don't get the emotion impact. I think it is a matter of taste and of what you are going to do with the image. Even if you hang a print (color or b/w) on a wall it would depend on what wall, what else is on the wall, and so on. Good work! &nbsp Posted: 11/16/2020 12:13:18
---
---
---
M. Arfan Asif
Very nice Paul, liked the way you handled the tonal challenge in this one. One day I should learn the luminosity mask process. I use simple black and white conversion in Photoshop. I agree with Larry on the warmth and emotion of the color version and the technical quality of the mono. Both have their spice and sometimes we can like both. Why not. This is an example of an image working in both mediums. &nbsp Posted: 11/24/2020 01:54:32
---
---
---
Vincent Cochain
Good exemple of an image with the attraction and the warmth of the color, and the force of the B&W. Difficult to choose if we had to.
The symmetry is important in such image and is perfect. No deformation or well corrected.
A picture we would like to take.
&nbsp Posted: 11/26/2020 03:56:27
---
---
---