Paul Hoffman
---
September 2020 - Claire
About the Image(s)
Minolta 7D – Tamron 70-200mm 2.8 @ 70mm ISO100 1/125 f6.3 two flash head

This is Claire, possibly my favourite model I shot, she is stunning beautiful and has the most amazing eyes, you have seen an image of her before entitled "My Ascot Hat". We had to be careful what we had to shot as her job was a primary school teacher.

I used two flash heads, one set to the left high main light at about four feet, the second was off directly to the right high at 20% to give this nice shadow down the right edge. Processed through Lightroom and turned B&W owing to the orange channel, which is great for portraits, Skin and hair tidy in PS using mask and brushes. Smart Sharped where needed.

Hope you like.
---
6 comments posted
---
---
---
Larry Crook
A beautiful image of a beautiful subject! Technically it looks great. If I were paying for a portrait I think I would want more of her personality to show in her expression. I think you probably wouldn't mind trying again. &nbsp Posted: 09/05/2020 14:15:30
---
---
---
David Halgrimson
I find the lighting somewhat harsh and soft at the same time. She is staring right in to me with those eyes. seems a little off balance with the long hair on the right and the too close crop on the left. Still a strong image. The eyes, the eyes! &nbsp Posted: 09/05/2020 14:24:22
---
---
---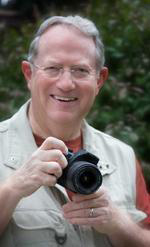 Jerry Hug
I really like the expression. Wonderful tonality. Possibly a little too tight cropping in the left side, but you may have done this for a reason like for a passport?

Beautiful subject. &nbsp Posted: 09/06/2020 09:56:12
---
---
---
M. Arfan Asif
Interesting. A bit more of expression/emotion would help as I find her a bit stiff. Also there is tension at the left due to the tight crop. I am not sure due to the processing her eyebrows have been affected. The mix of softness in post processing and incident harsh light has not helped much for this character. Still a good try. &nbsp Posted: 09/09/2020 00:39:04
---
---
---
Vincent Cochain
I can imaging that a lot of people would/could say, very beautiful image and woman.
I agree with them, but I have some comments.
Her eyes are very beautiful. I like the position of the hair and the earring on her right, well done. The skin is (almost) perfect.
Her mouth is beautiful, with beautiful lines and shapes, but I don't like it. I find it is "too much" (too perfect maybe) and it is in opposition with the eyes.
Very strict look. Maybe too much to really appreciate the image.
This is my opinion. &nbsp Posted: 09/14/2020 15:08:00
---
---
---
Vincent Cochain
I can imaging that a lot of people would/could say, very beautiful image and woman.
I agree with them, but I have some comments.
Her eyes are very beautiful. I like the position of the hair and the earring on her right, well done. The skin is (almost) perfect.
Her mouth is beautiful, with beautiful lines and shapes, but I don't like it. I find it is "too much" (too perfect maybe) and it is in opposition with the eyes.
Very strict look. Maybe too much to really appreciate the image.
This is my opinion. &nbsp Posted: 09/14/2020 15:08:01
---
---
---
Please log in to post a comment