David Halgrimson
---
June 2020 - Baltimore Oriole
Original
About the Image(s)
Took this last week in Sherburne National Wildlife Refuge. I go there quite often, especially now in the spring with the birds migrating through. This is a Baltimore Oriole. I drive through this area looking for birds and other critters and this one came and hovered at m car window, left then came back and hovered again, then went and sat on this brach and posed for me. We worked together long enough for me to get a couple dozen images, made my day.

I processed in LR, very little, then converted to B&W in LR followed by Topaz Silver Efex Pro 2 where I used #27, Soft Sepia, and made a few adjustments there, one to brighten the bird some to separate from the background.

I used my Olympus EM-1 MKII, with an Olympus 300mm prime lens, 1/1250th, f/4 for shallow DOF, ISO 1000 because it was overcast and still early am.
---
This round's discussion is now closed!
8 comments posted
Larry Crook
Very nice image with good sharpness and great separation of the bird from the background. The eye does not stand out but a black eye on black feathers is a hard situation to work on. I actually prefer the color version - it grabs my interest more. &nbsp Posted: 06/05/2020 13:51:19
---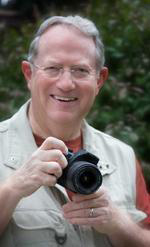 Jerry Hug
I also like the color version. The B/W works though.

You might want to consider cropping from on the left side. This would take the bird off center and get rid of a lot of negative space. Very sharp. &nbsp Posted: 06/05/2020 15:50:27
---
M. Arfan Asif
Interesting image. My opinion it looks better in color and agree with Jerry, the left is negative space and requires a crop. The eye and surrounding area are in close tone and therefore the challenges. The sharpness and perch are good. &nbsp Posted: 06/07/2020 02:24:31
---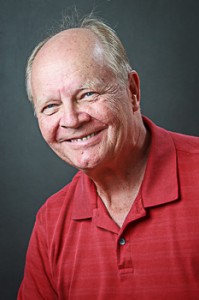 Jerry Funk

(Groups 20 & 64)
That looks like an interesting location.
I'd prefer to see the left cropped and the eye brightened a bit. Colorful birds are most appealing to me too. &nbsp Posted: 06/09/2020 15:11:16
David Halgrimson
Jerry,

You know you can't modify Nature shots. Just kidding, I agree. Thanks &nbsp Posted: 06/09/2020 15:32:57
---
Paul Hoffman
What catches my attention with this image is the position you have the bird in and the effect of the bird appearing around the stem to see what is there makes this a very endearing image to view.
Pin sharp where it needs to be and just enough detail in the eye to hold the viewer's attention to the head.
A crop of the left to make this more right bias would suit as that is the direction the bird is looking in.
The colour is also very good but could do with a touch of tonal work.
Lovely capture. &nbsp Posted: 06/12/2020 08:00:42
---
Steve Knight
I'll have to agree with Arfan and both Jerry's on this one. I would go with the color one cropping into a square shot. This is the perfect shot for a square image with the stalk coming from the bottom left and moving across the frame. &nbsp Posted: 06/12/2020 13:48:34
---
Vincent Cochain
Not easy, nor original to be the last to comment.
At first sight, I would have worked in vertical, as already mentioned.
I prefer the color version for the yellow, that brings contrast of colors.
I really appreciate the position of the bird legs, and its attitude. It gives the impression to look at you for the picture. &nbsp Posted: 06/15/2020 04:34:32
---