Paul Hoffman
---
June 2020 - Best Day of Steam
Original
About the Image(s)
In December, the Gloucester & Warwickshire Railway hold their largest steam festival of the year. On this day we had the most perfect conditions, temperature about -2 with the amazing sunrise behind me and site of first steaming. You have seen the trains on the right before, the one far right is The City of Truro leading a double header with the Foremarke Hall. Beside it is the black price, but you only saw a glimpse of this wonderful little engine. The 65462 (Ger546) was built in Stratford works in 1912. Spent most of its working life in the East of England mainly in Norfolk and Suffolk. Finally, being decommissioned in September 1962. After many owners it end up at North York Moors Railway where it still runs today.

The sad note, the other three trains now do not run any more, Black Price has been moved to David Shepard's private collection, he has owned it since is decommission. The City of Truro is now at the York Railway Museum, which is a must visit for any train fan. The Foremarke Hall boiler blew and they have just raised the money to start the rebuild, so in 10 years in may be back.

Canon 30D – Canon 18-124mm @ 18mm ISO400 1/320 F11

Balanced in Lightroom and turned monochrome, in PS using luminosity mask toned and balanced, slight smart sharpen.

I have included the colour version that I enter in competitions and it did well.

I have been to many day of steam, but this is the day that makes me smile when I remember it as the situation was so special.
---
This round's discussion is now closed!
7 comments posted
David Halgrimson
This is a very strong image, love how the tracks lead in to the trains and the smoke and clouds are an added plus. That said I think the color image is even stronger. &nbsp Posted: 06/01/2020 18:14:32
---
Bob Laster

(Group 5)
Enjoyed seeing this image very much. It reminds me of the images of Steiglitz or the French Impressionist paintings of the Paris station. What do you think of slight cropping on the right and the light above the cab is not on the color version. It competes a little to me. &nbsp Posted: 06/04/2020 08:00:17
---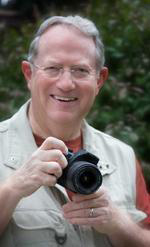 Jerry Hug
Wonderful B/W image. I do prefer the black and white version. So interesting to have some engines giving off black smoke and the one in the middle with white smoke of steam?

The heavy tree on the right edge could be cropped off and not hurt the image.

You must of really had fun capturing this image. Jerry &nbsp Posted: 06/05/2020 15:56:12
---
Larry Crook
The overall image is great and the B&W version is well done with great composition and excellent tones. The light on the engine in the foreground is wonderful in the color version but seems to have gone flat in the B&W version. &nbsp Posted: 06/05/2020 18:14:46
---
M. Arfan Asif
Interesting on Paul. I would be confused between the two mediums. Both seem apt and could work well. I note that the potential of the monochrome has not been tapped completely. I see some flatness and in some zones like the smoke on the train behind dull. I feel if the image tonality was improved, you would get more punch out of this image. It is a good frame to work on and I also recall Steiglitz images (Hand of Man series) of steam trains emphasizing those leading lines on the tracks. I agree with Jerry on the tree at right edge. Good work Paul. &nbsp Posted: 06/07/2020 02:58:33
---
Steve Knight
You've captured the lines beautifully. I'm tipping toward the color version. Though I really like the B&W, the color shot has a vibrancy that is, for me, missing in the B&W. In the color version you've also removed the floodlight that is growing out of the cab in the B&W. The bright spots presented by those lamps in the center of the photo keep drawing my eye away from the train. &nbsp Posted: 06/12/2020 13:39:16
---
Vincent Cochain
Both images have positive points.
In the color one, the light of the sun is beautifull, but the shadows are important and quite disturbing. The smoke of the 2 locomotives in the back is well visible.
In the B&W, the shadow are less present.
Very beautiful sky with clouds. The smoke of the loco in the front attracts the attention. Same opinion for the rails (guide to the the locomtives in the back) and the tree on the right which is (a little) too present.
&nbsp Posted: 06/15/2020 05:07:24
---