Steve Knight
---
May 2020 - Untitled
Original
About the Image(s)
This image was taken in Great Sand Dunes National Park in Colorado on late November evening last year. I only had a couple of hours to visit due to another commitment an, of course, the lighting for what I wanted to accomplish was awful that day. This was shot from just off the entrance road to the park with a Canon 6D and a Canon EF100-400 f/4.5-5.6L IS USM lens set at 200mm. As I was shooting handheld, I set the ISO at 400 to get a very fast shutter speed due to the f11 aperture I was using. The shutter speed was 1/1250 sec.

Though I knew what I wanted the final black and white image to look like, I've struggled to get there as the lighting was so flat. I converted the original to B&W in Photoshop using a B&W adjustment layer, then played around with a levels adjustment layer to get the image close. Back in Lightroom I did a bit of burning and dodging using numerous radial filters and some selective nurturing with a texture brush. If anyone has any additional advice, please lay it on me.
---
This round's discussion is now closed!
8 comments posted
David Halgrimson
I think you have brought out what you could, considering the light you had to work with. Each layer is well defined from the others and the tree stands out well and is a good base point. If anything it might be a little too contrasty or sharp. &nbsp Posted: 05/03/2020 13:12:49
Steve Knight
I tend to think it is a bit too contrasty as well. The image I printed and framed is more akin to the one Larry developed. &nbsp Posted: 05/06/2020 15:20:52
---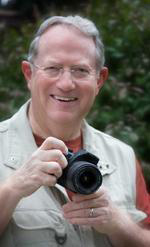 Jerry Hug
Steve, In look at the original and see a very flat even lit image. Many times that is what I want before concerting to B/W. If anything, I pump up the colors to give a little more separation of tonality in the converted B/W version.
The sand is not real. In would never know that it was sand. I think each of the three areas should be treated in different layers. Each requires different setting of contrast. &nbsp
Posted: 05/04/2020 09:53:03
---
Larry Crook
I also tried my hand at your original. I ran the file through Topaz jpeg to raw AI and opened it in camera raw, where I increased the color saturation by 50%. Next, I adjusted the levels in PS, and then in SEP2 I used the preset #5 (high structure harsh) and finally increased the whites and contrast to 40% each.
Your image is wonderful, and it is possible to print it in many different ways. &nbsp
Posted: 05/06/2020 12:33:05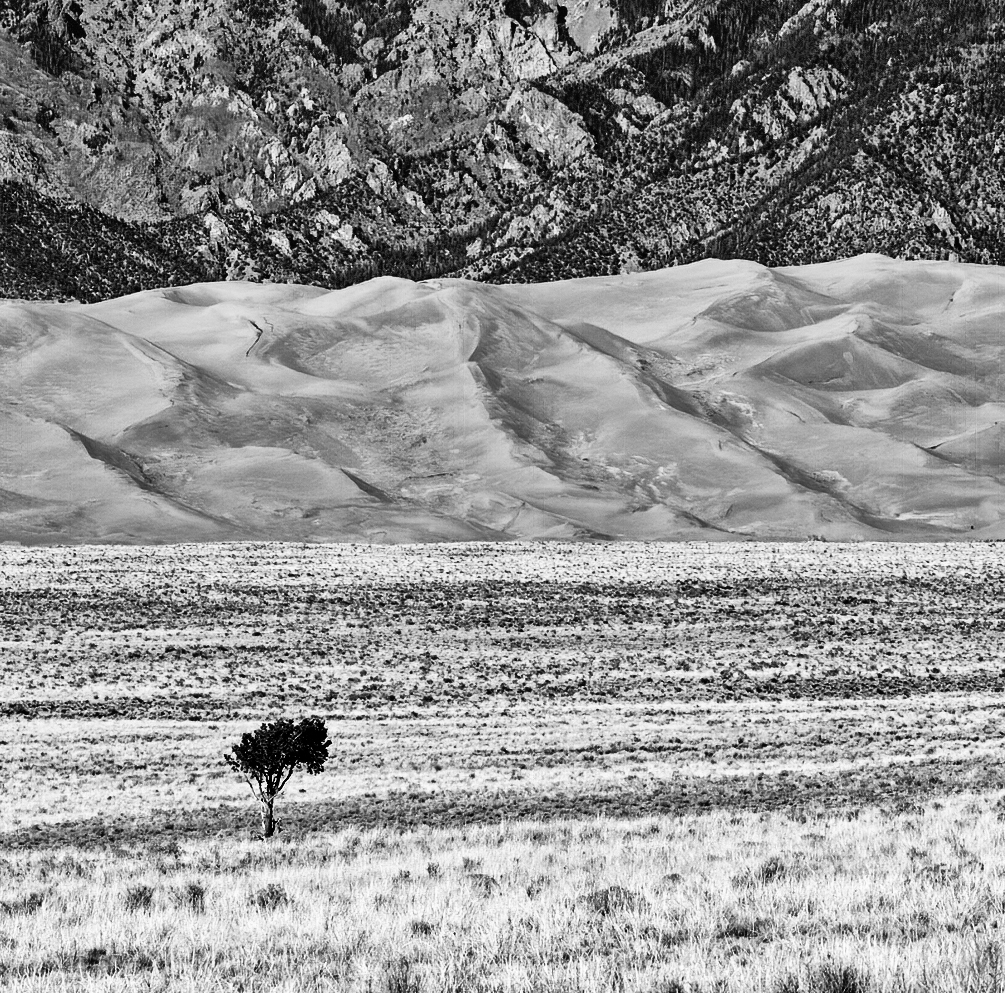 Steve Knight
I tried about five different iterations of this image. The one I would up printing for a FotoFest exhibition is much, much closer to this one you pulled together. This shows much better depth than the one I submitted to this round particularly between the dunes and the mountains in the background. Thanks, this helps a lot.
&nbsp Posted: 05/06/2020 15:26:09
---
Paul Hoffman
This does show off the power of this planet well, with those three vastly distinctive and different layers of the planet and how important is that tree for holding the image and scale.
I do agree that the work you have done has turned the sand into a form that would appear if a dragon had breathed fire on it. Both alternatives work in their own way but I do wonder if having that small touch of the sky gives the viewer a touch more of reality. &nbsp Posted: 05/17/2020 06:38:49
---
Vincent Cochain
The composition is great, I like it very much. The 3 parts (areas) of the image and the position of the tree.
As done by some of us, there are many options to treat the image. It depends on everyone's sensibility. However, I think on each case we have to keep the structure of the tree and its leaves, so not too dark.

I like the "of course, the light was awful".... I like the comment (the "of course"...), not the fact the light was awful... We also need some luck to take pictures... &nbsp Posted: 05/26/2020 01:54:59
---
M. Arfan Asif
Very interesting image and discussion here. I agree each one of us would interpret it differently. My opinion is in sync with Larry's version. The original is high on contrast. Think about using dehaze along with clarity and combining the two to get the desired effect. I have done this to soften the image or a particular region which you find contrasty and it works well for landscapes. Sometimes the contrast decreases the impact and the blacks get eaten up as I note in the original. The tonality can definitely be improved and indeed a good discussion here. Good light to you Steve and good luck with the exhibition. &nbsp Posted: 05/26/2020 04:25:50
---