Vincent Cochain, EPSA
---
May 2020 - Mountains
About the Image(s)
Technical: 1/200, f/14 ISO 200 at 56 mm (FF)

Picture of July 2019 (Grand Teton NP).

I worked with LR (classical corrections of sharpness and objective) and the light (decrease of the highlight (-80) and increase the shadow (+90)). I worked in color because I found the picture beautiful (nice colors). Yesterday I attended the PSA Webinar of Don Toothaker on the B&W. He showed images from this NP in B&W…. I worked again my image, but in B&W. In B1W, I reduced the blue.


Thanks for your comments.

---
9 comments posted
David Halgrimson
I have been here a few times, the Grand Tetons are some of my favorite places ever. I was there just last June, which I was going this June.

Great location with a great reflection and about the best composition to get there. Some vey nice clouds and good detail. I find the B&W to be flat overall with all the same tones. The original is a bit dark but has all the detail needed to make a great image. The adjusted color image looks a bit too bright but stronger than the B&W because the colors give some tone separation between the sky, trees, mountains and lake. There is still lots of info to work this image into a stronger one. &nbsp Posted: 05/01/2020 13:34:13
Vincent Cochain
---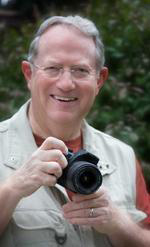 Jerry Hug
Yes, I like the revision. I also watched the Don Toothaker webinar and was very impressed with his approach to B/W and his results. I would recommend everyone in the group to watch the Webinar when is available to all PSA members on line. (I did one one the iPhone last August). His night images and how he uses color images and boost up the color before converting the images. Also he has 2 cards in his camera. So he shoots B/W jpegs so he can view the B/W image in the LED screen and in the second card he is recording a RAW color image. Angel always went for a good black and good highlights in every image. That is why he developed the Zone System of expose for the shadows and develop for the highlights.

Nice image Vincent. Jerry &nbsp Posted: 05/02/2020 11:05:55
---
David Halgrimson
Vincent, that new version is right on, looks much stronger. Well done. &nbsp Posted: 05/02/2020 12:35:40
---
Larry Crook
Vincent Cochain
Hello Larry,
No problem at all. On the contrary, thank you for the initiative and effort, and the suggestion.
My initial image needs contrast... &nbsp Posted: 05/06/2020 04:45:22
---
David Halgrimson
Larry, that works also. &nbsp Posted: 05/02/2020 13:52:01
---
M. Arfan Asif
Vincent, very nice image. When my club judged an inter PSA travel, we saw a few from this location and it shows the same view. As one who has done landscapes, I feel this scenario suits the color medium more as the color content is the highlight. In the mono you have a challenge for this subject and you need to show tones which I note the original is lacking but can be improved. I like the version from Larry. Many of the inherent colors are in the same tone/light intensity and reflect merged in the mono without separation. As Jerry mentioned the scale of tones in an Ansel makes the image. Ansel was a craftsman who avoided the tonal mergers more with the dodge and burn tools used in traditional approach much more than the zone system. The zone system could only give him an exposure but could not separate colors with the same tone when printing mono. Your image has great potential and as every here indicated with more work can be a fantastic one. &nbsp Posted: 05/12/2020 01:07:09
---
Paul Hoffman
This is a beautifully composed image using the natural bend in the river to its full effect, the placement of the mountain and its reflection is wonderful and I would have loved to have been there.
I do agree that the mountain and river could do with a touch more contrast a depth as it is coming across a touch flat. I think David is very close to perfect where Larry has pushed it too far and is taking away from the beauty of the image. Well done. &nbsp Posted: 05/17/2020 06:31:22
---
Please log in to post a comment