Paul Hoffman
---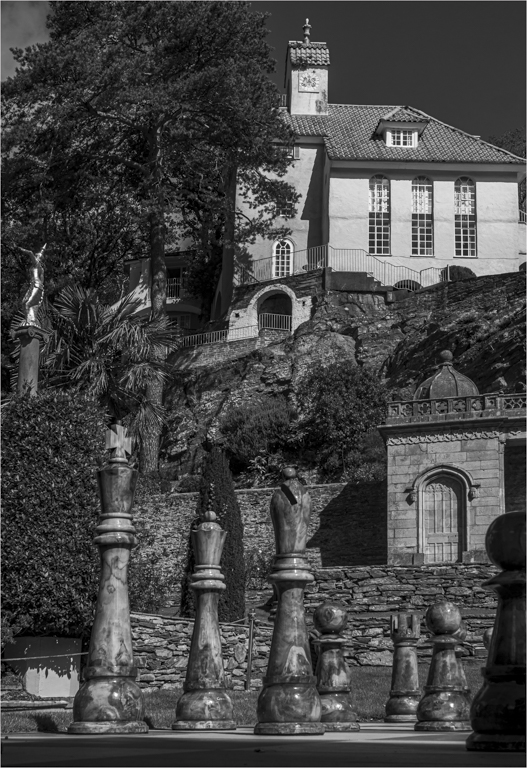 October 2019 - House on the Hill
About the Image(s)
Sony A77 – Sigma 18-35 1.8 DT ART @ 30mm ISO100. 1/350 F8 UV

Turned monochrome in Lightroom and slight tonal work. Photoshop for TKV7 Luminosity mask and tonal work, I also removed a very large sign that they stuck on the front of the castle by cloning the front of the pawn and rebuilding with layers. No sharpening. No Vignette as I thought the tree and the shadow held the image.

Portmeirion is Clough Williams Ellis attempt to build the perfect utopia without spoiling the surroundings it is built-in. The whole event took 51 years to complete, (1925 to 1976).

The village is best known for the 1960/70's TV series "The Prisoner" starring Patrick McGoohan. It is also famous for its pottery which has been going for many more years than the village. This is a must-visit if you are ever in the Snowdonia area.

Tony Kyper V7 Lunimosity Panel. I have been a fan of this since its outset and as you know have been using it for nearly all my work, but Tony has just done an upgrade that I personnel think moves tonal photography on with his development in his colour mask and do think it would be a good idea if you are Photoshop workers to look into its abilities. Shawn Bagshaw on YouTube is a good place to start if you are interested. Sorry for the sales pitch, but I do think its that good now.
---
This round's discussion is now closed!
2 comments posted
David Halgrimson
The light on the building is great and the overall detail sharp. The chess pieces work well with the subject and provides an interesting touch. It is a little like two images leaving me looking back and forth between the chess set and the castle. I find the crop to be too tight, part of the roof on the right is cropped into along with one of the chess pieces and the statue on the left is right at the edge, and all but the main building is very dark and difficult to see details, did not see the chess pieces until I looked harder and because the building drew my attention. &nbsp Posted: 10/02/2019 23:16:53
---
Vincent Cochain
Two main subjects in this picture. The house and the pieces of the "chess game". They form a kind of triangle with a summit in the left center. That gives a nice and interresting frame.
Good light on the house. &nbsp Posted: 10/25/2019 08:34:40
---