David Halgrimson
---
August 2019 - Sweetflag Spreadwing
Original
About the Image(s)
This is a damselfly I found yesterday when doing my roving in the Sherburne Wildlife Refuge near my home. There are many butterflies, damselflies, dragonflies, moths and other critters in the refuge now and it is fun a nd a challenge to get pics of them. This little one was sitting on a sprig of grass in a pond, it was in the shade so I used a Better Beamer on a flash to light it and to stop any movement.

Taken with a Lumix GX8, an Olympus 300mm prime, 1/1250th, f/8 and ISO 3200. It was handheld, the lens has image stabilization and a macro switch.

In Lightroom I adjusted the overall exposure down, a little too much flash. Changed to B&W in LR and adjusted the Red, Orange, Yellow, Green, Aqua, and Blue using the targeted adjustment tool.
---
This round's discussion is now closed!
8 comments posted
Paul Hoffman
I love the triangle shape you have formed with the Damsel and the stem. The mottled bright area on the left balanced the image very well. The body is sharp but those wings are falling off. The Damselfly does come over a touch dark for my taste. &nbsp Posted: 08/15/2019 08:28:46
---
M. Arfan Asif
Interesting one Dave. For me nature looks best in its natural color. Still nature can be presented in mono for aesthetic value and not natural history info. You have used the mono medium to advantage basically because you have 'Good Light' ! It works well and you have sharpness where it matters and the depth of field is quite in, though the far wing has gone out. Still it has good impact. I am not sure why I see some pixelation in the patches in the background. Probably on my screen I am seeing it a tad lighter than Paul who has mentioned it is dark. Good one Dave. &nbsp Posted: 08/16/2019 13:27:43
---
David Halgrimson
Thanks for the comments. I find it difficult to get these macro type shots with the subject in full sharpness as in the left wing, without also getting the background in focus, still working on that. There may be a little pixelation in the background as the crop was a bit close. &nbsp Posted: 08/16/2019 14:47:28
---
Steve Knight
Though I prefer the color version ( those blue eyes!) the mono is quite well done. I just think it's amazing you got the shot as sharp as you did. I've never had any luck shooting these things. They seem to have a preternatural ability to know exactly when I'm going to trip the shutter. &nbsp Posted: 08/16/2019 15:57:31
David Halgrimson
They are not easy, I find that when you find one sitting, stay there, they tend to return often, then you can be ready when it does. &nbsp Posted: 08/16/2019 17:23:31
---
Larry Crook
The eyes grab my attention but then I'm drawn to the white stripe at the end of the body, and I'm not sure where to look. But it's a great shot, very sharp. It seems a bit dark to me and might be more dramatic if the brightness and contrast were increased. Then again, I have no experience with this type of photography. &nbsp Posted: 08/17/2019 16:11:34
---
Vincent Cochain
Not easy these pictures and not my speciality…
I prefer it color. Distinction of the different parts is easier.
Even if the "mottled bright area on the left balanced the image very well" (see comment of Paul), i would have try a more "squarre" format to complete the triangle shape made by the tail and the stem.
Good job with this image.
&nbsp Posted: 08/23/2019 06:39:16
---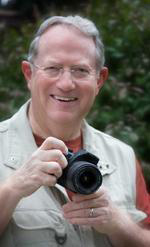 Jerry Hug
David, I like the image both in B/W and Color. I am distracted by the bottom of the twig. Suggest you think about burning it down. Squared cropping would help giving a simpler look. This is all very subjective. I really like the tonality you achieved in the eyes and the long tail. The top right wing really has the best light. I like the shine. The left 2 wings need a little clarity or sharpening. &nbsp Posted: 08/24/2019 16:36:05
---