Paul Hoffman
---
August 2019 - Vivaldi Racing
About the Image(s)
Minolta 7D – Sigma 70-200 2.8 @ 180mm ISO100 1/3500 F8

This was taken at my local track in the bottom of the Cotswold's at Castle Coombe. I was standing on a bank to get above the wires at the esses.

This is a Kawasaki super bike riding in the British Super bike Championship a couple of years ago. The team does not run now.

The main colours of the bike is purple and the green of the grass clashed, so I tried it in Monochrome and preferred the feeling of speed I was getting from the background and the wheels. Real shame he had blacked out visor as I like to catch the concentration on the eyes. Afraid he did not make the end of the race. Convert in Lightroom and adjusted in PS with luminosity masks. Touch of sharpening.
---
This round's discussion is now closed!
9 comments posted
David Halgrimson
I can feel the speed and tension of the racer. Great catch with the background blurred to show the action. Good contrast and very sharp. Only would like a little more room for him to move into. &nbsp Posted: 08/01/2019 08:40:51
---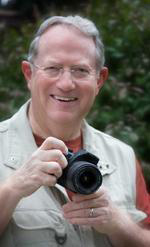 Jerry Hug
The wheels and background make this image for me. The tight cropping must be for a reason? The derails on the bike and rider are tack sharp. &nbsp Posted: 08/02/2019 11:12:43
---
Paul Hoffman
This was taken in the days when I was working for the racing press and covered the smaller meeting. What you had to ensure you did capture was the race number, you can just see that he was 22 and the advertising in view had to be pin sharp. Surprising they are not that worried about the feeling of speed and movement. So I used to take two pictures, set for the press then a set for me and give them a choice of both. &nbsp Posted: 08/15/2019 09:04:25
---
David Halgrimson
Knowing more about why it was taken and for what helps to understand. Thanks &nbsp Posted: 08/15/2019 12:22:42
---
Steve Knight
I love it. I shot motocross back in the dark(room) ages and love this capture. I feel like I need to keep my eyes moving left every time I look at it. &nbsp Posted: 08/16/2019 16:13:50
---
Larry Crook
It certainly conveys a sense of speed. The rider, bike, and lettering are all very sharp. I would like to see more background and more contrast, but as is it is great! &nbsp Posted: 08/17/2019 16:21:54
---
Vincent Cochain
Very good shot.
1/3500 and a movement effect. Well done.
Agree with other comments.

Just a techincal question: are you sure of all the mentioned values: ISO100 1/3500 F8?
There was a lot of available light.
&nbsp Posted: 08/23/2019 07:04:42
Paul Hoffman
Really Sorry you are correct, one to many 0. Should read 1/350. Must take more care. &nbsp Posted: 08/23/2019 07:10:13
Vincent Cochain
Hello Paul.
Not a problem, not at all.
My first comment was "1/3500" and a movement effect…
After I thought more and these settings are not possible together and at 1/3500 you have a fixed effect.
Thanks &nbsp Posted: 08/23/2019 07:25:12
---