Sylvia Bacon
---
September 2020 - Busy Hummingbird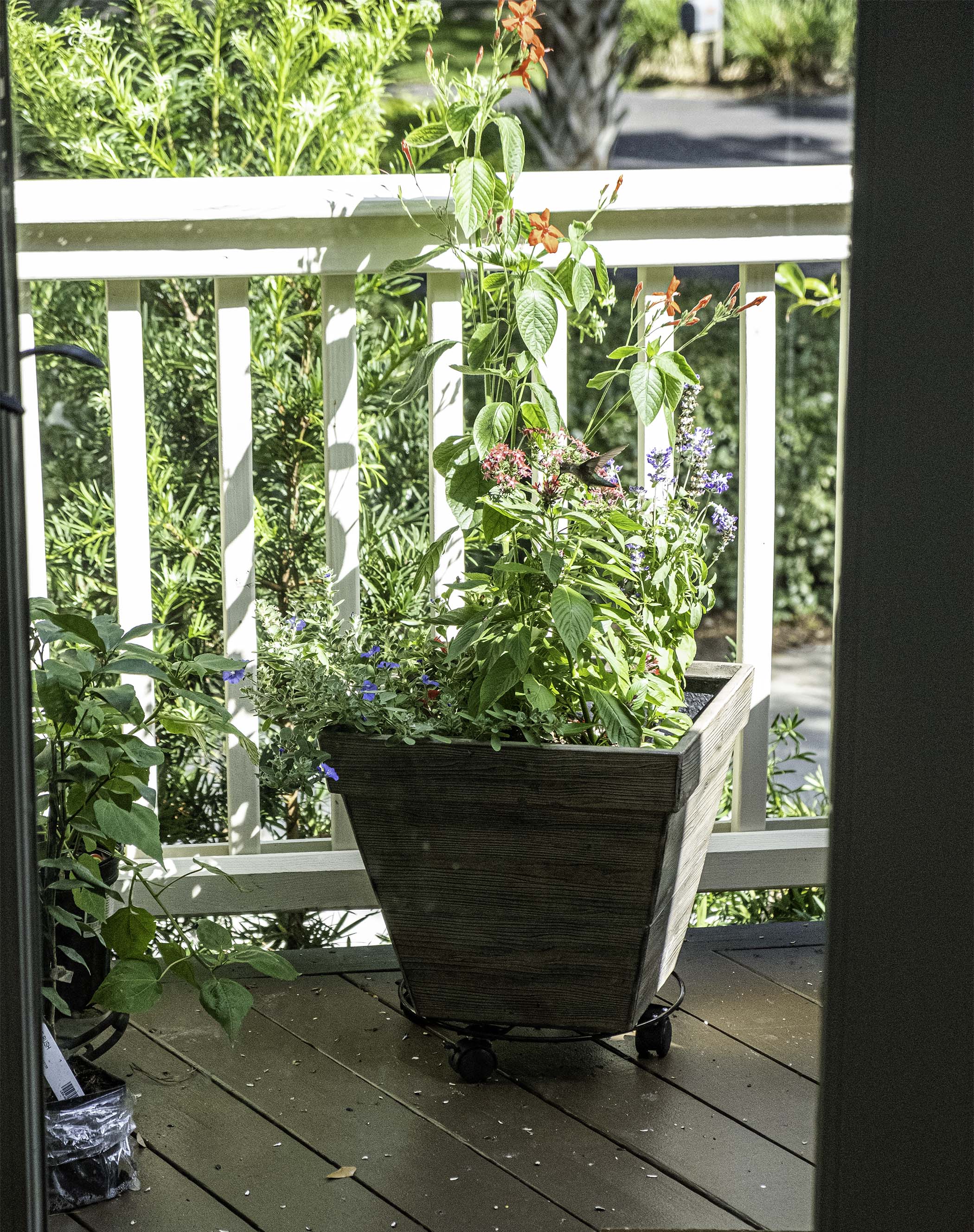 Original
About the Image(s)
This was taken from inside, looking through the glass door going onto our deck, where flowers were planted for the hummingbirds and butterflies. I think the hummingbird turned out ok but the picture seems too busy with so much foliage, nor am I crazy about the lighting since it was taken mid-day. All thoughts are welcome on how to improve this, the original is included.
First it was edited in Camera Raw with PS. Then transfer to Topaz Gigapixel AI to sharpen it a bit and also suppress the noise. And, please accept my apology for submitting this late.
Taken with the Fuji X-T3; 55 mm focal lens; 1/2000 sec; f/4.5; ISO 2500; Manual; Pattern metering; RAW file; no flash; hand held.

---
6 comments posted
---
---
---
Gabriele Dellanave
Nice shot Sylvia. I think that you an easily improve the image with a more detailed post process. One thing you ca do is lower down the Curves, it will bring up more contrasty image. The white bars in the background are now a bit overexposed. Good composition with a strict rule of third. And a good chromatic scale. &nbsp
Posted: 09/12/2020 18:25:22
Sylvia Bacon
Thanks Gabriele for your suggestions, will re-edit tomorrow. Am sure it will make an improvement. &nbsp Posted: 09/12/2020 18:51:08
---
---
---
Marge Barham
Sylvia, I give you an A+ for effort trying to entice the butterflies and hummingbirds. Well done. You have alot working against you here. The glass door is a big one and the middle of the day is another big one.
Is there anyway to raise the planter up so that you could get a better background? Or slowly open the glass door? Or sit outside and just wait till she returns. It took a long time before my daughters hummingbirds got use to her being much closer so don't give up.
&nbsp Posted: 09/12/2020 20:52:19
Sylvia Bacon
Thanks Marge for your encouraging thoughts! This is definitely a work in progress and you have given me a lot of good pointers. &nbsp Posted: 09/16/2020 07:23:40
---
---
---
Art Jacoby
I like what you are doing. I like how the flowers frame the hummingbird. For me, the background takes away from the subject. I think that you need a telephoto lens to capture this guy. I cropped it, darkened and blurred the background a bit to draw attention to the bird. &nbsp
Posted: 09/14/2020 23:09:53
Sylvia Bacon
Hi Art, The hummingbird stands out so much better now plus cropping to a square and putting him in the center is very effective. Thank you for doing this, you took a very average shot and made it into something good, as long as I don't look too closely at the hummingbird - LOL. Also, next time I'll use my Nikon which has a longer lenses, that should make a big difference. Thanks for your thoughts! &nbsp Posted: 09/16/2020 07:34:41
---
---
---
Please log in to post a comment