Bill Peake
---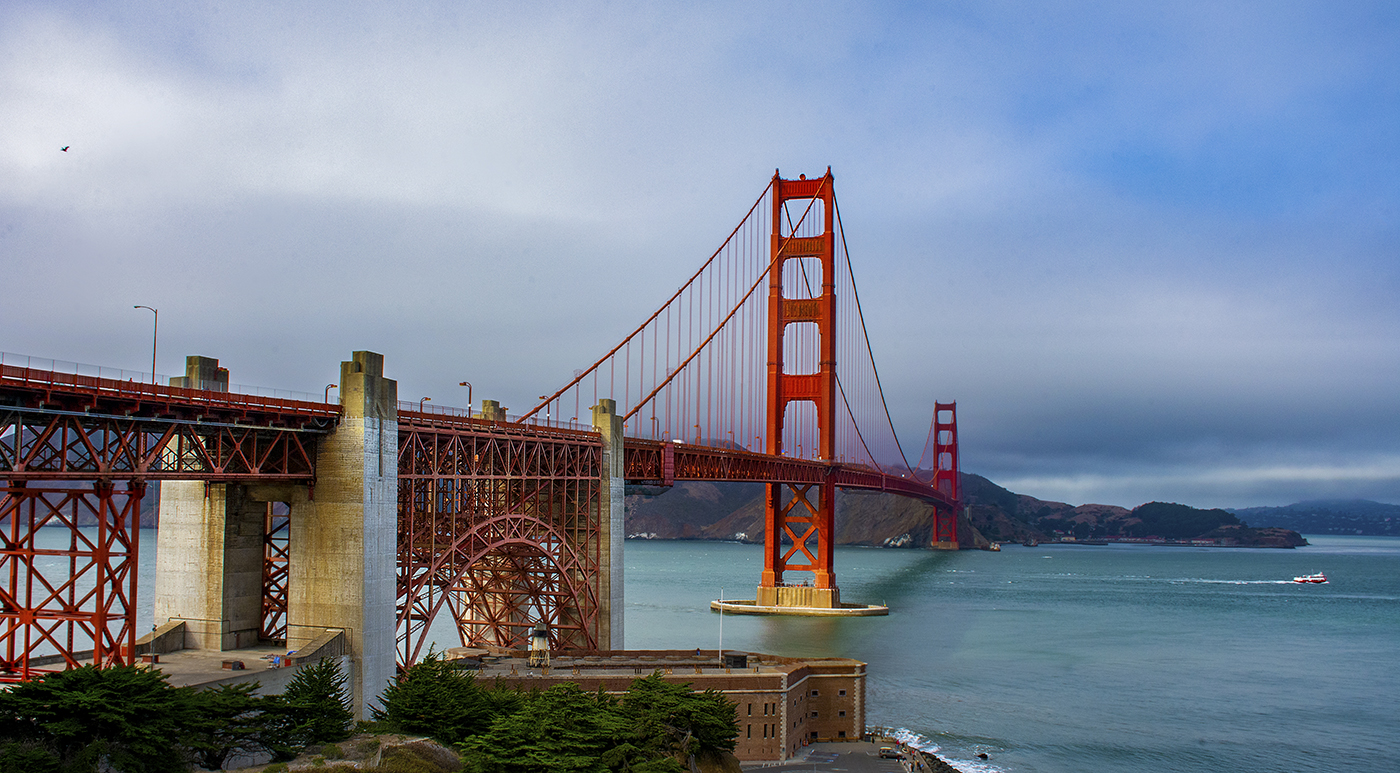 August 2020 - Golden Gate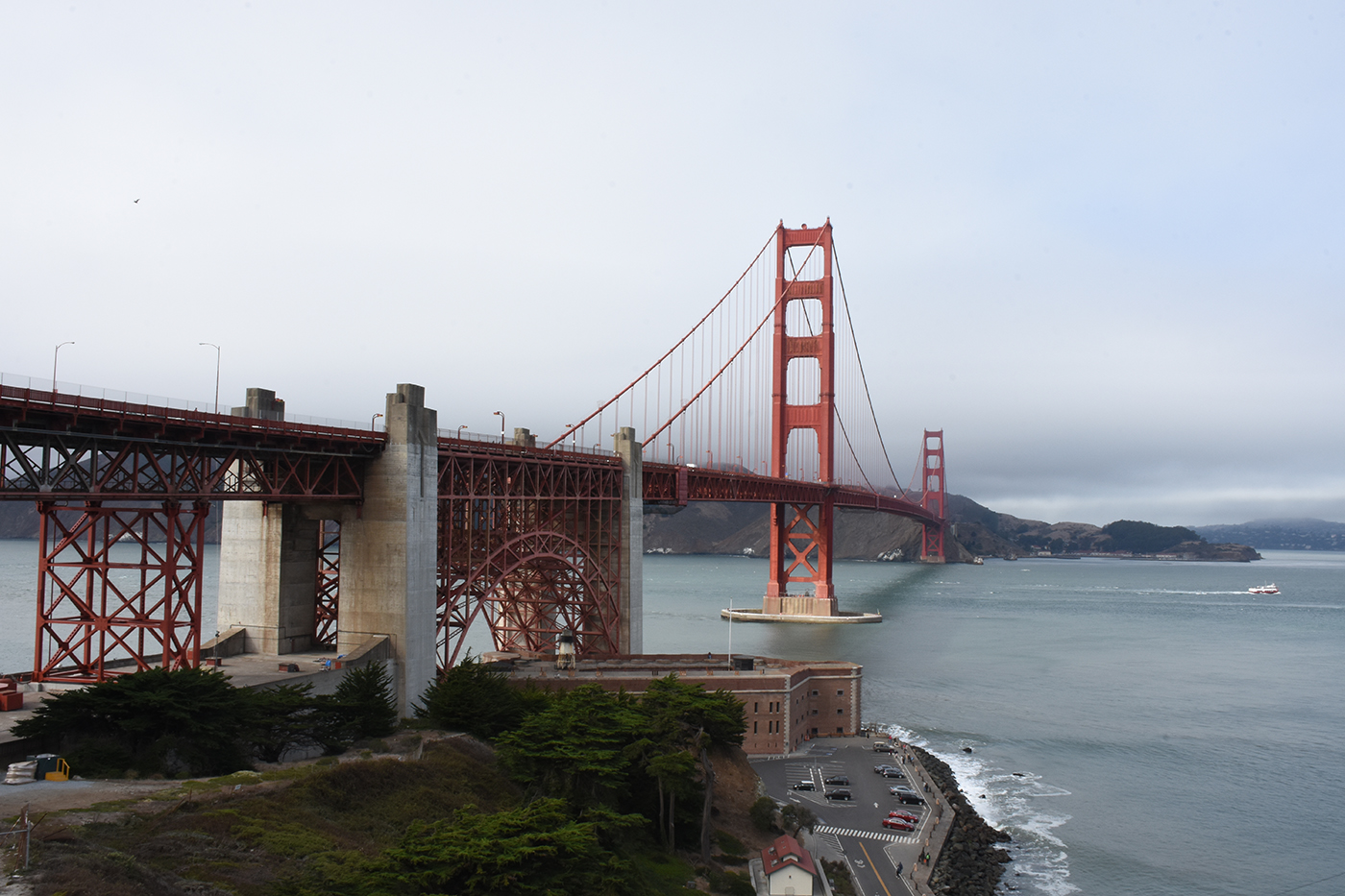 Original
About the Image(s)
This image was image was taken while my wife and I were hiking around the Presido in October of 2017. There were scattered showers throughout the day, so I kept getting a gazillion water droplets on my lens. Later on we hiked across planning on getting a ride share back. By the time we got to the small park on the other side, it was dark and starting to rain more heavily. The park was nearly deserted and I could not get any ride share service to accept our ride request to go back across. Ditto on any cab service. We were just about to walk back when a cab pulled into the parking lot! We hailed it and got in. It was well worth the money.

The image was taken on a Nikon D7200 with the stock lens. The shutter was set to 1/100, the aperture to f/22 aperture and the ISO to 400. The focal length was set to 18mm.

Post processing was done with Adobe Photoshop. The initial images were both dehazed and water droplets on the lens were removed with a healing brush. The image was separated into sky and ground zones with group masks.

For the ground, an unsharp filter was used bring out some more details and a brightness/contrast layer was used to enhance contrast on the bridge. Saturation and vibrance were increased overall. For the sky brightness and contrast were adjusted to enhance the clouds. In addition a Gaussian blur was used to remove remaining water droplets that I missed on the first pass, mainly in the area on the left.

I am hoping to enter this image in a travel contest, which is reality based, so I am limited in what I can clone out. Any suggestions would be appreciated.

I am enclosing the original image for reference.

---
6 comments posted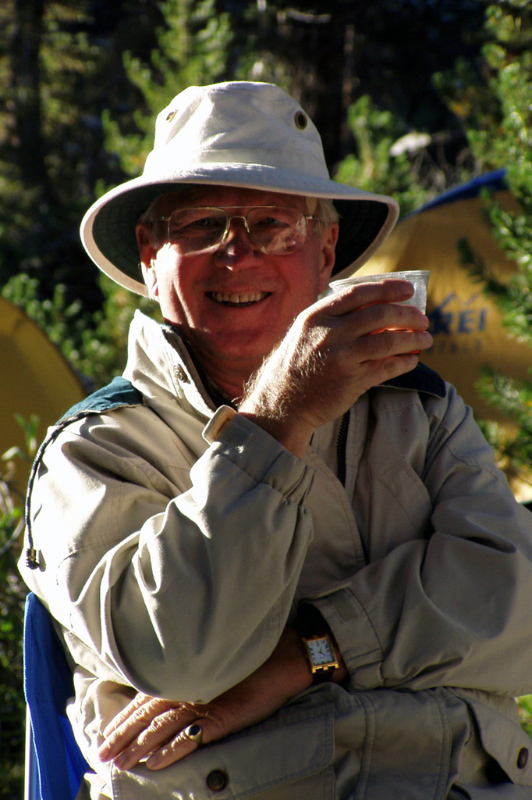 Richard White
Bill, this is a great composition and I hope you do well in the compition. Was this taken with a tripod? One of the best pictures of the bridge with both sides of the bridge. Like the boat, which gives the photo some motion. Sky is nicely done, blur worked well. &nbsp Posted: 08/02/2020 13:51:22
---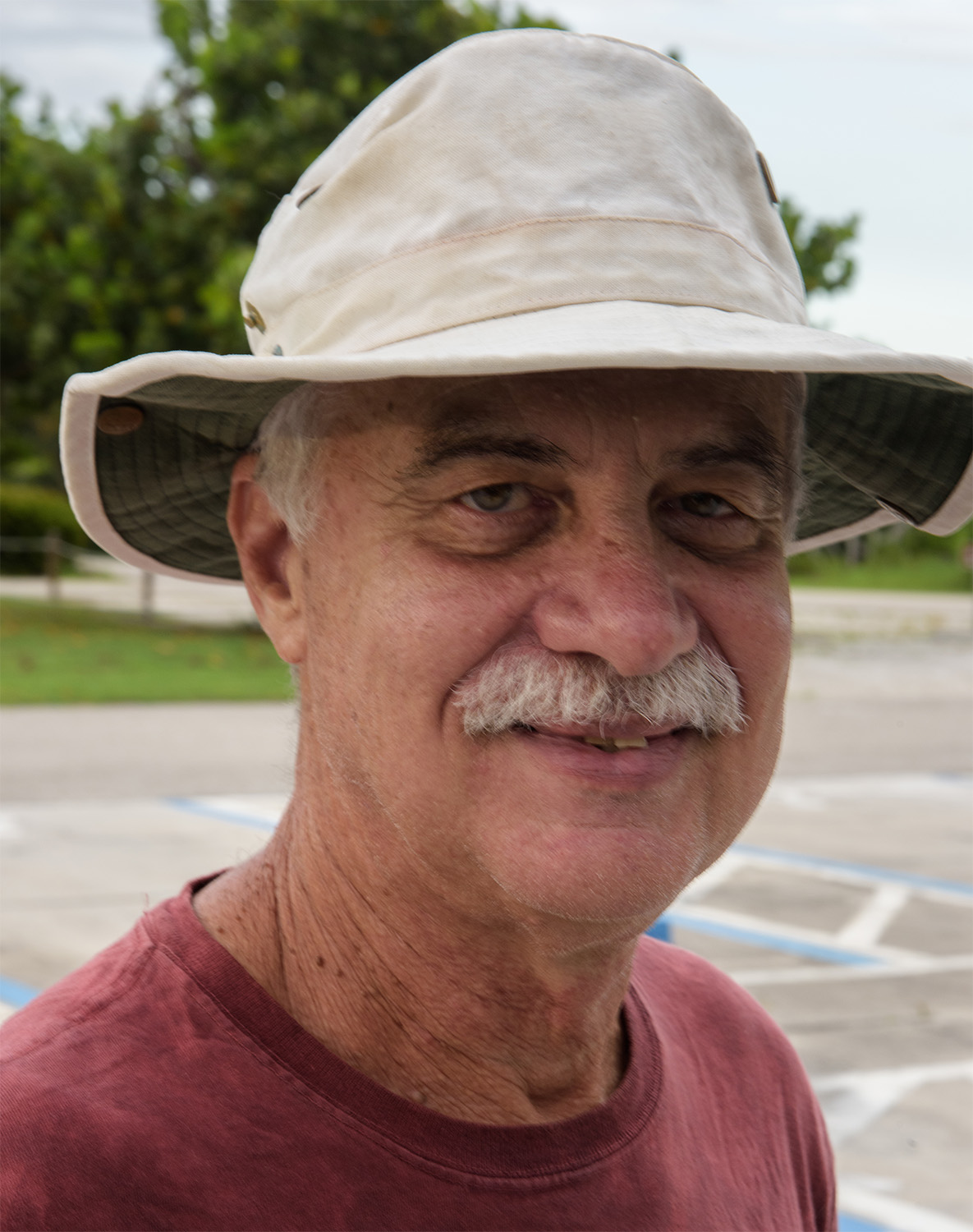 Larry Treadwell
Bill
I just finished judging a local travel photo contest and there were about a dozen photos of the Golden Gate Bridge in the contest. I ended up awarding an Honorable Mention to a photo taken from this side of the bridge because the other images were almost all the same shot taken from the other side at water level with the curve of the shoreline. I'm telling you this because this is a MUCH better shot than the one that got the award. Much better by far. It is crisp and sharp the light and the colors all work quite well together. Your post work paid odd and this lots quite nice. Personally, I wish there was just a tiny bit more space at the bottom as the rocks to the left of the green bushes and the road to the right of the same bushes loos a bit awkward. Both rocks and road feel like they are mistakes. Compositionally it would be better if the large tower were a bit more to the right but this is a very minor issue. The bigger issue to me is the vertical cables at the road level of the large tower. My issue may be due to the size of the image but there seems to be a pink blush to the sky between the cables that appears to be a bit unnatural. As the cables sag toward the far tower the entire sky seems tinted. This sets off a red flag that there could be a processing issue. (overdone??) Again this could be due to the size of the image and if viewed in a large format it might just be the cables themselves and thus be a non issue. You might consider slightly reducing the brightness of the large white columns on the left as they somewhat arrest the movement of the viewer's eye. Note they are the brightest things in the entire image and s that what you want me to look at?

Over all this is a quite compelling image and well done. In my view this would get a nudge toward round two and would certainly not be dropped early. In round two it would depend on the competition and quality of the other images.

Everything else about the image seems fine and a like the blur to the sky as it adds a feeling of technical mastery to the image.

Let us know what happens in the competition.


Glad you got your ride back a long walk in the rain may have been a real bummer. &nbsp Posted: 08/02/2020 15:56:18
---
Michael Jack
Great color in this image. I agree with some of Larry's comments but see just the color of the cables and not a hue in the sky. Stellar work on post processing the clouds - love the effect. I too would like to see a bit more of the image at the bottom so the building is not sitting on the bottom of it. Is that a bird in the upper left? Is so, I think I would clone it out. I would also consider burning the bright concrete support on the left to match the light on the right and dodge in a bit more light if the farthest part of the bridge. This would be a great image for a travel brochure but with your sky work would not qualify for a travel competition. &nbsp Posted: 08/02/2020 17:37:08
---
Bill Peake
Thanks for all your comments. Micheal, I think I might be OK for travel with the sky. I only used the Gaussian blur to remove specific water droplets which seems to be allowed, at least in this competition. The only other thing done to the sky was a dehaze, which was applied to the whole image and brightness/contrast. Those two things brought out more of the blue color in the right of the image, but it was actually there, just harder to see. I know cloning is in general not allowed, but scratch removal is specifically allowed and there is some wording about "Restoration of the appearance of the original scene" and I think lens water droplet removal would qualify. &nbsp Posted: 08/09/2020 19:37:07
---
George R Phile
This is a great shot of the bridge! I am from SF but left in 1962 and never lived there again. This image makes more sense to me having seen your original so with that said, here are my comments. I like the nebulous clouds which was done well but you should get rid of the bird. The cropping you have done seems to me to be correct given the distractions in the lower left of the original image. The substructure of the bridge at the lower left should be corrected so that it is parallel to the edge of the frame and that can be done in LR. The orange color in the sky behind the cables just past the 1st tower is probably a function of the cables themselves and I don't think I would do anything with that. The color in the nearest tower seems to me to be a bit hot but that might be my personal preference. This is a great shot and let us know what happens in the travel contest. &nbsp Posted: 08/11/2020 13:58:08
---
Arne Skinlo
Shooting a famous scene is not easy. In my opinion you have done a great job here. What makes it stand out for me, is the light on the nearest tower. The post processing is excellent. A great shot, Bill. &nbsp Posted: 08/12/2020 00:28:24
---
Please log in to post a comment