Larry Treadwell
---
June 2020 - From Here to Eternity
About the Image(s)
I had planned on photographing a beautiful sunrise but was greeted with heavy grey clouds instead. The beach at Saint Augustine, Florida is quite flat and when the tide is out large black coquina rocks can be seen scattered on the sand near the water line. The sea was covered with low, slow, gentle rolling waves that would roll toward shore then barely wash over the rocks while surrounding them with tidal pools that flowed toward shore and then gently slid back out with the action of each wave. To complete the scene, there was a thick low hanging cloud cover that the sun was never going to penetrate. Nature had provided everything I needed to create a moody image including plenty of movement in the shallow water. This image is all about the soft light, shallow DOF and a very slow shutter speed. By using a shutter speed of almost a minute I was able to catch between 4 and 5 waves rolling in and out with a single exposure. This set up allowed the water to take on an almost fog like appearance. The sun, that had not yet risen, was casting those first bands of pink light onto the low hanging clouds and the clouds in turn were reflecting that colored light back onto the water. The scene was bathed in pastels. Since it was still well before sunrise and there was no direct light, the rocks were in heavy shadow while the sky was much brighter. The addition of the three stop GND filter made the sky darker and would therefore even out the light across the entire image. The reason you can see rocks that appear to be partly beneath the water, is because the rocks were sometimes visible and sometimes under water. Thus the camera sensor could not fully expose the rocks and they would thus take on a ghostly appearance. By selecting an aperture of f11 and focusing on the closest rocks to the camera my DOF would be only a few feet. Therefore, the further the rocks were from the camera the softer (more out of focus) they would appear. It also meant the distant sea would only be a colored blur. By overshooting the scene and maintaining a low camera position I hope to create a feeling of intimacy between the viewer and the scene. A cable release was necessary to obtain the 1 minute exposure. I hoped my technique would impart a surreal feel to the image as the background faded away to infinity.


---
This round's discussion is now closed!
23 comments posted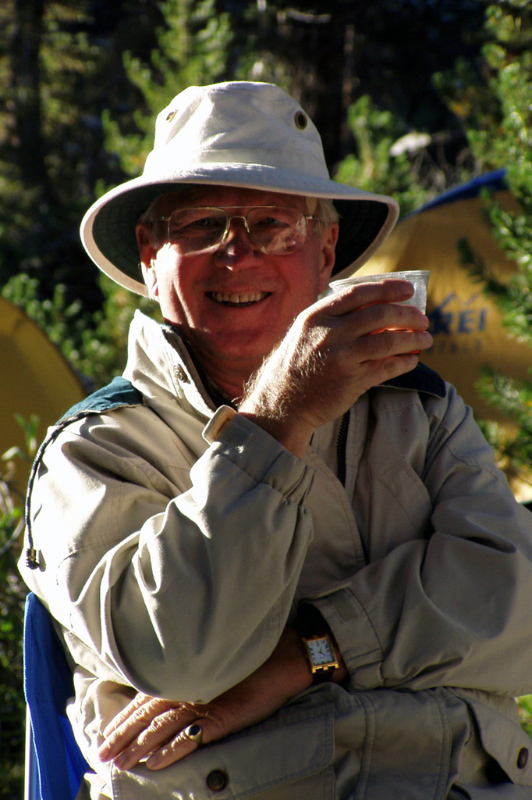 Richard White
Larry you accomplished what you were after. I really like the feel of a moody morning sunrise. Great shot and your explanation of how you did it will suit me well when ever I get out of the house and travel again to the seaside. Only 70 miles away, but might as well be 1,000. &nbsp Posted: 06/01/2020 13:33:48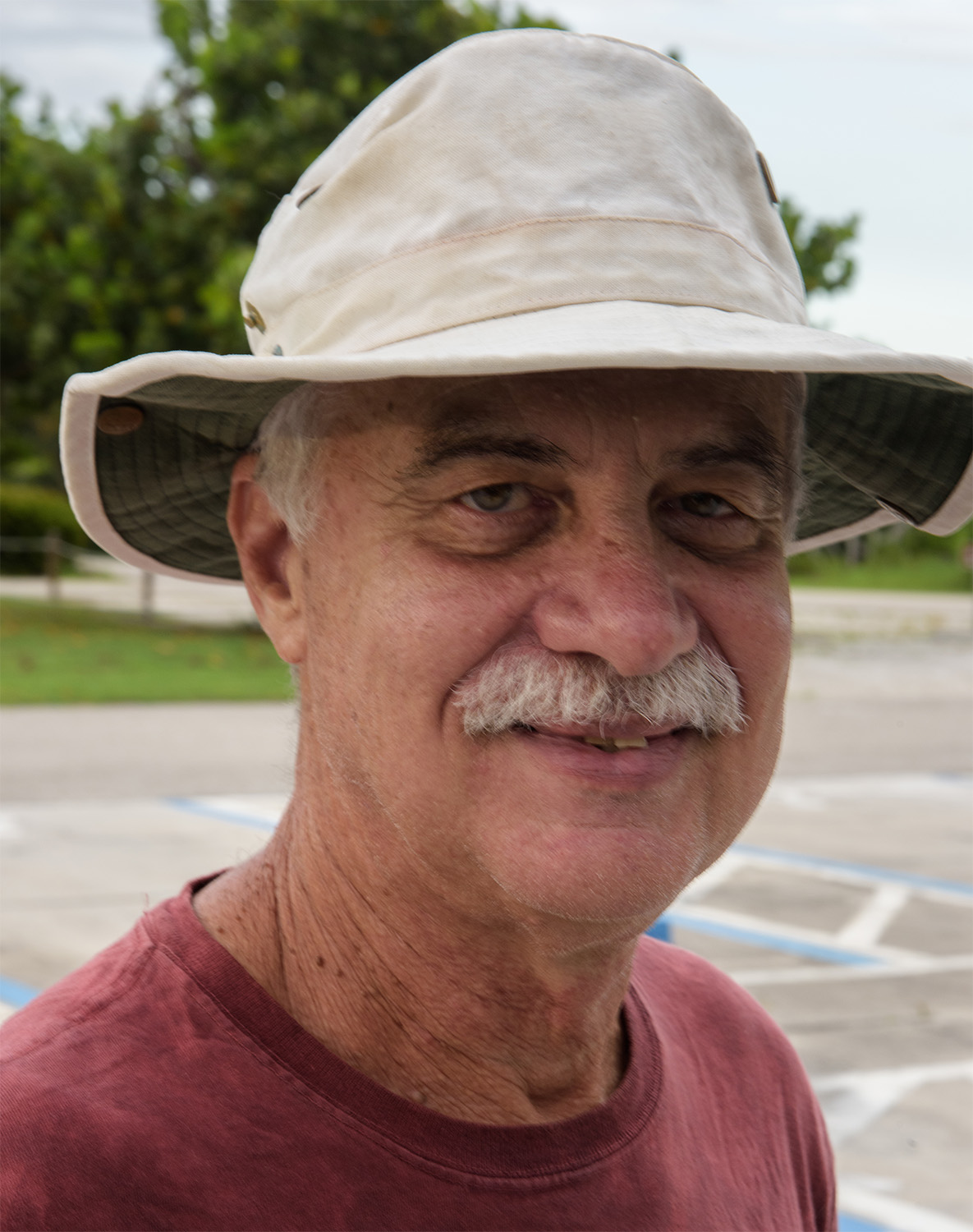 Larry Treadwell
Thanks for the comment.
I like playing around to get something different.
But I have to credit Arne for the idea of fading off into infinity. This beach is about 4 hours from home, but I can get to a beach in 20 minutes and a rocky cove along a beach in just about an hour. Like you I am really ready to get out to one of them soon. &nbsp Posted: 06/09/2020 20:23:52
---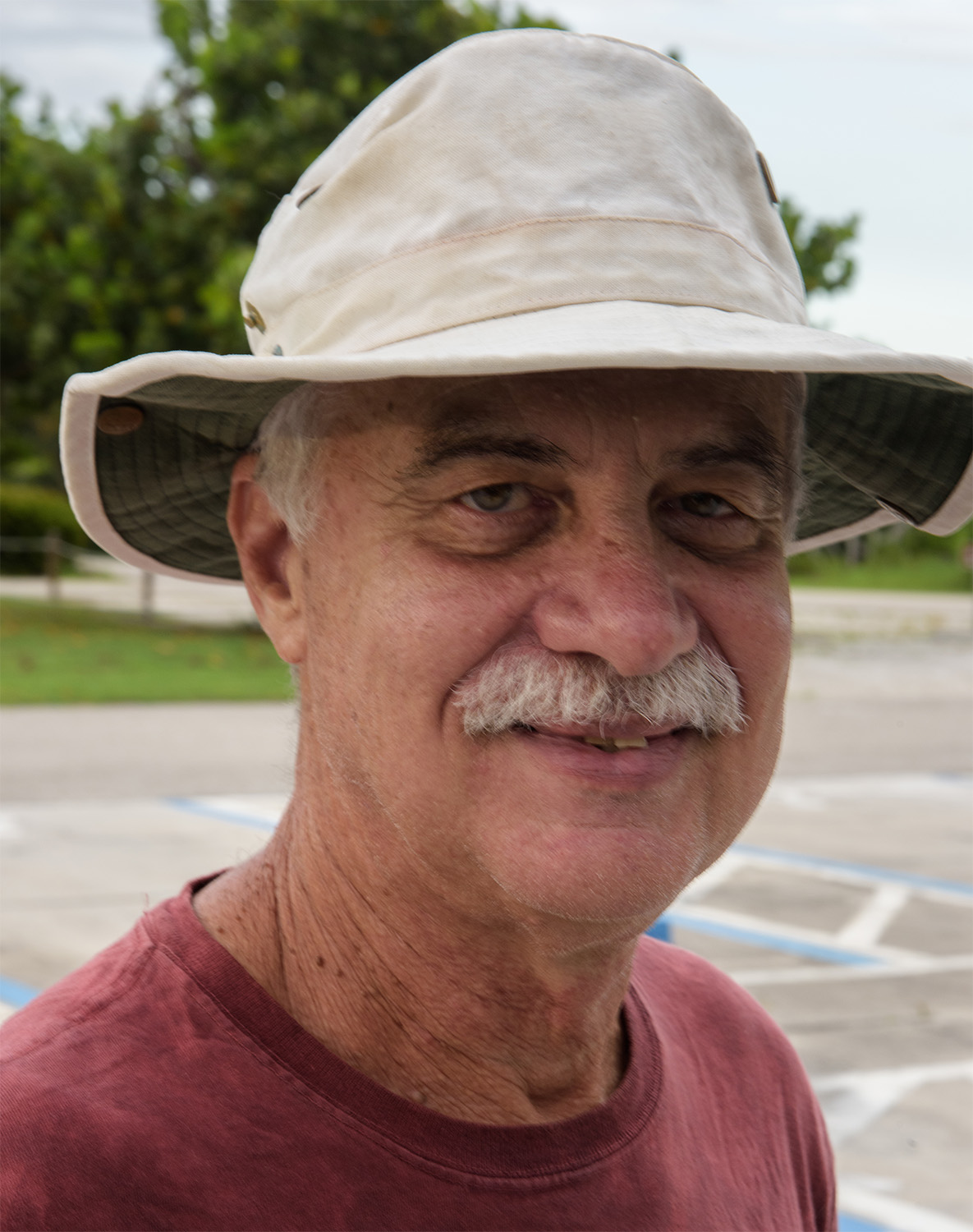 Larry Treadwell
Just a note---
This image is inspired by Arne's March image. I know his was B/W and mine is color but I could not make a B/W conversion that looked good. Probably because I don't have enough skill. If anyone wants to lay with it have a go with my blessings. &nbsp Posted: 06/02/2020 14:16:08
---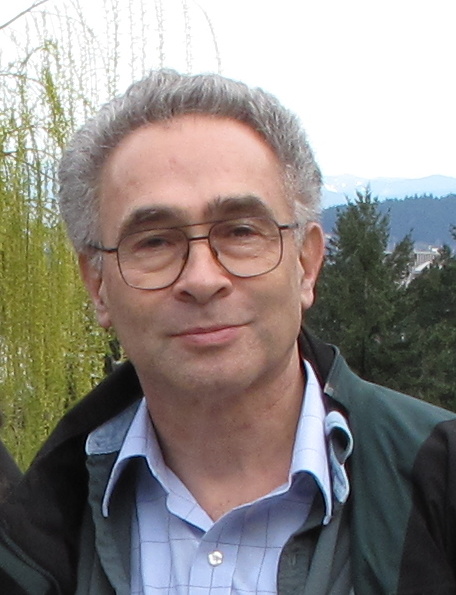 Stephen Levitas

(Group 32)
Lovely result.
What is really interesting to me--to learn from this example--is that you have CHOSEN to have a considerable portion of the view out of focus ("By selecting an aperture of f11 and focusing on the closest rocks to the camera my DOF would be only a few feet. Therefore, the further the rocks were from the camera the softer (more out of focus) they would appear. It also meant the distant sea would only be a colored blur.")
Ths is really something to understand and remember. Thanks. &nbsp Posted: 06/05/2020 17:24:46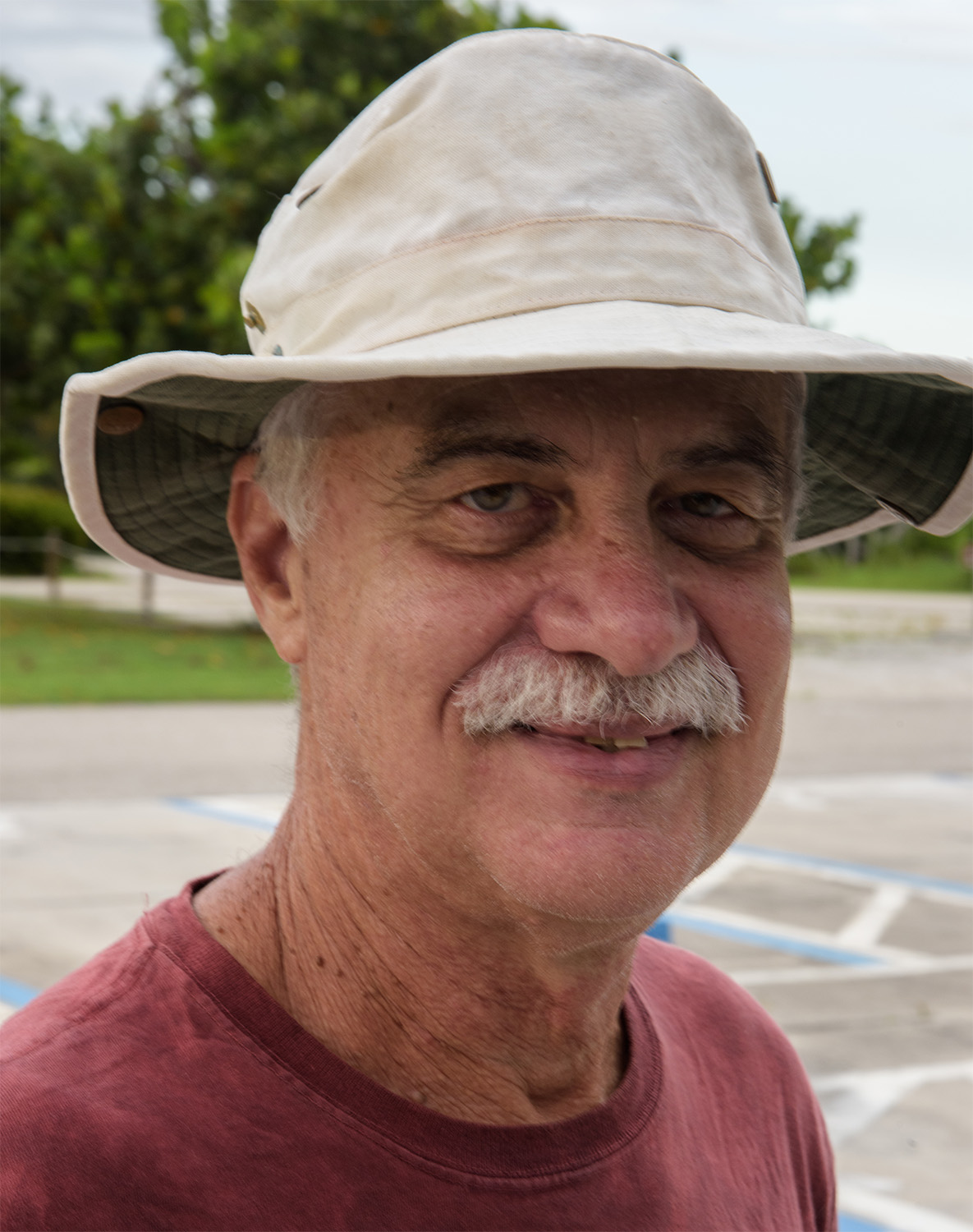 Larry Treadwell
Thanks Stephen. As I noted this was inspired by Arne, but I added a wrinkle to it. No sense in not trying something new. I like trying some experiments.

Actually it is no different than photographing a bird on a branch and intentionally blurring the background to bring more attention to the bird. This just brought the attention tothe foreground rocks and since there was nothing in the background except France (across the pond) it didn't matter if it was out of focus.

It is good to know that this one worked out.
Thanks again. &nbsp Posted: 06/05/2020 19:02:39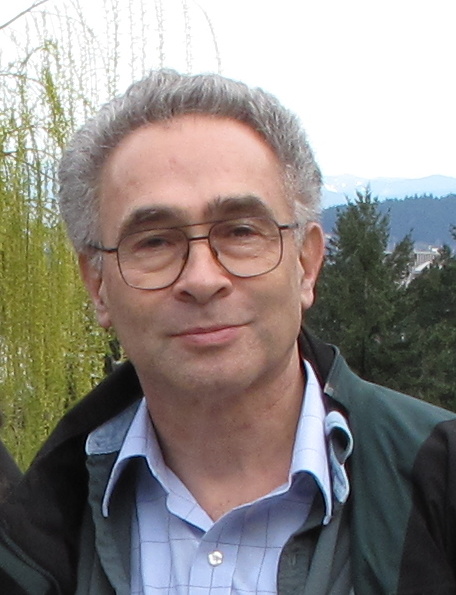 Stephen Levitas

(Group 32)
Yes and no about the bird on a branch. In that case, you don't want to see the background clearly to separate from the bird. But you and Arne are working with full landscapes, so applying that concept in that situation is innovative to me, and a teaching moment I received from you two. &nbsp Posted: 06/17/2020 19:46:55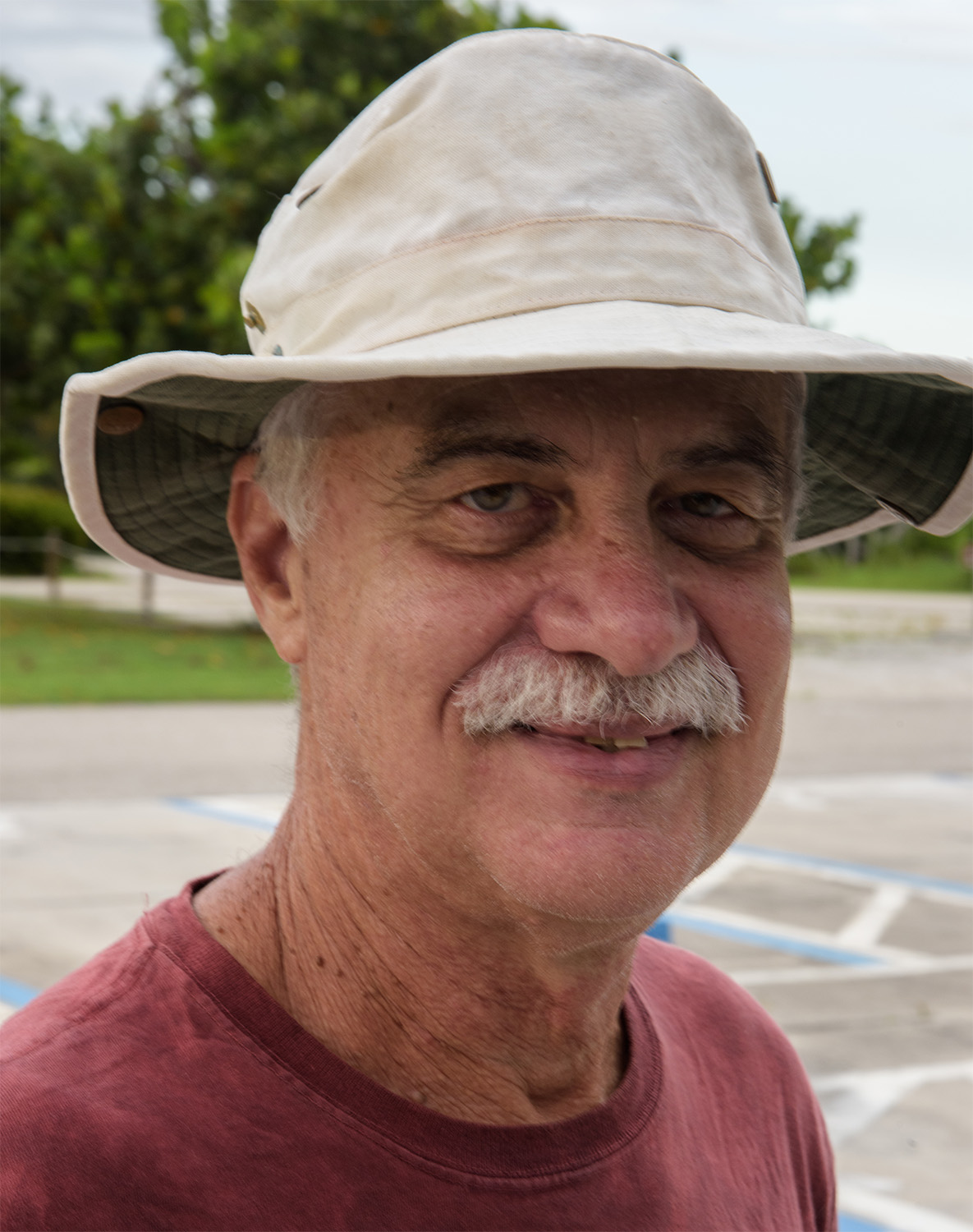 Larry Treadwell
I often try things in the field. Doing panos of 5-7 images shot in vertical position so as to get better detail. I focus stack landscapes, experiment with shutter speeds as long as 10 minutes and as you saw here play with camera angle (overshooting) and try to use depth of field to advantage. I am also, always looking for ways to use light to create impact in am image. Using light creatively really excites me. I just refuse to take a midday photo while standing there hand holding my camera. :-) &nbsp Posted: 06/18/2020 07:53:38
---
Bill Peake
Wow! I really like the mood of this image. I actually thought it was fog, before I read your explanation. A lot of camera work here, and the result really shows it. The colors in the sky are beautiful! I'm not even sure if my camera supports a cable release, I have a wireless remote for it. Like Richard, the ocean is an hour away from me but might as well be a light year. &nbsp Posted: 06/08/2020 20:43:43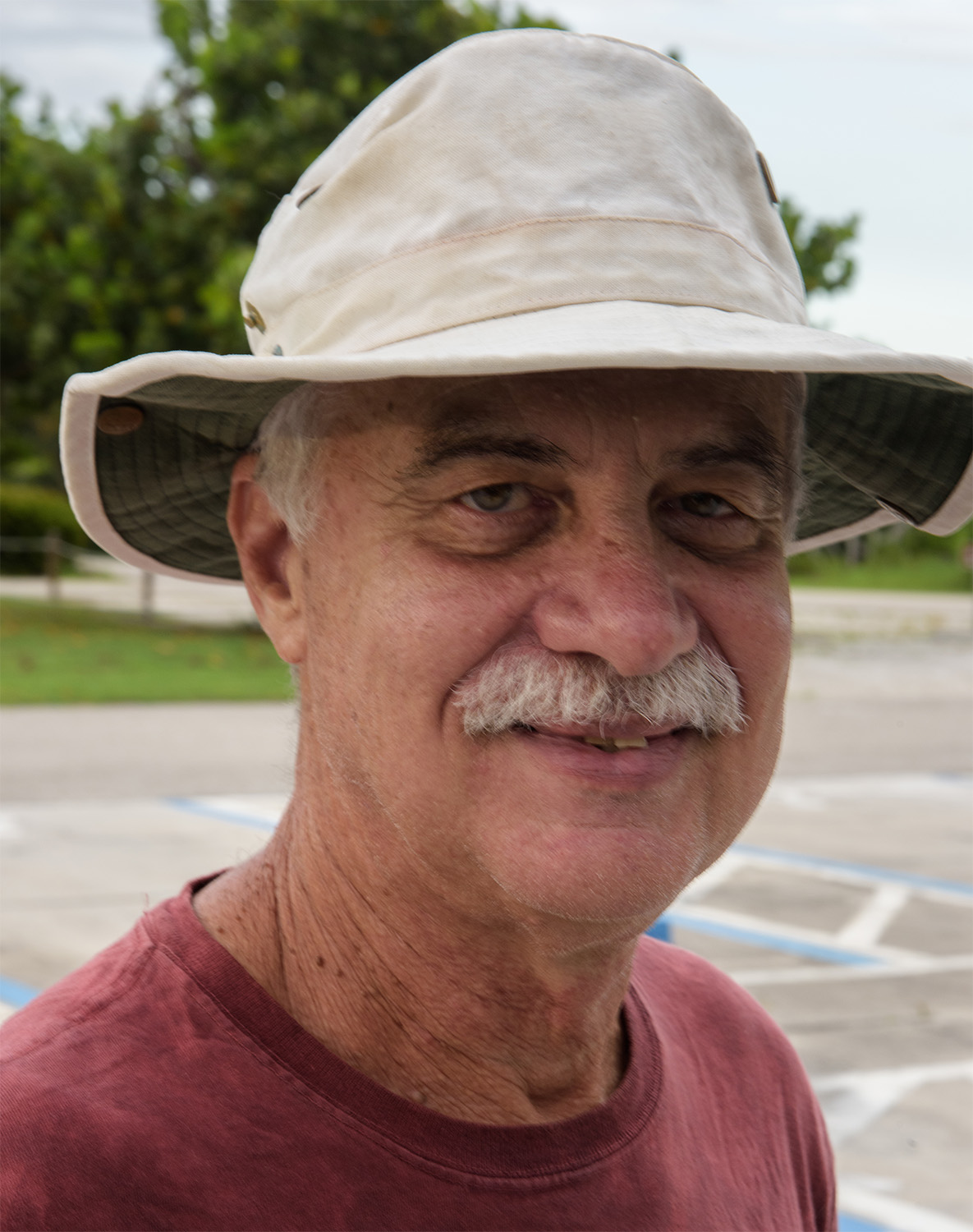 Larry Treadwell
Hey Bill, thanks for commenting. For the record I also have a wireless remote that I use for doing startrails and really long exposures of several minutes because my remote has a tier built into it. But I really prefer the cable release because I don't have to program it---and I'm so lazy!

I love pushing my camera to do new things. It is what keeps the fun in my photography. Long exposures, even of 1 minute create things the human eye does not see and I enjoy playing with that concept. I do agree thought that I miss my mornings alone on the beach I'll be glad to get back there again. After my little surgery in early July, I'll get back to the everglades. I miss those mosquitoes when I shoot the Milky Way. &nbsp Posted: 06/08/2020 21:24:23
---
Michael Jack
A beautiful image, a real wall hanger. I did recognize the long exposure effect on the rocks. I like the way you used light to draw my eye through the image to the sky. The reflections on the middle rocks work every effectively and the darker rocks on the bottom keep my eye from going out but the triangular shape of the rocks point to the next group of rocks and so on. Nicely composed. My only question is it looks to me the horizon is curved. It could be my eye or that a lens correction is needed. &nbsp Posted: 06/11/2020 18:03:06
---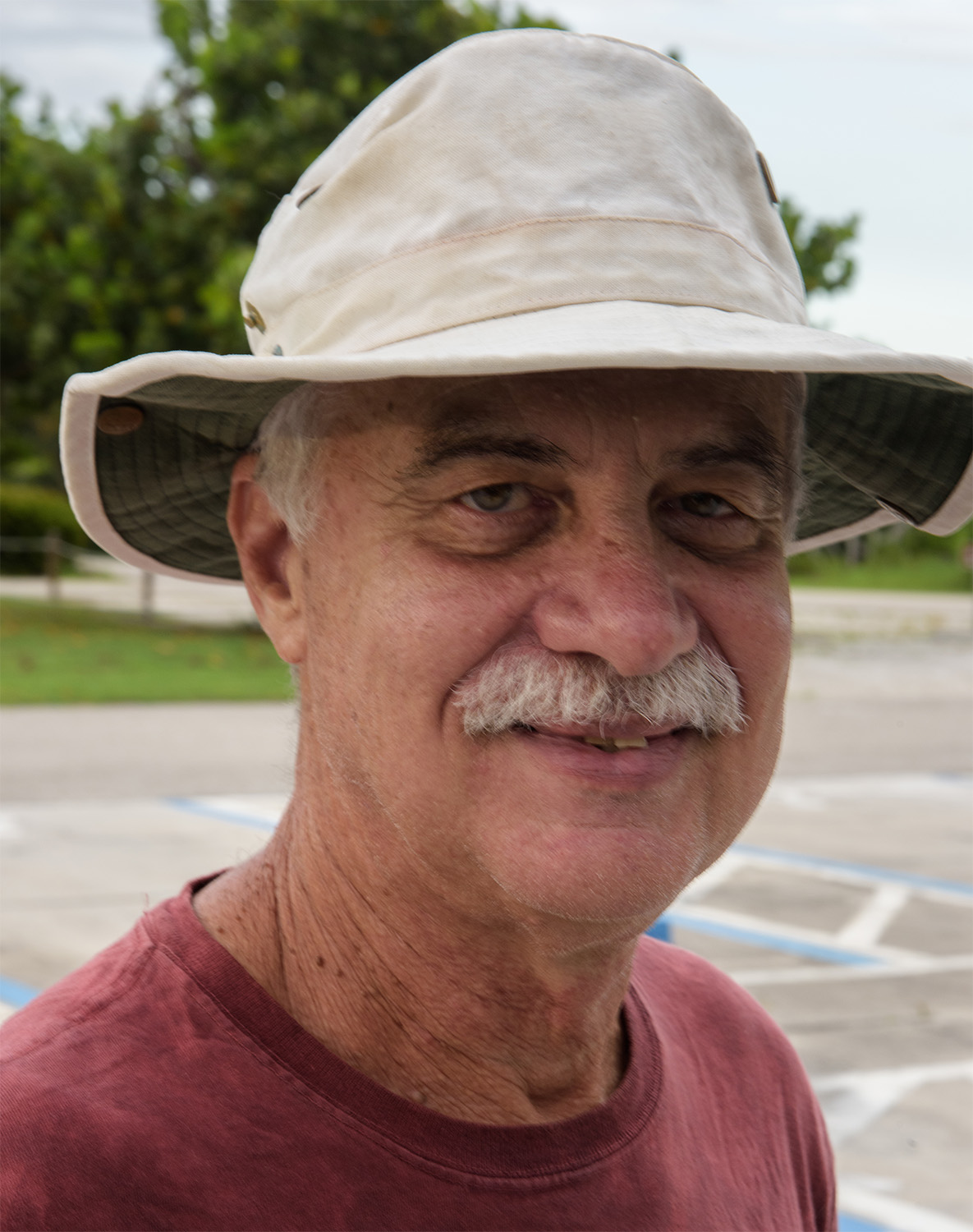 Larry Treadwell
Thanks for the compliment. I struggled working up a composition with those rocks and it was hard because half the time they were under water. I have long been an advocate of using light to craft my compositions. Which is probably why I prefer the Golden hours when light is directional. But I think light is the most important part of my images. I don't think I have ever framed and hung an image of my own that was taken during the middle portion of the day.

I have wondered about the horizon my self. I checked LIghtroom and the box for lens correction has been checked, if I uncheck it the horizon gets worse. I don't have any other ideas unless I use Photoshop and play with perspective, but then it will also impact the foreground rocks. Maybe it is a result of my overshooting and tilting the lens downward? If you have any ideas I'm wide open. &nbsp Posted: 06/12/2020 07:10:07
---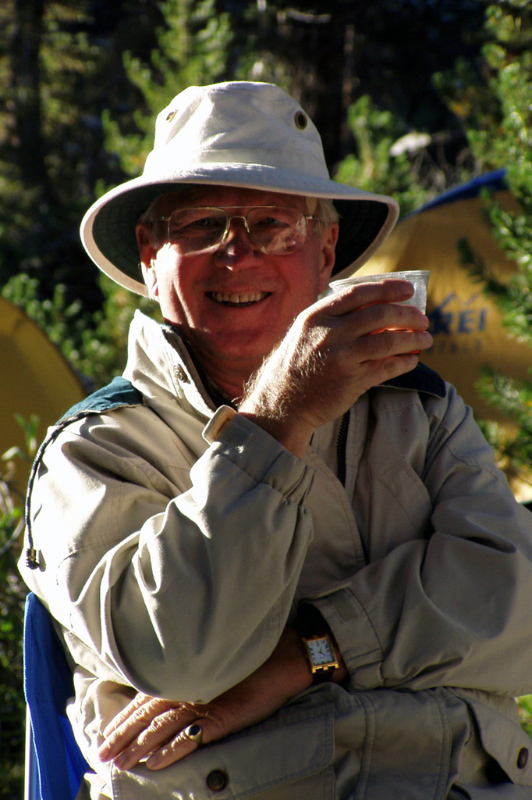 Richard White
Michael Jack
The alternative is to use the barrel distortion feature in the LR transform panel. This would be an easy fix with minimal effect on the rocks. &nbsp Posted: 06/12/2020 17:56:18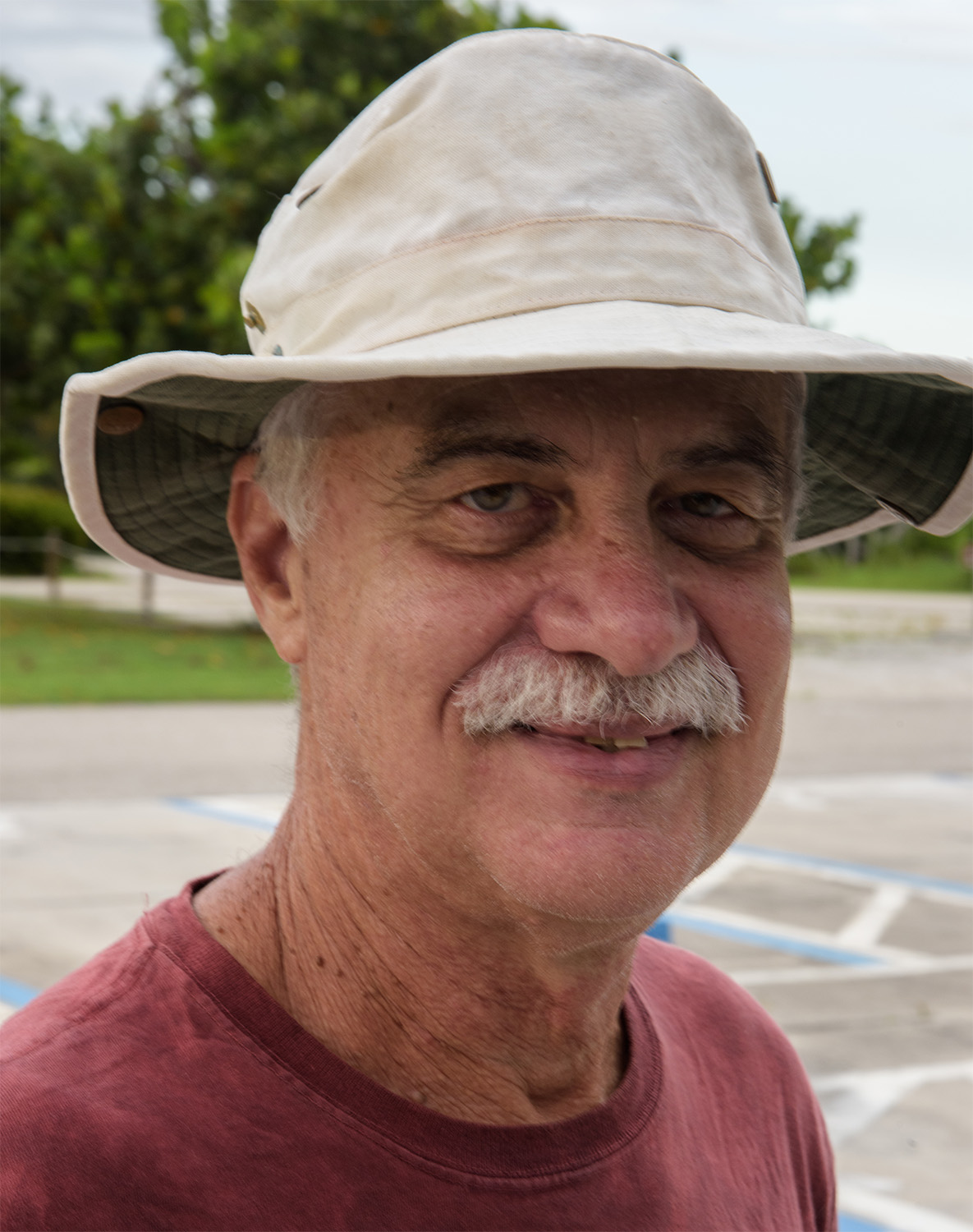 Larry Treadwell
Thanks for the suggestion. Must have missed that tool. I didn't even know it existed. :-(

I'll have to look it up. &nbsp Posted: 06/12/2020 18:56:55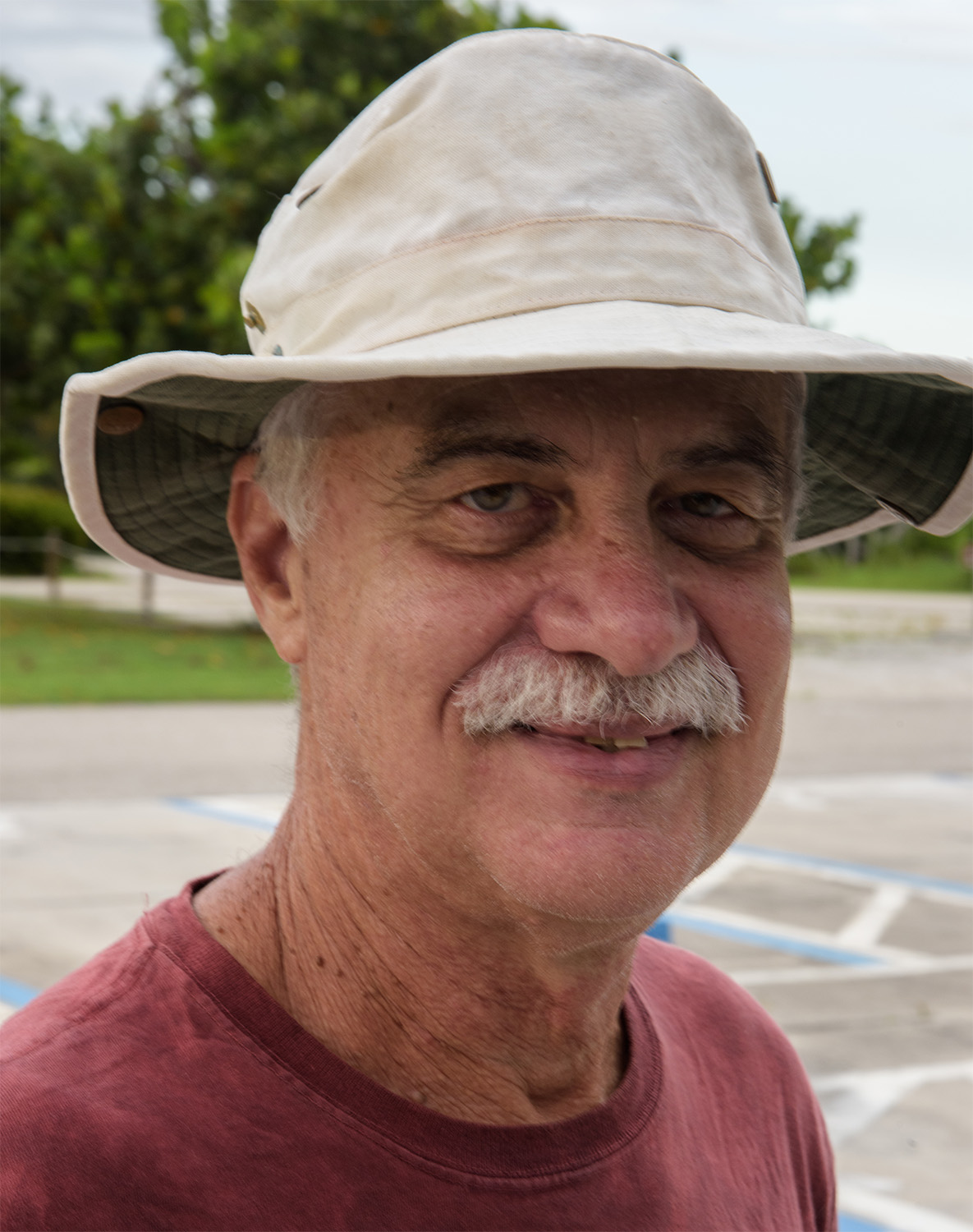 Larry Treadwell
Thanks for the suggestion. &nbsp Posted: 06/12/2020 18:56:31
---
Arne Skinlo
A very moody picture, but I could not let this chance go away to try converting it into B&W. It is limited what you can do with a small JPEG file, but I think it works. Basically, what I have done is to use dodge and burn to make the light lighter and the dark darker. I have also used the gradient tool to darken the top and right side.
I think all the rocks should be in focus. By using f16 and changing the focus point, it should be possible. I have recently learned about hyperfocal DOF, so I will recommend looking into that. &nbsp
Posted: 06/13/2020 05:09:08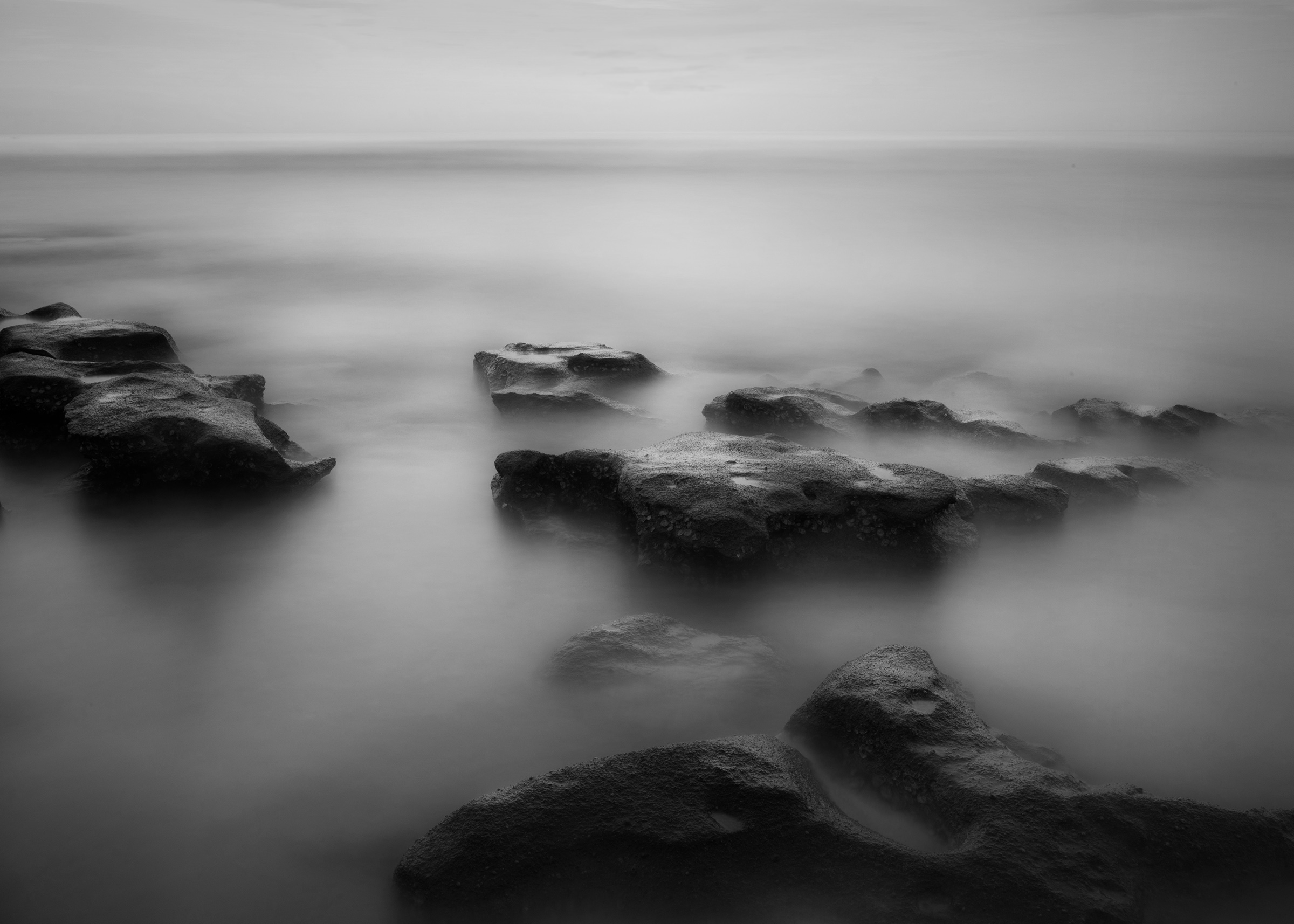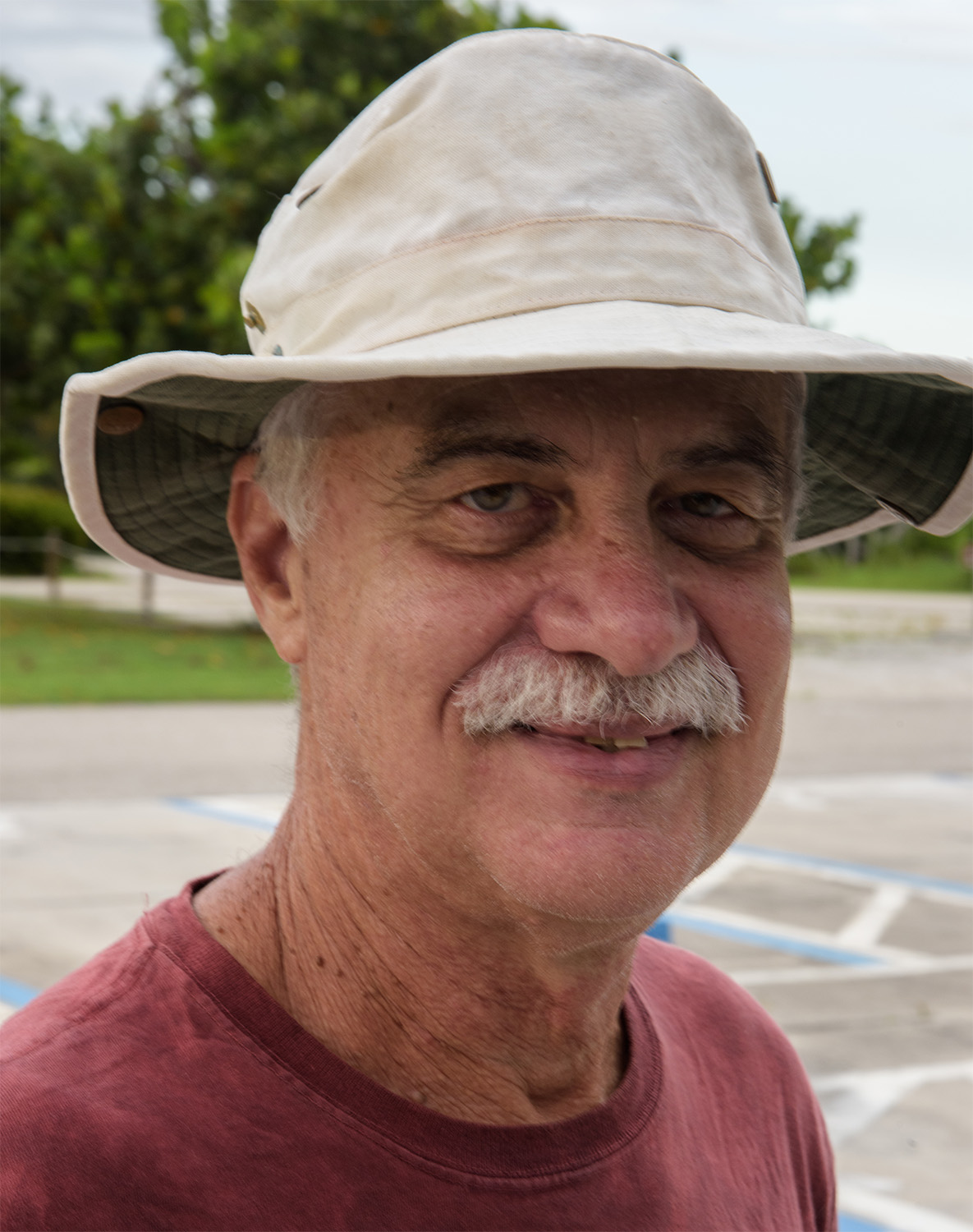 Larry Treadwell
Arne
I was really hoping that you would give this a try in B/W. Thanks for trying it.

I actually teach hyperfocus techniques at workshops on a regular basis and carry a cord with knots tied on it to show the exact near point for several of my lenses. For this image I chose not to use the hyperfocal technique--just thought I would try something different.

As I noted above---one of your images was the inspiration for this shot---so thanks very much. I have gained a great deal from you over the past several months. &nbsp Posted: 06/13/2020 09:24:23
---
George R Phile
Larry, This is a really great image. The only minor comment is about the horizon which has been discussed by others earlier. You have successfully captured a really ethereal image here. Great job! &nbsp Posted: 06/13/2020 15:06:48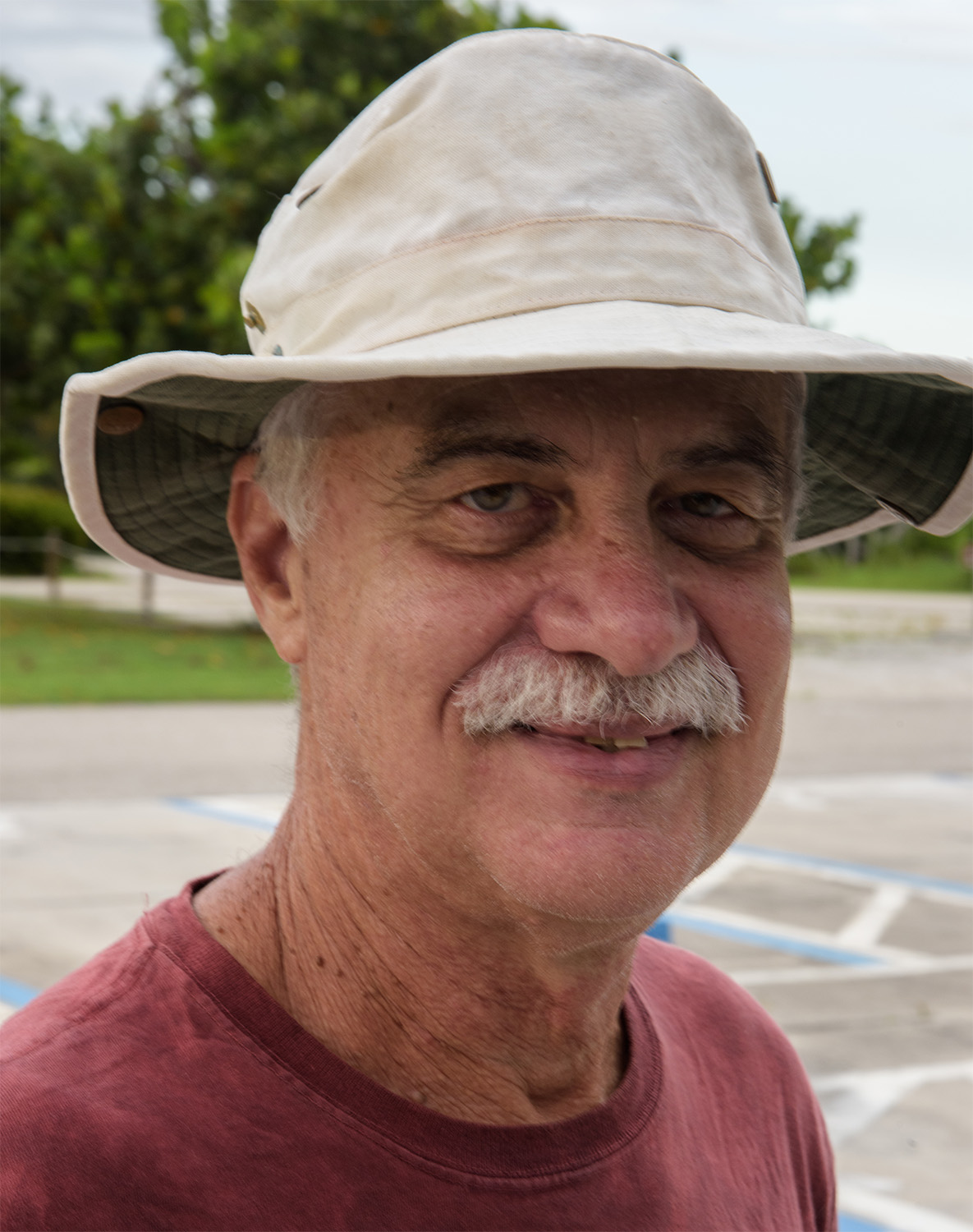 Larry Treadwell
Thank you George.
I appreciate the thought. &nbsp Posted: 06/13/2020 17:17:51
---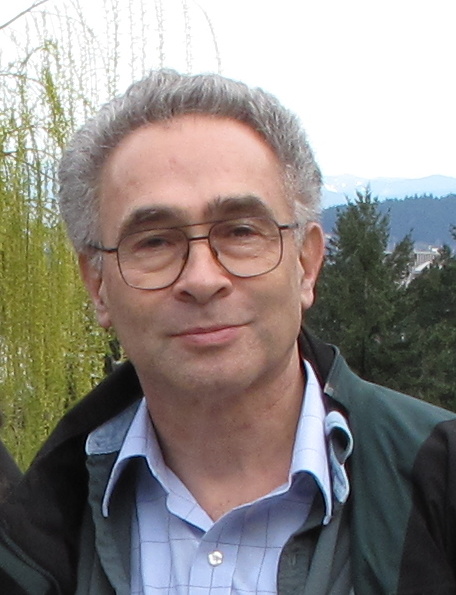 Stephen Levitas

(Group 32)
Michael is right. This is "barrel distortion." Its opposite is "pincushion distortion." It shows up near the edges of an image where there are parallel lines. Otherwise, you usually don't notice it. You can test your lens for it by shooting a sheet of graph paper. It is a lens attribute, not a perspective problem. Even my little old PS Elements has a filter for it. I used a +2 barrel correction. Took only a few seconds. &nbsp
Posted: 06/17/2020 19:57:03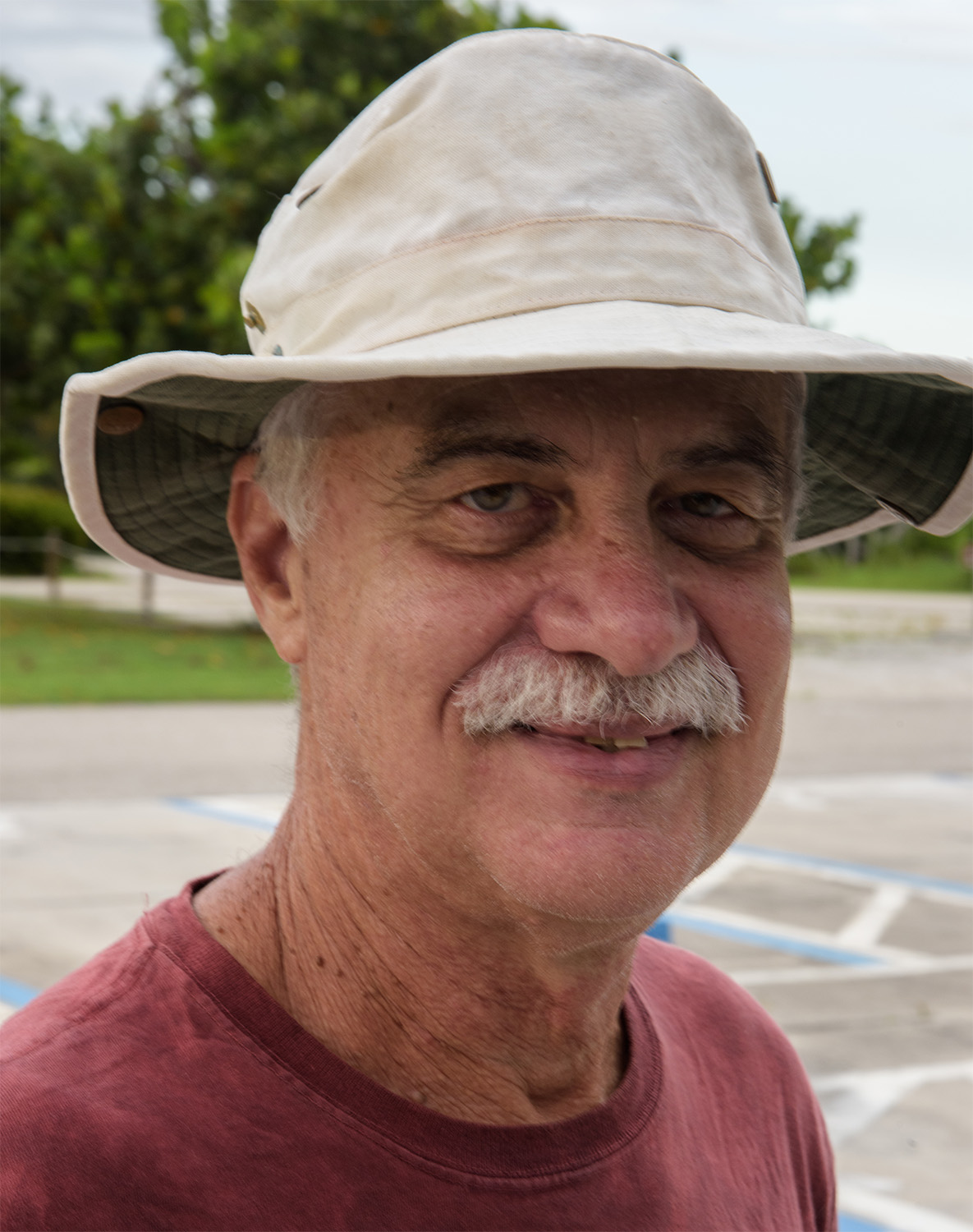 Larry Treadwell
Thanks for the suggestion. Others have mentioned this and I have played with it several times. Just been to busy to post the remake. :-( &nbsp Posted: 06/18/2020 07:47:33
---
Bob Crocker

(Group 57)
Great image Larry, as others have said, you achieved your mission of crafting a moody, ethereal image. I used to live in the Tampa area and I'mnot used to seeing Fl beaches with these kind of rocks, thought was California <;-) Love the colors and the long exposure was the perfect adaptation to mother nature not giving you what you originally were looking for. (Visiting from the former Gp 60, now in 57). &nbsp Posted: 06/28/2020 14:21:22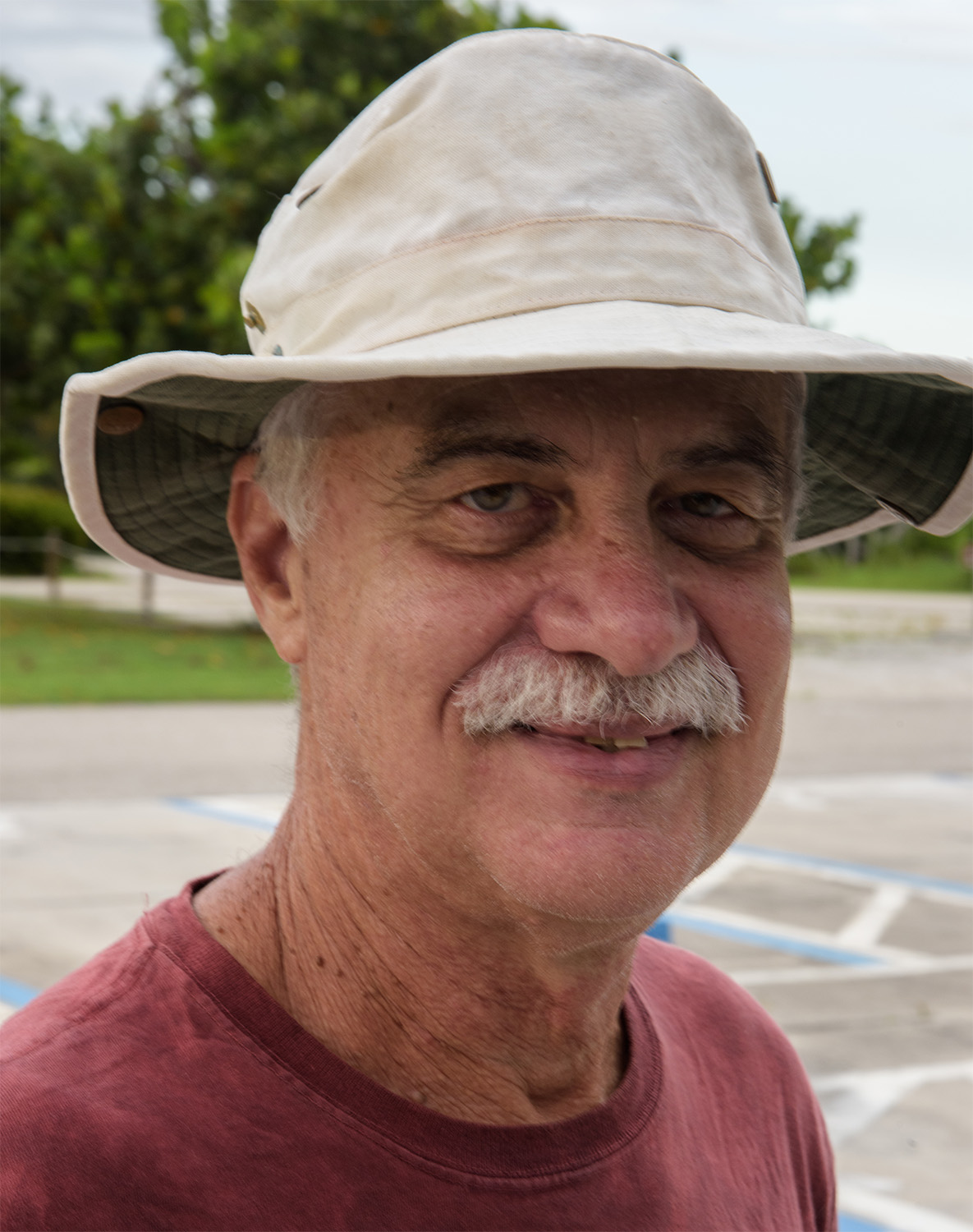 Larry Treadwell
Thanks for commenting. I was disappointed at first, but this has become a favorite image. For me it just has that "feeling" to it. &nbsp Posted: 06/28/2020 17:25:03
---