Richard White
---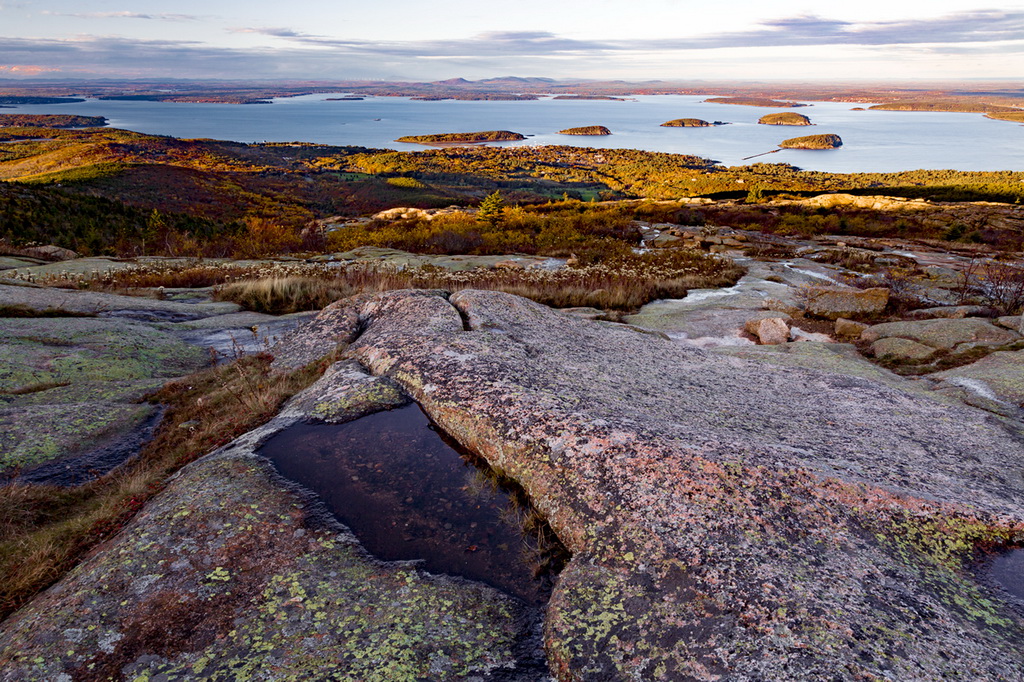 November 2019 - Sunrise at Arcadia National Park
About the Image(s)
Equipment: Camera: Canon Camera EOS 5D Mark III
Lens EF24-105mm f/4L IS USM
Tripod: Gitzo GT3542LS
Head: Acratech


Settings: F/16, 1/8 , ISO 800

While on vacation on the East Coast I was able to get into the Acadia National Park the day the government reopened the National Parks. I took this photo from on top of the mountain at the Acadia National Park. Adjusted it in Photoshop CC.

---
4 comments posted
Michael Jack
The first place in the US to see a sunrise. Having been there, I think you picked a great spot to take this shot. I liked the foreground element you picked and the position to have leading lines going down the mountain. The image appears sharp throughout and the exposure, saturation and cropping all appear appropriate to my eye. I don't have any meaningful suggestions. A nit might be to clone out the edge of the water puddle in the bottom left. &nbsp Posted: 11/10/2019 20:05:16
---
George R Phile
Richard, I like the amount of detail you have in the foreground and then the lines in the mountain lead you down the mountain to the water and then to the sky. I know it is sunrise but lightning up the mountain shadow might make it a little better. The puddle in the lower right doesn't bother me. Great picture. &nbsp Posted: 11/13/2019 14:56:41
---
Arne Skinlo
A very well captured image. My eyes start with the pond and drawn by the natural lines into the wood and into the sea. I like the combination of colors that makes the picture pop. If I should suggest anything, it would be to slightly darken the sea to make it stand out more and increase the contrast to the surroundings. &nbsp Posted: 11/13/2019 15:32:53
---
Bill Peake
This is a well composed image. I like the way the leading lines of the rock and the foliage take your eye down to the sea. Im not sure I would do anything with areas in shadow, the contribute a sense of drama to the image. I do agree that cloning out the puddle on the right might improve the image, but as Micheal said, that is a nit. Great work! &nbsp Posted: 11/15/2019 01:01:52
---
Please log in to post a comment