Nelson Charette
---
November 2020 - Eden PArk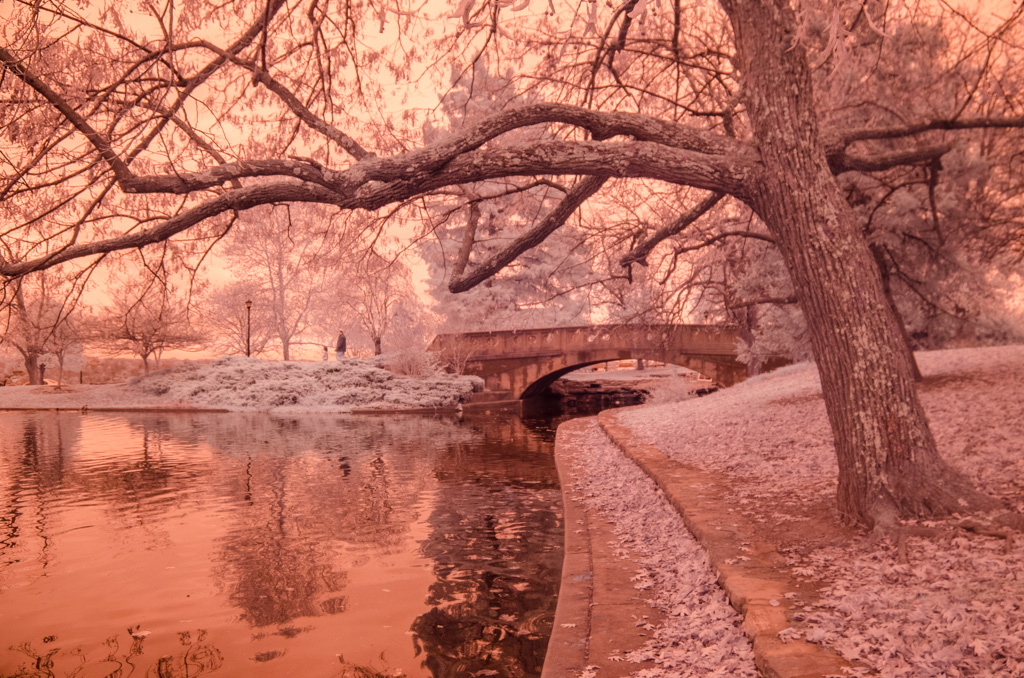 Original
About the Image(s)
Made this image a few years ago at a local park here in Cincinnati Ohio. It was about the same time of year, with all the leaves falling off.
I shot this with my older Nikon D70s, at 1/800 sec, f/5.0, ISO 800, at 18mm on the kit lens. I processed this with Lightroom, and Photoshop 2021.
Cloned out a few items I didn't like, converted to Black and White. Added a slight vignette, and made a border in Photoshop.
---
This round's discussion is now closed!
5 comments posted
---
---
---
Sharon Prislipsky
I think this is a very pretty scene and your post processiseems to me to be spot on. For me the lines leading to the bridge work well. The texture of tree trunk is interesting, and in my opinion the trunk and and the branches above frame the subject nicely. Well done. &nbsp Posted: 11/14/2020 15:51:42
---
---
---
Julie Walker
I think the composition works very well. The water and the edging immediately draw my eye to the bridge which provides a perfect focal point. I also like the reflections. I tried cropping the image just above the horizontal branch and I found this placed more emphasis on the bridge and reflections so you may want to try this. A very pleasing image. &nbsp Posted: 11/15/2020 13:34:46
---
---
---
Stuart Bacon
Since everything of interest is on the right side of the scene why not make this a vertical scene by cropping all up to the fourth three from the left). Keep that tree and its reflection as both are a nice part of the overall setting. The edging along the lake beautifully leads the eye to the bridge with the overhanging tree providing a great frame for the scene. &nbsp Posted: 11/16/2020 08:31:17
---
---
---
Debbie Perez
Such a pleasant scene! It must be a wonderful place to walk. Very nice separation in your tones and overall balance. I like this composition as I find myself traveling through the scene, up and over the bridge. Looks like a good place to photograph! &nbsp Posted: 11/16/2020 11:11:23
---
---
---
Terry Clark
Is this in infrared, you did not say what wavelength?
Where was your focus, was it the water? Pushing the processing has brought out some noise, most notable in the foreground water.
I like the composition of the long branch over the rest of the scene. This is a horizontal scene, not vertical.


&nbsp Posted: 11/23/2020 14:39:56
---
---
---