Helen Herbert, EPSA
---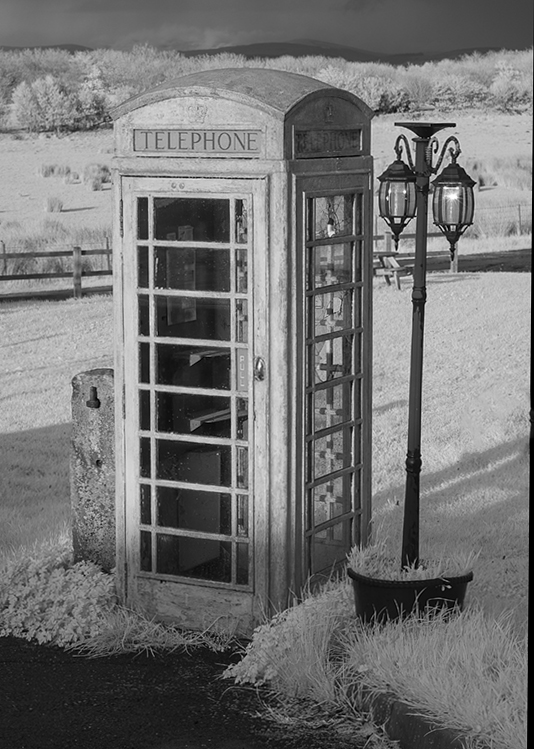 September 2020 - Phone Box
Original
About the Image(s)
Taken with my usual Nikon D300 converted camera and a Nikon 50 m.m. lens. f8 @125

This is a traditional old British Telephone booth in a Bright Red colour the same as the London Double Decker Buses. It was taken a few years ago whilst holidaying in Aberystwyth in Wales at a holiday complex. It was very simply processed by processing in Raw with the B/W tab and playing with the colour sliders. In PS The boulder on the bottom right was cropped out,levels applied and slightly cropping. I had meant to go further with this and produce it so that I turned it into Mono but painted the box Red. I painstakingly tried this,[ there are lots of window panes and such in it] but it was messy and a bit solid so tried the CLiR method and chose No. 5 in the Pre Processed channel which produces Red but it was not successful so I aborted the idea. If anyone can give an idea how to achieve this for future use I am open to ideas.

Hope you are all keeping safe and well.
---
9 comments posted
---
---
---
Terry Clark
I really like the juxtaposition of the booth and the lamps.

Painting this red would look great but agree it would take a lot of work. The red barn I did last month is fairly simple compared to this booth. If I was attempting to paint this booth I would select it with several increments of the Magic Wand, adjusting the tolerances for the various tones. That rough mask could then be fine tuned using a quick mask and a hard edge brush. I would leave the interior in monochrome but what to do with the insides of the back of the booth case? Paint them or leave the grey? Painting them would be even more difficult.
With my barn I had to use a Color Balance adjustment layer to get the red I wanted. Have Fun! &nbsp Posted: 09/03/2020 13:42:14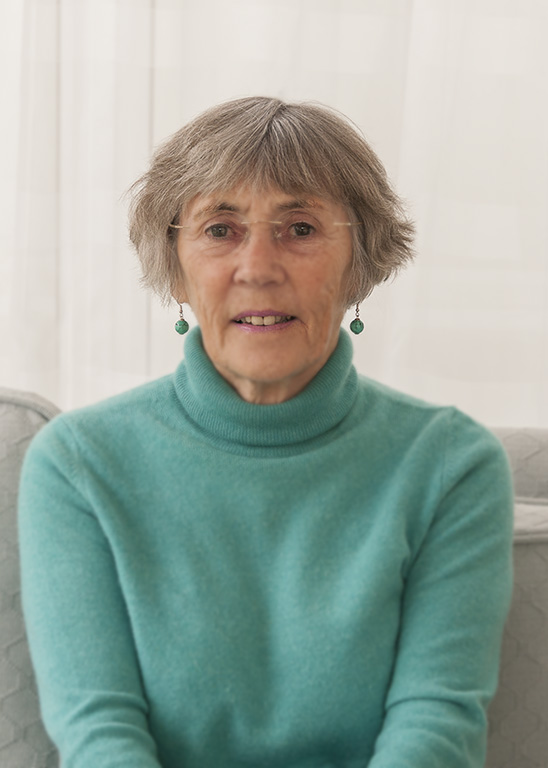 Helen Herbert
Thank you for your advice Terry. Certainly worth a try with your method. Watch this space!!! &nbsp Posted: 09/04/2020 03:03:38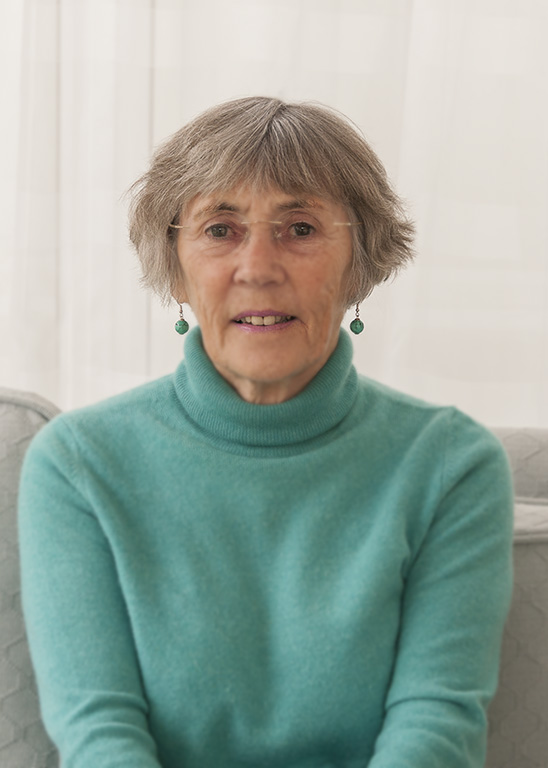 Helen Herbert
Following your advice I have attempted to paint the booth Red. Not perfect but it gave me an insight how to go about things. I had to select in most circumstances by using the polygonal selective tool as other attempts did not work easily, then filling from the colour picker the Reds, in some cases lighter or darker to give a bit of form. Again not too successful as there were lots of different areas to paint. The narrower panes inside the booth I used by clicking on the beginning of the pane and then at the end by pressing shift at same time and it zoomed along on its own. Very useful but only because they were short and narrow. I had to do every step on a new layer so I ended up with the layer stack very long. Thank you for your assistance. I will try and perfect the next one I do but will choose something with not so many parts.!! &nbsp
Posted: 09/06/2020 03:42:49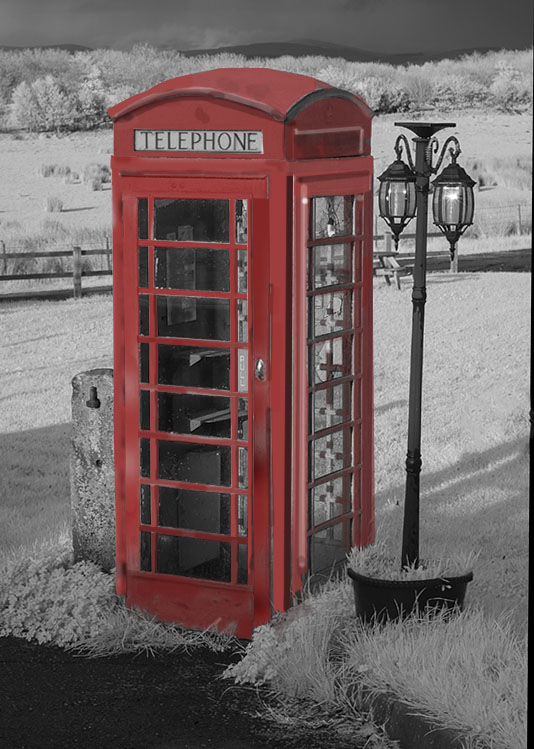 Terry Clark
Oh what fun!
I think you did a great job on this very complicated structure. Like my duotone barn, having a red element in a monochrome image just lights up the whole thing.

And yes, tackling a tough job like this will make you a bit "gun shy." But now you know you can do it so climb back in the saddle. We await your next success!


&nbsp Posted: 09/07/2020 22:19:32
---
---
---
Stuart Bacon
The phone booth alone would not hold the interest but having the light next to it gives the viewer two very different things to look at. What I'd like to see is more space around them, unless of course it is not open space. You did a good job in making the booth red. &nbsp Posted: 09/11/2020 14:37:43
---
---
---
Debbie Perez
I really expect to see Clark Kent (aka SuperMan) inside that phone booth. Such a charming scene! Agree with Stuart in that you did a good job painting the booth red. Very fun photo! &nbsp Posted: 09/11/2020 18:34:41
---
---
---
Julie Walker
I think it was well worth the effort it took to paint the telephone booth red, it really brings the image alive. I admire the lengths you went to to achieve this. &nbsp Posted: 09/13/2020 08:00:32
---
---
---
Sharon Prislipsky
I think these old phone booths have enough interest to stand on their own, but the lights on the side really add something special. I also believe it was worth the effort to add the color. I admire your patience and the foresight to do it on many layers. Nice work. &nbsp Posted: 09/13/2020 15:55:11
---
---
---
Nelson Charette
Very nice shot of the old phone booth. The lights do add to the photo. Cannot think of anything else to improve. &nbsp Posted: 09/21/2020 08:58:05
---
---
---
Please log in to post a comment