Helen Herbert, EPSA
---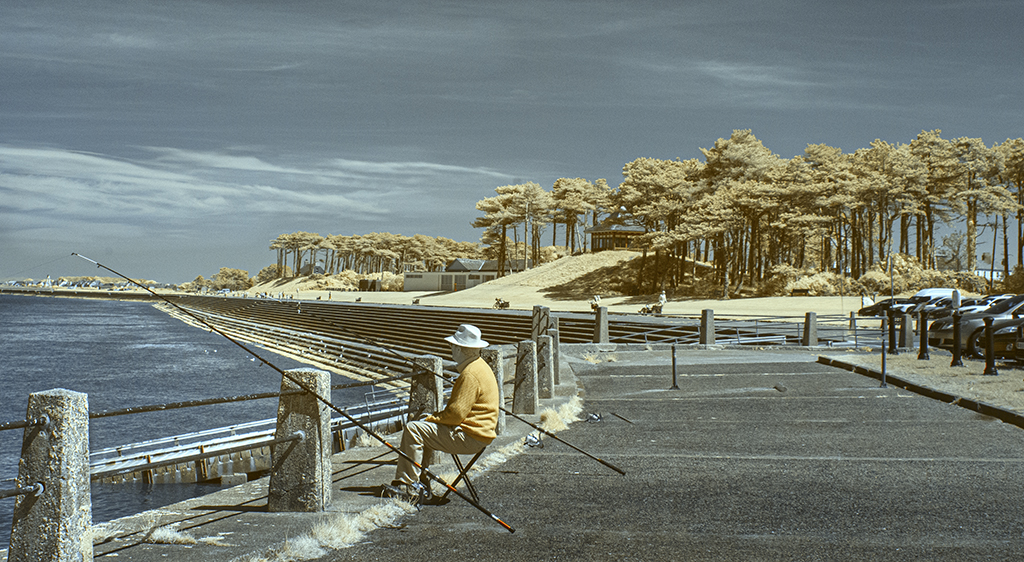 June 2020 - Fisherman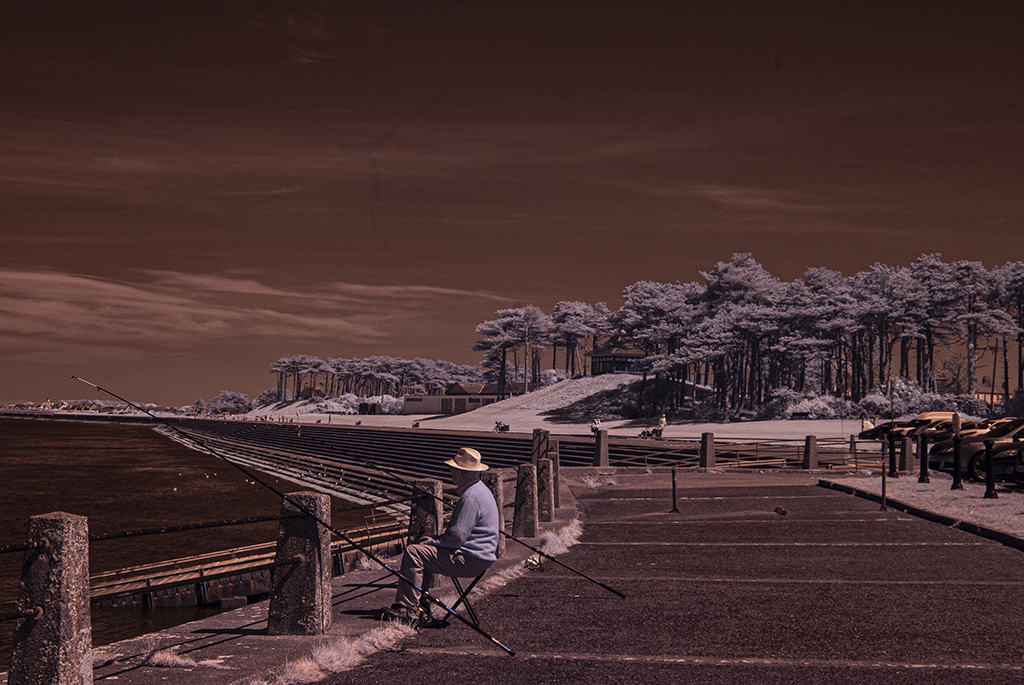 Original
About the Image(s)
Taken with my usual converted D200 Nikon Camera and Sigma 17-35 lens at 35m.m.. This was only taken two weeks ago when we were allowed to stray a little further after being locked down. Taken in Silloth a small town 14 miles from us up the Sollway Firth. Walking along the prom were some fishermen hobbyists as the tide was fully in.

Firstly I made some adjustments in RAW . Highlights , Shadows etc., produced a dng image then opened and in PS removed the hair mark and spot which I discovered. I have since cleaned the sensor! Then in CLiR I clicked on the Auto button which gave me a better rendition and from then on kept clicking buttons and tabs experimenting until I found something that I could live with. Finally back in PS I added a White Layer blended with Soft Light at a low opacity. Added a mask and with a brush brought the fisherman and base back. Then I cropped a proportion of the sky.

Hope you are well and safe across there with all that's going on.
---
This round's discussion is now closed!
5 comments posted
Debbie Perez
When I look at this, I see a vintage post card. The only thing missing would be "Wish You Were Here!" written in large across it. I am a bit distracted by the parking lot, perhaps a crop to remove them? Looks like a nice place to visit! &nbsp Posted: 06/11/2020 13:37:16
---
Sharon Prislipsky
This looks like a pleasant place to hang out - and not too many people there! I smile at your description of how you are experimenting with CLir. I am doing the same thing, and for the time being just try a lot of things until I get something that appeals to me. I am hoping that I will eventually learn which choices suit my style and zero in to learn how to use those particular tools to their full potential.
Having said all that, I like the color palette you chose. I do agree wth Debbie that cropping off the parking area on the right would make the image more visually pleasing for me. I need to practice your blending technique in PS. Everytime you mention this I think I will work on it and then forget to follow up. &nbsp Posted: 06/14/2020 12:19:31
---
Stuart Bacon
It is an interesting scene which is anchored by the fisherman. His yellow shirt makes him stand out whereas the other colors are muted so there isn't a conflict. My one suggestion is to crop the right side to eliminate the cars as they don't really add to the scene. &nbsp Posted: 06/14/2020 14:24:53
---
Julie Walker
I like the subtle tones of yellow and grey that you have achieved in this. The fisherman makes a strong focal point. I agree that the image would be improved by cropping out the vehicles on the right. I don't suppose this area is so quiet now as visitors are returning to Cumbria. &nbsp Posted: 06/15/2020 01:43:24
---
Nelson Charette
I like the fisherman, nice colors and processing. I also would see about cropping from the right, out the cars. &nbsp Posted: 06/18/2020 15:38:35
---