Sharon Prislipsky, PPSA
---
January 2020 - Old Back Door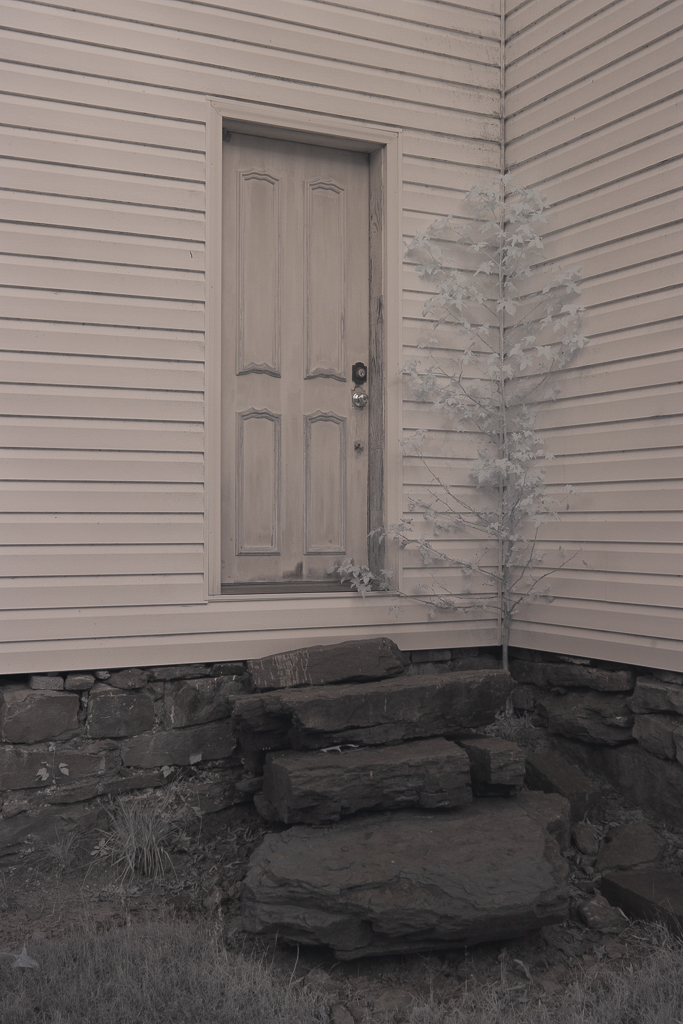 Original
About the Image(s)
While traveling in the extremely rural Ozark region I came across an old building with a graveyard nearby. The sign said it was a community center, but it may once have been a church. The Ozark region was historically a very poor area and this building is extrememly plain, basically a white sided cube. The graveyard did not yield any good shots so I went around the back and found this door. To me there is a story here, not only that it is tucked away in a corner, but that the only way to reach the door is to use the huge boulder which serves, I guess, as the back porch.
I made the image with my 830nm conversion camera. Settings were ISO 400; f/7.1; 1/60 sec. The sun was going in and out of the clouds so I had to be patient until the clouds diffused the light so I could avoid harsh shadows.
I did the channel swap in PS and added a curves layer to adjust the tonal range. I had to remove a contemporary lock just above the door knob; then the door knob seemed too new also, so I selected it and added some texture to give it an older appearance (I hope). It ws converted to monochrome in Silver Efex Pro. Suggestions for improvement will be greatly appreciated. Also, if you have experience in PSA Exhibitions I would like your assessment as to whether or not this image has potential to be accepted.
---
This round's discussion is now closed!
11 comments posted
---
---
---
Julie Walker
The texture in this image is what stands out for me. The boulders provide a strong lead in line to the door which, with the treatment you have applied to it, looks suitably old. It is always difficult to predict how exhibition judges will respond to an individual image but the simplicity of this one should make it stand out and I would think it could do well. For me it is a lovely image with a good tonal range, on my screen it looks as if you have added a slight sepia tone which compliments the subject matter. &nbsp Posted: 01/12/2020 17:23:07
Sharon Prislipsky
Thanks for your comments, Julie. Yes I did tone this image in soft sepia. I just forgot to mention that. I worked with this over a period of time and tried several differnt post processing technique, so it was easy to leave something out. &nbsp Posted: 01/14/2020 11:07:34
---
---
---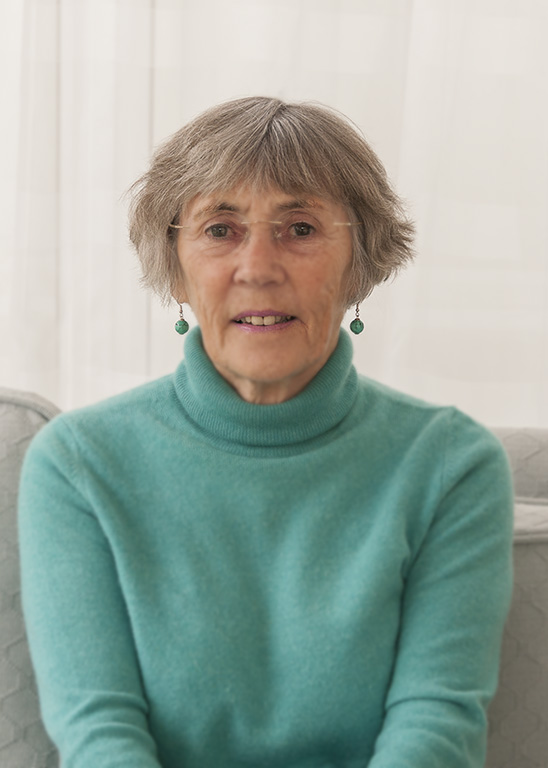 Helen Herbert
This is an image full of interest to me. The door looks old and intricate in designed compared to the wall of the building which looks of a modern design Love the stepping stones leading up to the door, and the 'slab' at the top. I think however you would have to be very careful coming out of the door on to it as it is not level with the bottom of the door and a bit lopsided, so a tricky big step down on to an unstable surface but it must be a way out of the building otherwise why place it there. The tree sets it off pictorially, and looks a delicate sapling, but I wonder when it grows more if the door is going to be hidden. A very interesting image and I feel you should give it a go in Exhibitions. It looks a pleasing image to me, but one judge can differ from another. Only way to find out is to give it a go &nbsp Posted: 01/13/2020 08:24:54
Sharon Prislipsky
Thanks for your input, Helen. You are probably correct about the siding not being old. The door is not that old either, but I tried to rough it up to look like it was less contemporary. I know you are an expert with monochrome so I appreciate your advice. &nbsp Posted: 01/14/2020 11:09:45
---
---
---
Stuart Bacon
Having entered as well as judged exhibitions I feel that a picture need impact to be accepted. There isn't time for the judges to study each and every image so it needs to "grab" attention in order to be accepted in an exhibit. I say this as your picture requires studying in order to make a judgment. A quick look would miss some of the salient parts like a tree growing in the corner, the unusual steps to the door and the sizable gap between the door and the top step. So, this is an unusual subject but I don't feel that an infrared rendition creates a more unusual result than a conventional b/w rendition. All in all I find it quite interesting as you no doubt did since you took the time to photograph it. &nbsp Posted: 01/15/2020 09:27:36
---
---
---
Sharon Prislipsky
Stuart, that is probably the most helpful feedback I have ever gotten from a study group. And I am certain you are correct. Too often we try so hard to be nice that we lead our fellow photographers in a direction that is not helpful. We have to learn to be more critical without being offensive You have done a good job modeling that. &nbsp Posted: 01/15/2020 09:35:59
---
---
---
Gary Butler

(Group 88)
I have the benefit of pondering Stuart's excellent comments above as I study this image. To me his expert opinion is "Spot On".

Now studying the image as he suggested, I feel that the varied textures can add much to the intrigue of this image. The composition, in my opinion, is excellent in it's simplicity. I believe that the tonal range is well done in that it doesn't force emphasis of one feature over another - letting the viewer's eye land equally on each.

If this image were mine, from my experience, I might try a bit more emphasis on the texture of the foundation rocks by lightening some of those on the right bottom of the image. Knowing your expertise in this area I would be very interested to see your feedback on this idea.

Thanks for sharing! &nbsp Posted: 01/15/2020 10:35:30
---
---
---
Debbie Perez
Interesting subject matter! It seems to me a departure from your usual IR HDRs. There are some nice elements but I'm struggling to decide on the subject, is it the door, the tree or the steps. In my mind, they all but the walls of the building seem to pull me away. Perhaps, vignetting to lead to the area? I do think this might be a good photo to add some textural effect.
I remember going to visit relatives who had house with similar "steps" which were quite daunting as a child. Now I wouldn't even try to climb those for fear of falling. &nbsp Posted: 01/20/2020 13:52:44
---
---
---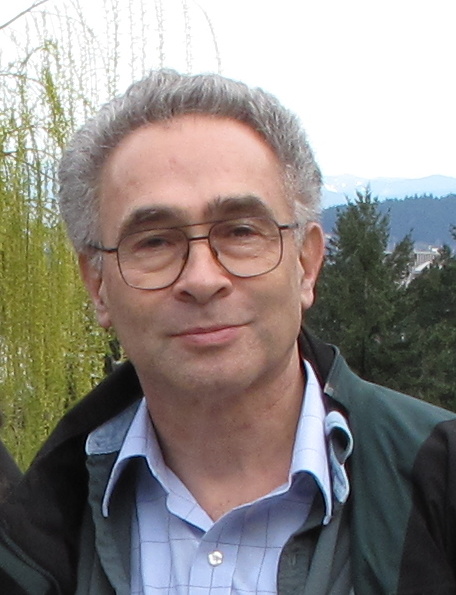 Stephen Levitas

(Group 32)
This is a captivating composition that makes me want to keep looking at it.
It is full of symbolism: the tree is new life springing from a difficult rocky spot. Since this building may be (once) a church, and new life is often discussed in church (both physical and spiritual), a tree of new life doubly resonates here. The stone steps lead up to a mysterious and difficult door--to what--to new life, eternal redemption, an ordinary mass or meeting? The stone steps are an improvise stairway, instead of a normal wood stair--must we build our own stairway to heaven out of stones we carry with difficulty, and climb with effort? On and on. Great composition. &nbsp Posted: 01/22/2020 14:13:49
Sharon Prislipsky
Stephen, thanks for your comment. I was very reassured that you were able to see the story in this image. It is always my primary goal to try to evoke in the viewer something of the feeling or the story that captured my attention in the first place. I also think your suggestion about adding texture is an excellent idea and will follow up on it. I really appreciate you for taking the time to provide me with some additional feedback. &nbsp Posted: 01/23/2020 11:21:14
---
---
---
Nelson Charette
I like the look and nice tones of the image. you brought out the details very nice. I would try cropping a bit from the left, and bottom, see what that looks like. &nbsp Posted: 01/23/2020 10:27:03
---
---
---