Sharon Prislipsky, PPSA
---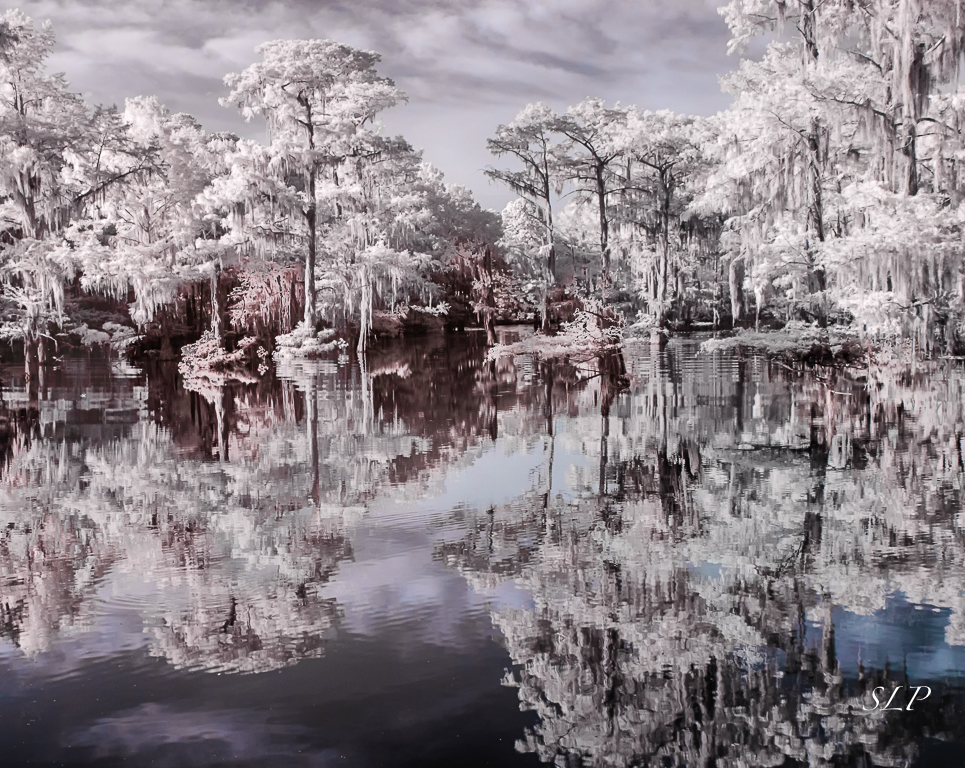 August 2019 - Presidential Legacy
About the Image(s)
I made this image a few weeks ago at a lake on the Texas-Louisianna border. Culturally and aesthetically, it is much more like Louisianna than Texas. I have always been intrigued by the Bald Cypress trees and the Spanish Moss, but I find it difficult to capture an image that shows the beauty without being too busy.
This was made with My Canon 7D 830nm conversion camera and a wide angle lens. It was sunset and the light was from behind me. Settings were: f/14. ISO 100, and the 3 exposures were 1 2/3 stops apart. As you can see the darkest exposure is very dark and I considered using only two. But I recently attended a presentation that deonstrated how much more noise is a factor when only using two exposures than it is when three are combined.
My goal was to try for those lovely pinks and bues that Helen is so good a producing. I did not do the channel swap but just worked with the colors. I will be interested in your comments and any tips you might give me to improve this image.
---
This round's discussion is now closed!
11 comments posted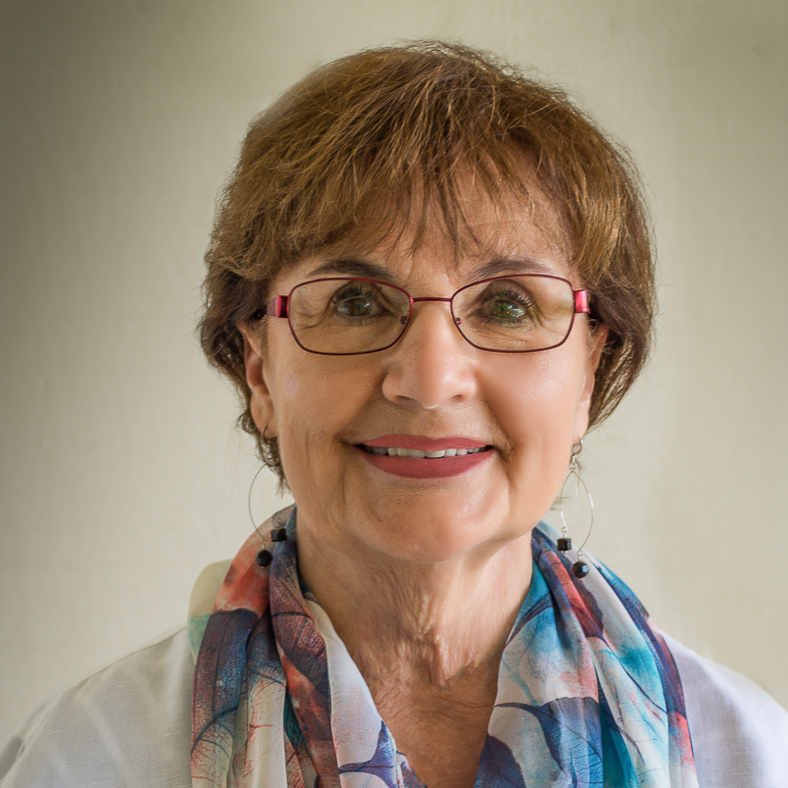 Shirley Pohlman

(Group 2)
Sharon, you know that I know absolutely nothing about infrared, but I wanted to comment on this image because of my having been to this lake many times when we lived in the area. In my opinion, you have captured this scene where you expect the Boggy Creek Monster to come popping out like nothing I have seen. I particularly love the way your pinks give the image so much dimension. I will be interested in seeing the other comments from those who have the knowledge of infrared. Well done, my friend! &nbsp Posted: 08/02/2019 19:20:16
---
April Kao
Caddo Lake is well-loved by my friends. We have been there in different season and weather condition, every time is full of experience. And I'm still searching for the perfect image.
You have captured the essence of the lake. The only thing I might consider doing would be using orange tone instead of pink to give it a fall look. &nbsp Posted: 08/08/2019 02:41:23
Sharon Prislipsky
Thanks for your comment April. It sounds like I am not the only photographer who finds Caddo Lake enchanting. I had not thought about giving it a fall look, but I will certainly give it it try. You have me wondering what it would look like if I used the Autumn preset in Color Efex Pro. &nbsp Posted: 08/08/2019 09:44:10
---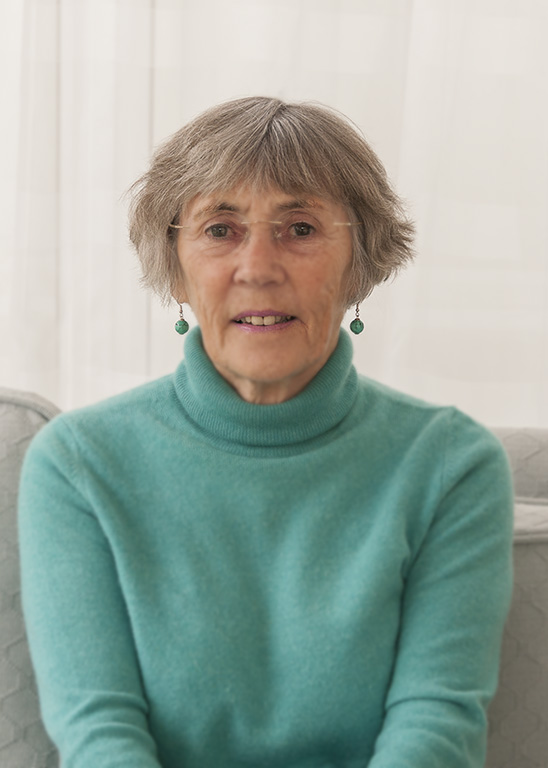 Helen Herbert
What a lovely delicate feeling you have given to this image. The Pink and Blue hues are very soft and suit the style you have portrayed. The sky is soft and subtle and overall you have given this image a peaceful, tranquil feel to it. There is a lot of foliage and I would like to see a bit of a crop from the bottom to strengthen the trees at the top. It is difficult in a place such as this as to what to keep in and what to take out and the reflections indeed are very nice, but it does make things a little busy. Lovely image. &nbsp Posted: 08/10/2019 06:33:27
Sharon Prislipsky
Thanks, Helen. You just quoted one of my favorite lines, "...what to leave in and what to take out..." the photograper's eternal issue. I will try your crop. I hope I get another chance at this location before too long. It is a challenge to photograph. &nbsp Posted: 08/10/2019 08:05:24
---
Debbie Perez
Interesting looking place! The coloring is not overwhelming, it is pleasant and gives me a peaceful feel. I do think the bottom part (just less than a third) could be cropped off to allow the view to be closer. Strange as this may seem, I like how the reflection rendered in your 3rd view. So I think this might be a good candidate for B&W. Helen's blues and pinks are fabulous but don't think I could come close but what a great goal! &nbsp Posted: 08/11/2019 17:03:20
---
Julie Walker
This is a lovely scene but I do find it a little busy with the reflections. Does anyone ever take a boat out on this lake? If so I wondered whether this would provide a focal point? I do like the colours and range of tones you have achieved and am tempted to experiment with this software myself. I agree with Helen and Debbie regarding cropping the image. &nbsp Posted: 08/14/2019 09:06:22
Sharon Prislipsky
You are right about it being busy. We did take a boat out on the lake also, but I was shooting color images on that trip. I had 2 cameras with different lenses & didn't think I could handle IR at the same time.
&nbsp Posted: 08/14/2019 09:09:51
---
Stuart Bacon
You summed up my thoughts as I feel the scene is too busy with too much of the same thing. I've always been of the school that says there needs to be a center of interest whereas I don't see one in this. I converted the scene to a vertical by cropping everything to the right of the sky area. The fewer trees in what is left seem to stand out more. &nbsp Posted: 08/15/2019 08:39:00
Sharon Prislipsky
Stuart, I definitely understand what all of you are saying about the "business" of the image. What concerns me it that it is a location that is overwhelmed by foliage and ancient trees. The canopy is low as is the light. I think the suggestions about cropping probably make a more artistic image, but do not capture a "sense of place" i.e., what it is actually like to be there. I think that is especially difficult to understand for viewers who are not familiar with the Mississippi Delta region and its swamps and bayous. My hunch is that this or similar color images of this area will have only local appeal. I do appreciate all the feedback though. &nbsp Posted: 08/15/2019 09:21:15
---
Nelson Charette
I like the tones of the color swap. Very nice water reflections. Like there is a little detail in the sky.
Can not think of anything else I would change.
&nbsp Posted: 08/22/2019 15:32:09
---