Candy Childrey, PPSA
---
February 2021 - Taylor's Sheep
About the Image(s)
When we were visiting the UK with our granddaughter two summers ago we went to the Valley of the White Horse. At the Valley of the White Horse there is a hill on which an ancient figure of a horse is cut into the turf exposing the limestone below. Sheep were grazing in the area around the valley. We walked through them to get closer to the horse on the hill. Our granddaughter desperately wanted to pet the sheep, but they would have no part of it and kept their distance. My image is a composite of our granddaughter and the sheep in close proximity.

The image of Taylor in the phone booth was added to the image of the sheep posing for photos. The extra sheep were removed and Taylor snuggled down into the grass behind the sheep. We will pretend that she added the sunflowers to the sheep. Nik Lighten darken filter, sharpen, glow, studio 2 Buzz Sim 2 at 25% opacity, and crop. And now she has her sheep close as she wished.

---
This round's discussion is now closed!
9 comments posted
---
---
---
Lori Lankford
Candy, this is really cute and so thoughtful as a way to remember your trip and your granddaughters wishes of being close to the sheep. I love the textures in the grass, the added sunflowers too. I wonder if you could add a texture or change the blend mode on your granddaughter to make the 2 images come together. I would probably add something to soften her and have her match a little more the scene. &nbsp Posted: 02/08/2021 12:06:21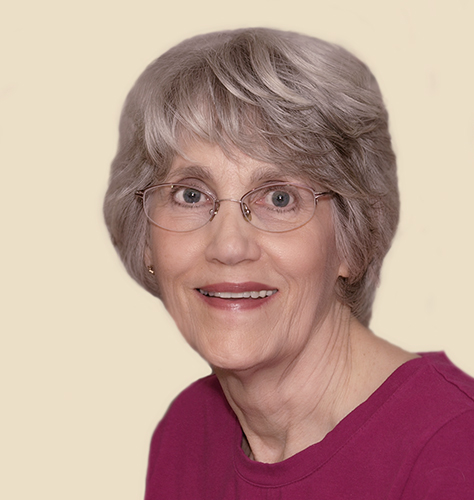 Candy Childrey
---
---
---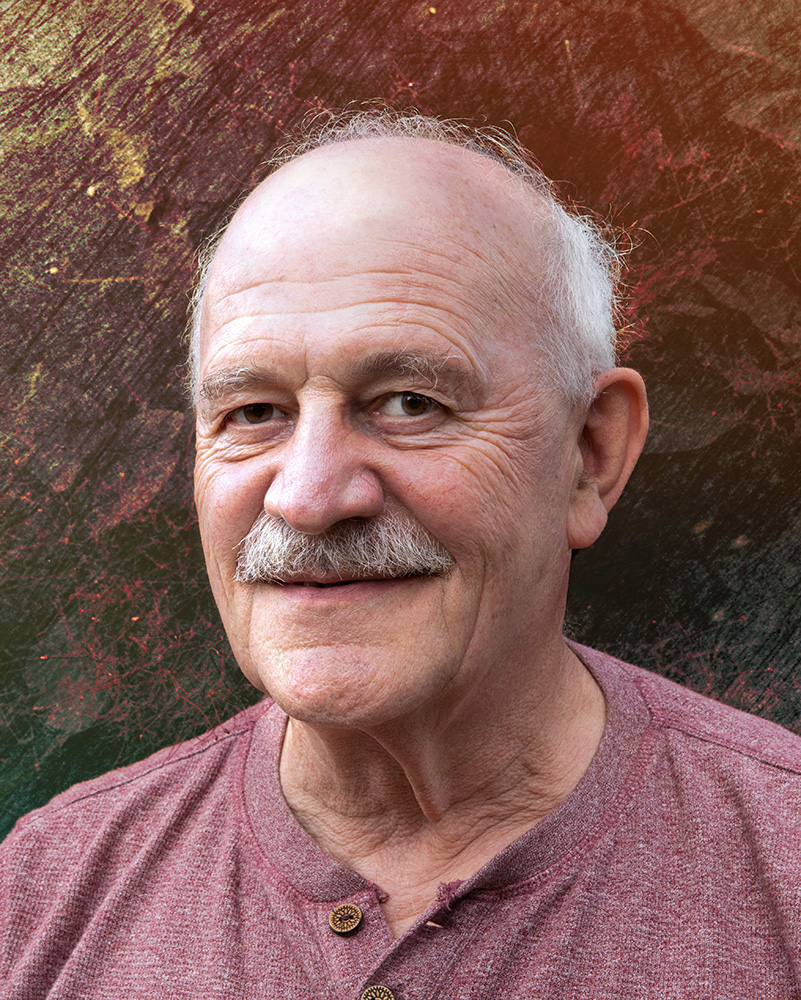 Steve Estill
Well done - it's wonderful that Photoshop can make dreams come true. Sheep can be fickle things! I hope Taylor is happy to be with them at last.
I feel that Taylor looks a bit pasted in, so I've tried adding a bokeh texture from Topaz Studio 2, and used a layer mask to bring her back into the frame a bit.
&nbsp
Posted: 02/08/2021 16:24:57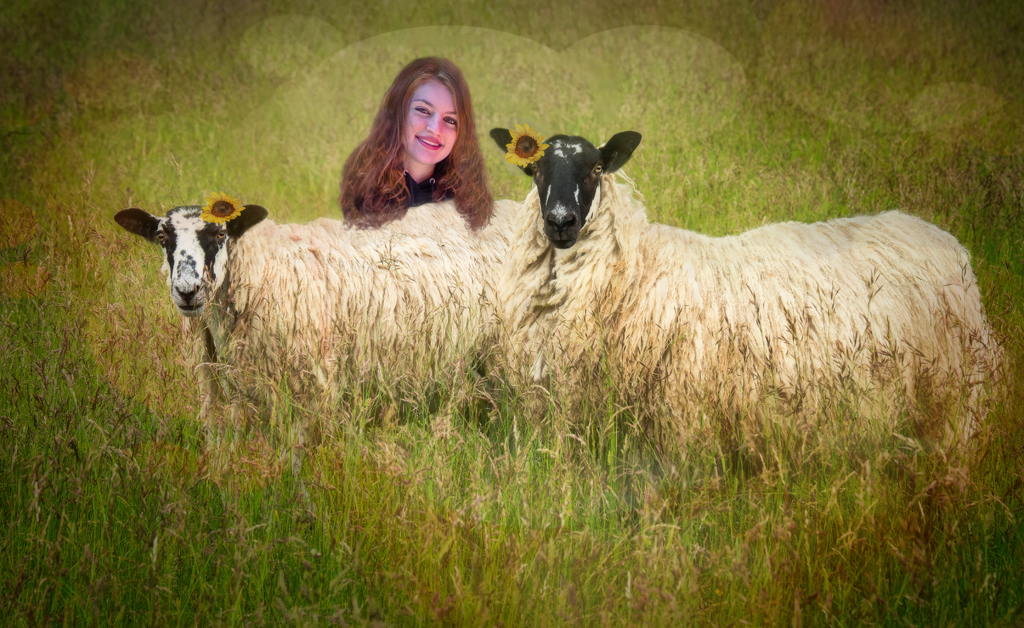 ---
---
---
Alan Kaplan
There's a well kept secret of a Little Red Lighthouse on the Manhattan side of the George Washington Bridge directly under the bridge. My wife and I took our 7 year-old grandchild on the long walk to see the lighthouse but were disappointed that we could not enter. I asked my grandson to pose as if he were looking down from the top of the lighthouse, and with the help of Photoshop I placed him at the top. He was delighted. Photoshop CAN make dreams come true. Your image is a delightful memory of a special time with your grandchild. Not many people have their portrait taken with sheep. I have a couple of suggestions, if I may, that will help make Taylor look less pasted. As her image is much sharper than the sheep, try a touch of Gaussian blur on her. Then use the Hue/Saturation Adjustment Layer on her face (select red) and reduce her blush. I feel the image would look less pasted if the flowers were not on the sheep. They divert attention and increase the pasted look. This image will always be a fond memory for you. &nbsp Posted: 02/11/2021 09:04:08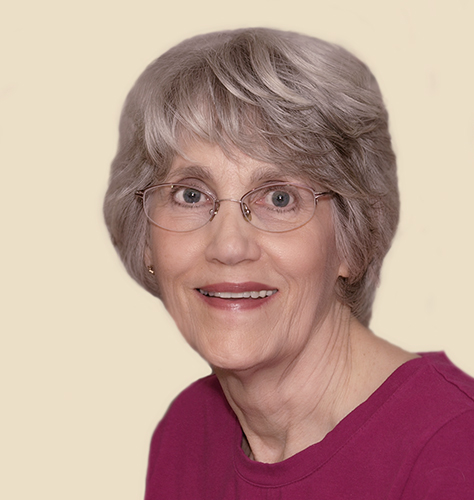 Candy Childrey
Alan Kaplan
I think the clarity of Taylor's image is closer to what one sees in the sheep, but I'd still use the Hue/Saturation Adjustment Layer to make her skin color closer to skin tone. I like Jan's suggestion of Taylor adding the flowers to the sheep. This give a reason for the flowers to be there. &nbsp Posted: 02/11/2021 16:08:57
---
---
---
Jan Handman
This is a fun way to give your granddaughter a memory as she imagined it. I agree with Alan that her face is too ruddy -- undoubtedly a result of being in the red phone booth. I like the quirkiness of the sunflowers, but I think the whole scene would come together and she wouldn't look so pasted in if you took a photo of her hands and arms so that you could add them in to look like she was actually placing the flowers behind the sheep's ears. They're in close enough proximity that the proportions should work. Fun and sweet image! &nbsp Posted: 02/11/2021 15:09:35
---
---
---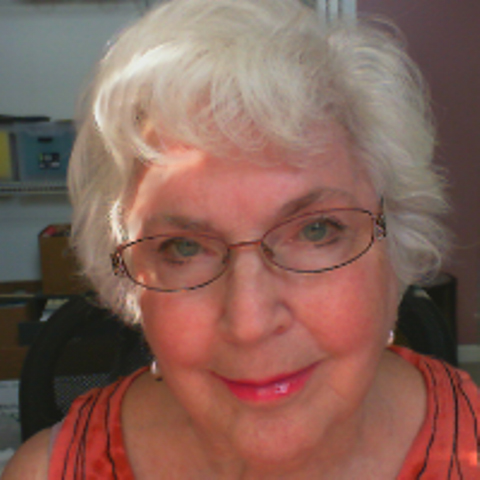 Georgianne Giese
Your treatment of the sheep is excellent, in my opinion. I hate to say this, but the head of your granddaughter just doesn't seem right in this image. To me, it appears as if it is growing out of the sheep's back. Perhaps if you had included a bit more of her body and extended the top of the sheep image to make room for that, it might correct this misperception. In PS, you can apply a crop that takes a tiny bit off of the bottom, and extends an appropriate amount above the top, and then click on the Crop tool's Content Aware option. Then add your lovely granddaughter with a bit more body into the image. That's just a thought. Also, you might consider moving her more toward the same sheep's head to reveal more of her body.

You are fortunate to have had this time with your granddaughter, and your expression of that time in your image is inspiring! &nbsp Posted: 02/24/2021 11:35:32
---
---
---
Fran McFadzen
I agree with Georgianne. The head of the girl looks out of place and a bit 'stuck on top". I wonder if something of her shoulders would help to locate her better within the scene, by making her look as if she is sitting behind the sheep. &nbsp Posted: 02/28/2021 01:12:07
---
---
---