Candy Childrey, PPSA
---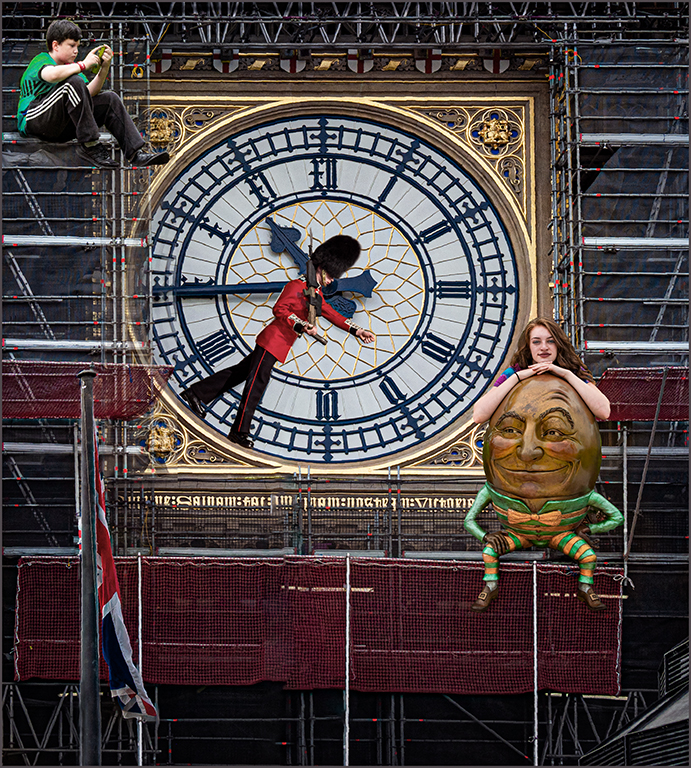 September 2020 - Fun at Big Ben
About the Image(s)
Last summer we spent three weeks in the UK and took our granddaughter with us. It is a good thing the trip was last summer. It wouldn't have happened this year. One of the things she wanted to do was to see Big Ben. But Big Ben was under repair, surrounded by scaffolding. So this is a whimsical rendition for her. It consists of the scaffolded Big Ben, a child from a park, one of the Queen's soldiers, and our granddaughter with HD (Humpty Dumpty), a loved feature of our public art program.

1-The original was cropped and straightened. Flag was moved and left side of the clock enhanced by pasting a copy of the right side over the scaffolding.
2-The boy, soldier and granddaughter with HD were selected and placed on and around the clock face. The color of the boy's shirt changed, support for the boys feet created, some shadows under the boy and HD added.
3-A vignette added, two textures added and a stroke.

---
5 comments posted
---
---
---
Lori Lankford
Hi Candy, this is so fun! I love how you made something out of the situation. The solider on the clock is so creative and adds to the image. I am sure your granddaughter loved it and appreciated you making it a great photo for her to remember the trip. &nbsp Posted: 09/01/2020 12:13:57
---
---
---
Denise Perentin
Your imagination really is working overtime with this creation Candy. I particularly love the guard walking around the clock! I am sure your granddaughter would love it. I do not know if I even got any photos of Big Ben when I was there! I must check, I think it was raining very heavily. &nbsp Posted: 09/02/2020 21:32:24
---
---
---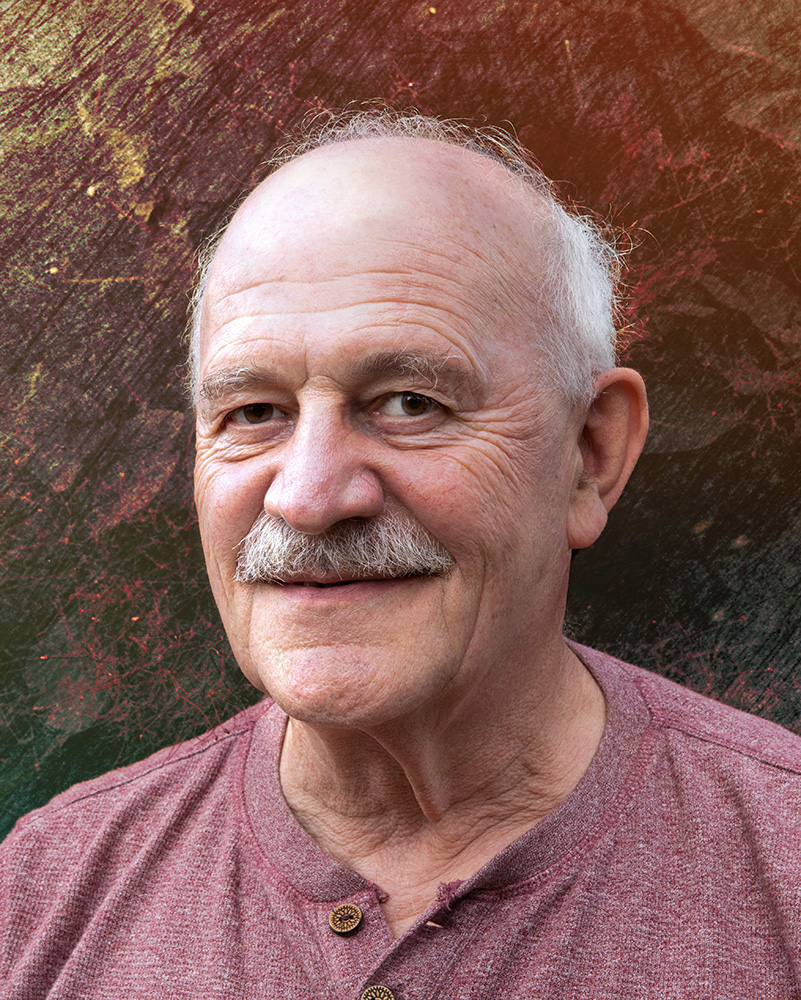 Steve Estill
An excellent composition. The positioning of the extra elements has given a good diagonal in the image. AS with Lori and Denise, I think the angle of the guard really makes it. Sitting humpty and the boy on the scaffolding just adds to the sense of the ridiculous.
Well done - a trip to remember! &nbsp Posted: 09/04/2020 15:55:50
---
---
---
Jan Handman
This is great Candy! You did a nice job extracting all your various elements. It was a good idea to change the boy's shirt to green to complement HD's limbs. And the red in the flag and the soldier work well together too. I love the soldier being at an angle rather than straight up and down because it makes it seem as though he must be marching around the rim of the dial in time to the ticking of the clock. You definitely made lemonade out of lemons with the challenge of having a landmark engulfed in scaffolding. Well done! &nbsp Posted: 09/08/2020 15:49:47
---
---
---
Alan Kaplan
I love whimsy, especially when it is constructed so well. I agree with Steve that the angle of the guard is the centerpiece of the image--with apologies to Big Ben. The above comments say it all. Nice work! &nbsp Posted: 09/12/2020 10:47:12
---
---
---
Please log in to post a comment