Georgianne Giese
---
May 2020 - Sam
About the Image(s)
My first step after ACR was to cut out the face and remove the glasses with Content Aware Fill. Next I applied Original 2 texture over it.
With the face selected, I applied a layer mask to the texture layer, painted with black at low opacity to bring back some texture in the face, and stamped up.
I wanted to get a semi sketch effect for this portrait, so I used Bill Barber's tutorial on that: http://www.billbarberphoto.com/tutorials/sketch-effect/
Aft copying the original layer to the top and applying Poster Edges to it, at 79% opacity, as per Barber's final direction, I went into Layer Style and applied a grey color overlay, to dampen down the yellow tones.
The next step was to apply an Exposure adjustment layer, to up the exposure slightly, and merged up.
I used Viveza to add structure and darken the eyes to the merged layer.
After that, I went nuts, trying to get just the right pencil and color effect. I used the following adjustment layers:
Hue/Saturation
Selective Color
Levels
Exposure
Brightness/Contrast
Curves
Colorful Gradient Fill (18% Color Burn blending mode)
Black & White (Pin Light Blending mode)
The background was too grainy, so I went back to the posterized layer and blurred it.
Finally, I used Filter > Other > High Pass at about 40% and Overlay mode, to sharpen the image.
I am not happy with this image. I did a previous image of Sam, with a wreath around his head. I decided that I didn't like the wreath, but I did like the effect. Unfortunately, I had embedded the wreath in the image, and I couldn't duplicate the image effect in the current image. I've worked too long on trying to duplicate it, and need to walk away from it right now. But I've included the wreath image as original 3.

---
7 comments posted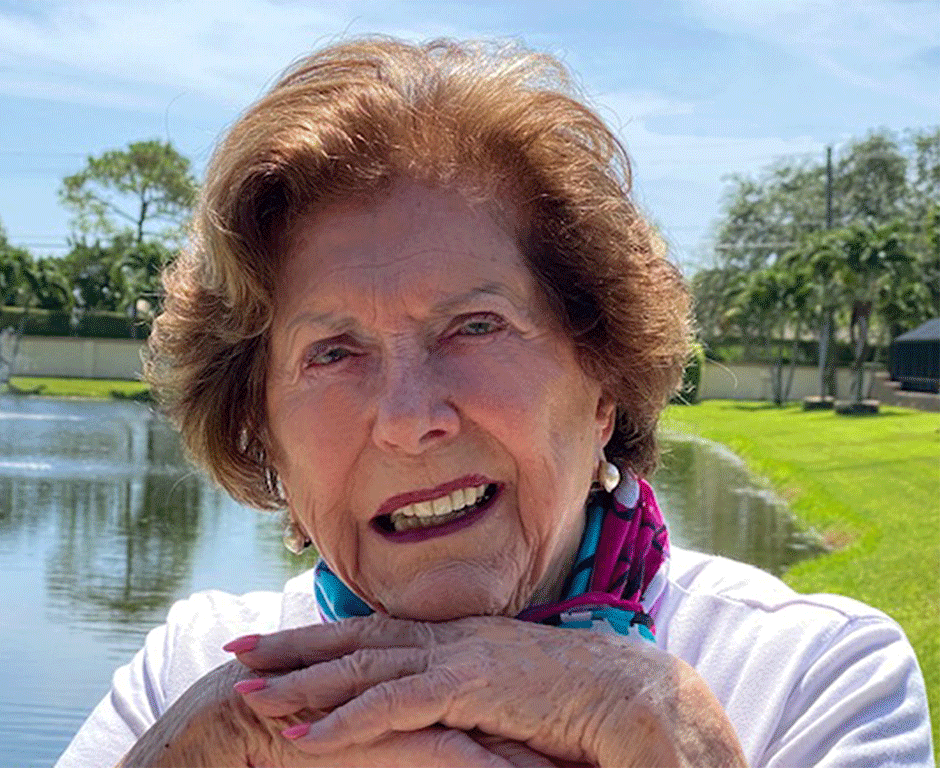 Barbara E Miller

(Group 5)
Gosh I am impressed--so much work--but what an end result. Just a small critique Georgianne The space under his chin on the RH side and the back of his shirt collar and shoulder need a little attention, but altogether a superb image. And thanks for the detailed steps, more of us could subscribe to this. &nbsp Posted: 05/01/2020 07:59:48
---
Denise Perentin
Wow Georgianne, so much work. I am sorry you are not as happy with the final image as you would have liked to have been. I agree with Barbara about the RH side of the shirt. &nbsp Posted: 05/03/2020 05:03:22
---
Alan Kaplan
I admire your tenacity. For me, your image is halfway between a portrait and a sketch. It needs to have more of a direction. There a few tutorials online that teach how to transform a photograph into a sketch. I'm sure you learned a lot with all the avenues you explored, and you'll be able to put those things to use in the future especially with your determination.
&nbsp Posted: 05/03/2020 15:44:54
---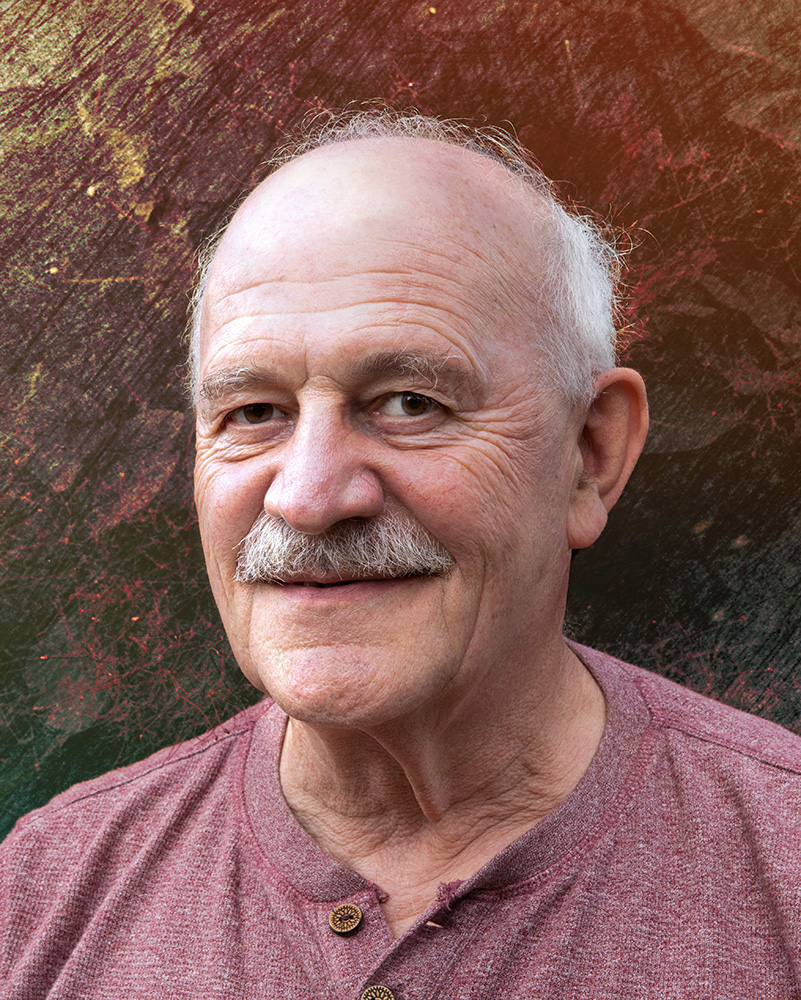 Steve Estill
An interesting image and a good description of the process. There are many ways to get sketch effects, just using plugins, but exploring the tools in Photoshop, as you've done, will be much more satisfying.
Well done.
What does Sam think about it? &nbsp Posted: 05/05/2020 15:16:59
---
Jan Handman
Making a photo into a sketch is something I like to do on my ipad while watching TV, just for fun. But most of the time I end up not saving them because somehow they just don't look any better than the original photo, so I sympathize with your not being happy with your final image. You did a great job of getting rid of his glasses. He's very clean shaven in the original, but the sketch version gives him a serious five o'clock shadow. The pink cast of the final seems, to me, not to work with the sketch concept. Having time on my hands these days, I played with your image a bit just to see where it took me. I reduced the saturation and used Spot Healing and Clone tools to tamp down the whiskers and under eye circles. Far from a good result and I certainly didn't take your time and care with it, but I thought maybe you'd enjoy seeing it. Your tenacity in working so hard on the image is admirable and I'm sure you'll be able to apply that knowledge going forward. Knowledge is power! &nbsp
Posted: 05/10/2020 11:18:52
---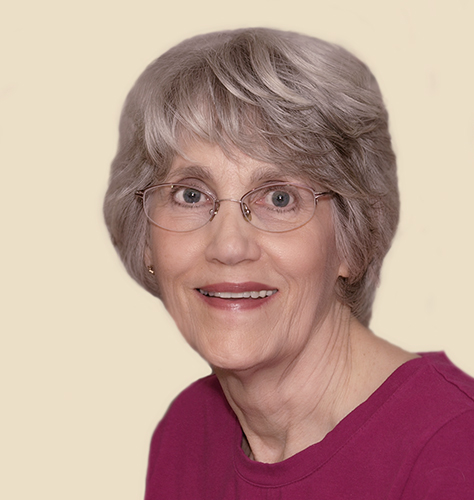 Candy Childrey
Georgianne, what a lot of work you have put into this image and to not be happy with the end result is disappointing. I'm not sure that the texture that you selected added to the result that you were hoping to reach. Great job with the glasses. Since there is no reflection on the glasses, maybe leaving the glasses on would give a nice effect. I agree that the RH side needs some work. I admire your tenacity. &nbsp Posted: 05/18/2020 13:33:38
---
Helen Sweet
Wonderful concept, turning a photo into a sketch, which I've never tried. You've inspired me to do so. Tho it doesn't look entirely like a sketch, I do like it. Amazing what content aware fill did with his glasses. I suspect you needed to add some detail of what would have been behind the frames. The problem on the left is his sweater which could be better differentiated from the background and his shirt or match the latter. So many steps. I, too, admire your perseverance and determination to experiment. &nbsp Posted: 05/26/2020 00:27:39
---
Please log in to post a comment