Alan Kaplan
---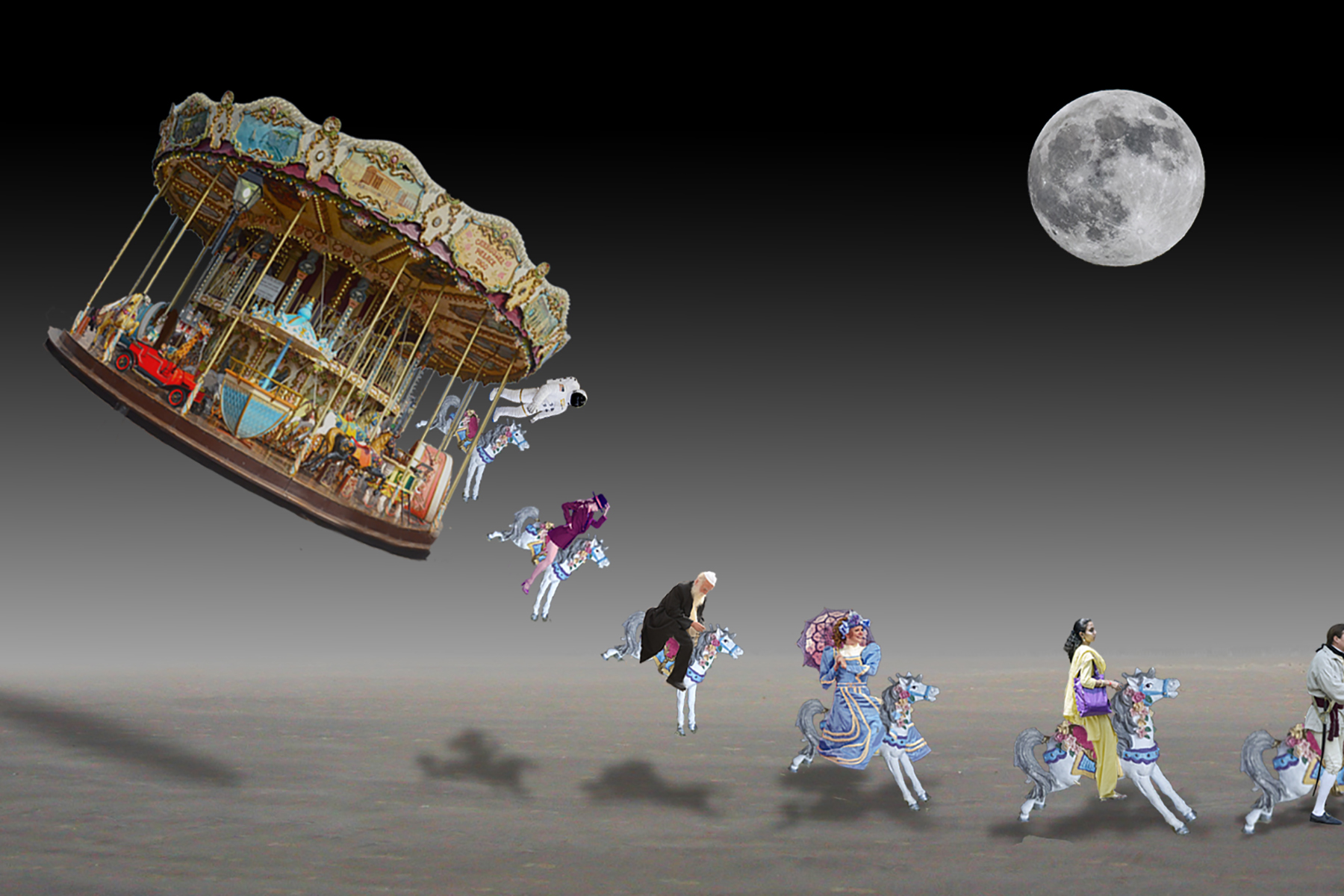 December 2019 - Carousel Nightmare
About the Image(s)
Original 1 was taken in June 2012, and Original 3 was taken November 2019. I lost the original and reshot the carousel horse to show its size. I didn't take the trouble to find out when all of the riders were photographed or extracted, but they all exist in my "People" stock folder.
I took 3 hand held bracketed shots of the carousel and used Photomatix to render an HDR image. I reduced the opacity with Photoshop.
The woman in the yellow dress, the Colonial Williamsburg man riding off the edge, and the astronaut are all on separate layers from their horses. I don't remember why. The other horses and riders are each on the same layers. The carousel, the moon, and the background are all on their own layers, each shadow is on a separate layers. I don't even want to count the total number of layers.
I didn't use my witch's brew on the carousel figures, but I did sharpen each one..

---
This round's discussion is now closed!
12 comments posted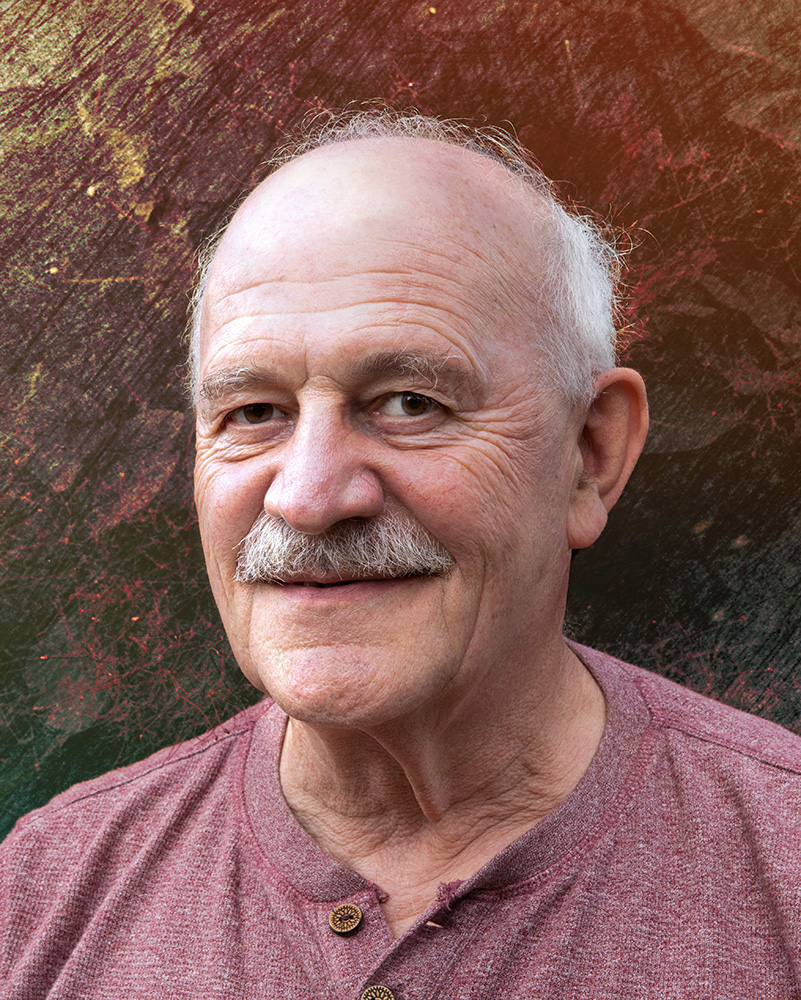 Steve Estill
A fun image! I'd have been tempted to use the dancer on the floor from Original 2 - that's probably the position I'd find myself in if I'd been riding a prancer!
I sometimes use groups to organise layers if they're getting out of hand, so for instance, all your shadows could go into one group to tidy up the layer stack. Lots of effects / modes / opacity etc can be applied to the whole group if required, which can save a lot of time too. &nbsp Posted: 12/07/2019 15:07:12
Alan Kaplan
Every once in a while in a lucid moment I use groups to help organize things. I also right click the layer box with the eye to highlight that box with one of the several colors offered. Then the boxes for all shadows can be gray. Unfortunately, lucid moments are infrequent. Thanks for the reminders. &nbsp Posted: 12/07/2019 18:22:25
---
Jan Handman
Once again you've presented a surreal image that causes me to stop and think, and then try to imagine what your mind was thinking when you created it. Your collection of riders is varied and interesting. I especially like the astronaut starting to float off into space -- maybe he's heading for the moon? The man at the extreme right makes me uncomfortable since he's not all there, but I know from your comments in previous months that that's entirely intentional, to give a sense of unease or uncertainty, so the viewer becomes more engaged by noticing those types of details. My only suggestion would be to perhaps reduce the opacity of the shadows a bit; they seem too strong for moonlight and therefore,in my opinion, are a tad distracting. I like the whimsy of this very much. Well done! &nbsp Posted: 12/10/2019 23:44:06
Alan Kaplan
In response to your trying to imagine what my mind was thinking when I created this, I'll share with you what a friend of mine told me when I sent him a copy of my winning composite in a statewide competition. He said he enjoyed the composite but that he "wouldn't want to live in my head." I took it as a compliment. Picasso said he was born being able to paint like Raphael and he has spent his whole life trying to paint like a child. I see that in some of your work. I'm basically trying to create dreams seasoned with disequilibrium--hence people, etc. not fitting onto the canvas or riders abandoning a carousel. &nbsp Posted: 12/11/2019 19:27:25
---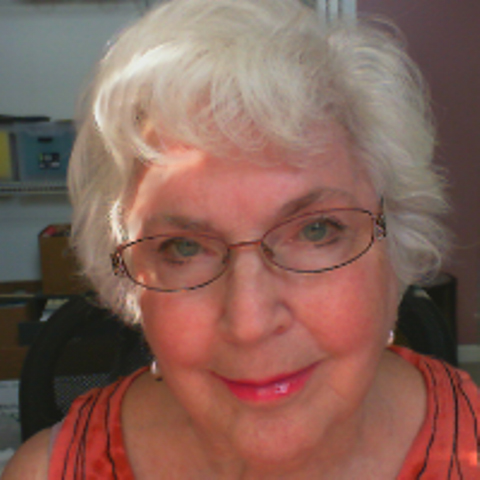 Georgianne Giese
Well, the previous comments are quite involved, and I'm not sure what else to say. I love the whimsy of this composition! Perhaps the shadows could be a bit lighter, but I'm not sure of the source of the light, as the moon looks rather non-illuminating. Perhaps it should have a glow around it?

Your image made me smile, with an inner giggle. Good job! &nbsp Posted: 12/13/2019 19:20:01
Alan Kaplan
It's a wonderful compliment that my composite made you smile and that you consider it whimsical. Thank you. &nbsp Posted: 12/14/2019 09:55:33
---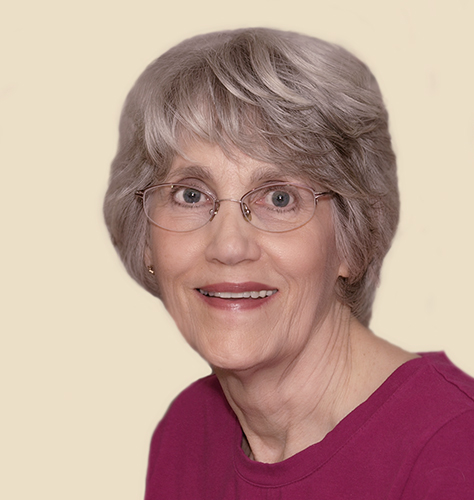 Candy Childrey
Alan, Good job. You selected a good variety of people to ride the horses. Love the uncluttered background. The carousel is presented at a nice angle, and the horses coming down create a good line. I think I would have selected several different horses instead of using the same one throughout the image. And I would like to see just a bit more of the rider on the far right. The moon creates a good balance for the image. You put this together well.








good job. &nbsp Posted: 12/16/2019 14:55:37
Alan Kaplan
Thank you for your kind words. I would have loved to have had different horses in keeping with carousel tradition, but I only had the one horse. In the Bronx Zoo in New York City, children do not ride horses or dragons or bears on the carousel. They ride insects! My 16 year old grandson still remembers those insects.I was hoping the man leaving the frame of the composite would add forward motion to the procession. Sometimes it works. Sometimes it doesn't. &nbsp Posted: 12/16/2019 16:12:15
---
Mark Southard

(Groups 8 & 18)
What a wonderful and creative image here !!Not sure is the moon is necessary. Maybe clone out the bottom right image as it is cut in half??? &nbsp Posted: 12/16/2019 18:20:02
---
Helen Sweet
Lots of work here, Alan. Nothing more to add to the comments above. I see it as charming, not a nightmare. &nbsp Posted: 12/25/2019 11:56:31
Alan Kaplan
I guess its a nightmare if you're the carousel operator. I do see the charm. That's what kept me going. &nbsp Posted: 12/26/2019 19:44:36
---
Denise Perentin
What a great fun image. I would like to see light projecting from the moon, even very lightly. I am also not sure about the half cut off on the right hand side. I know they are supposed to be running off the edge, I just keep thinking of a CC judge saying "watch your edges you should never cut anything off" LOL. A great fantasy image. &nbsp Posted: 12/27/2019 15:53:06
---