Randy Dykstra
---
February 2021 - Shane's View
About the Image(s)
Shane's View

This is the view from the cabin used in the movie "Shane" back in the 50s. The Grand Teton range is in the background. It was shot with a D850 and Tamron 24-70mm @31mm 1/320 f/6.3
I'm actually surprised at the depth of field of this image. I believe I focused on the far wood in the left side of the frame and was able to get most of the shot in acceptable focus. This was before I learned to blend focus stacks and I've gone back and done so but the colors, clouds and snow haven't ever looked the same.

---
This round's discussion is now closed!
8 comments posted
---
---
---
Bob Patrick
Great shot. The only suggestion I have is maybe burn in the clouds a touch. &nbsp Posted: 02/01/2021 10:32:42
Randy Dykstra
yeah that could help as they look blown out. This was a shot accidentally in jpg format. My camera had a major glitch and completely froze up the day prior. I had to completely remove all power and do a full up factory reset and eventually got working again. But it took me a while to get all my settings set back to what I had them. I didn't try to re-edit the photo, as I wanted to hear comments first. &nbsp Posted: 02/01/2021 12:38:45
---
---
---
Raymond Zurschmitten
Charming image where the logic is reversed by the deterioration: the beautiful nature becomes apparent by looking into the 'interior' of the dilapidated building.I really like the composition, the colors and the angle of view - well done! &nbsp Posted: 02/02/2021 10:31:08
---
---
---
Marilyn Peake
That's an absolutely delightful photograph! It works especially well with the bright colors. &nbsp Posted: 02/03/2021 23:00:20
---
---
---
Arief Rahardjo
Great idea to use available woods as frame. Color combination between orange and blue always interesting. Nice shot. &nbsp Posted: 02/05/2021 03:57:33
---
---
---
Paul Hoffman
One of my favourite films, looks like the cabin has not done so well, shame the highlights have blown, I did have to look twice to see if this was a reflection. Good view to have from your window. &nbsp Posted: 02/08/2021 06:55:47
---
---
---
Randy Dykstra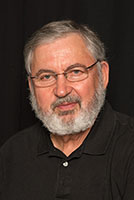 Isaac Vaisman M.D.

(Groups 4 & 58 & 72)
---
---
---