Dr Palash Nath
---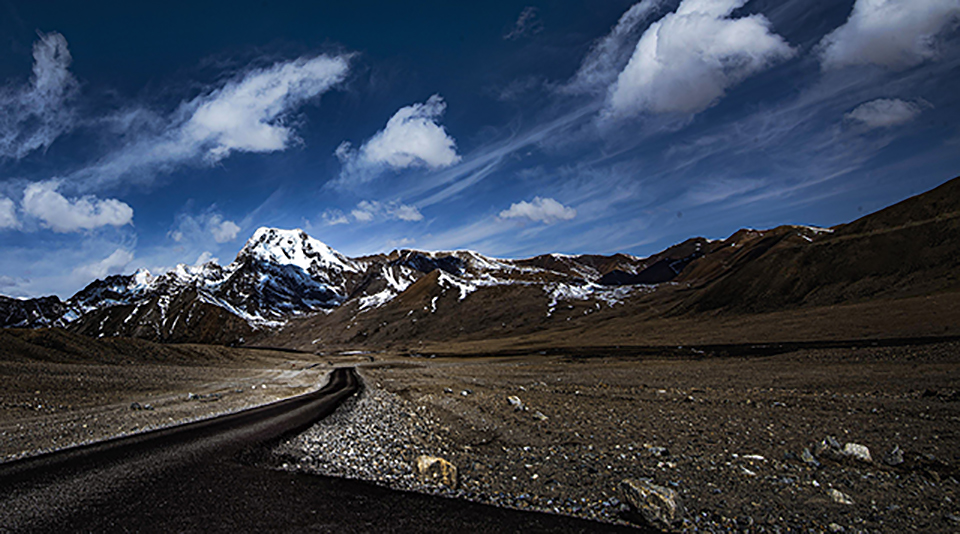 October 2020 - Way to Heaven
About the Image(s)
Deion: I took this image on the way to the Gurudongmer lake located at an altitude of slightly over 5000 mts above the sea level in the state of Sikkim in North east India. I was simply fascinated by the beauty of the snowclad mountain and with the road giving a leading line was just an irresistible sight to photograph.

Technical detail: Camera: Nikon D750, Lens:16-35mm f/4.0,

f/16, 1/180sec, ISO-64, manual mode, spot metering, Handhled, No flash used.

I used the Adobe Photoshop for editing this image. I mostly played with highlights, shadow, contrast, white and black adjustments. Later on I selected the sky in a layer and tried to adjust its contrast, highlight and shadows separately. Finally I applied little vignetting.

What I am trying to do in this image: I actually wanted to show the beauty of the landscape. I also wanted to use the road as the leading lines to compose the image.

---
10 comments posted
---
---
---
Bob Patrick
A bit contrasty for my taste, but certainly a powerful image. I think it would benefit from more detail in the road. &nbsp Posted: 10/04/2020 12:33:55
Dr Palash Nath
Thanks a lot for your comment. &nbsp Posted: 10/20/2020 02:32:34
---
---
---
Elizabeth Mangham
The beautiful lines of the sky, the light on the road and mountains and the texture of the ground are all lovely and well placed. I do like the triangular dark area leading to the road and the into the photo, but the lighter large rock grabs my eye. I think that it might help to crop the bottom just over that rock. Then everything fits perfectly for a great scene. It is difficult to capture so much in one scene that adds to the beauty and magnitude of the place, but you did it well. &nbsp Posted: 10/12/2020 15:55:06
Dr Palash Nath
Thanks for your encouraging words and also thanks for your valuable feedback on the composition. &nbsp Posted: 10/20/2020 02:34:40
---
---
---
Raymond Zurschmitten
A very nice picture, into which the street leads. The barren landscape, the snow-covered mountains and the dynamic cloud packs definitely give the impression of being on the way to heaven. What irritates me every time is the road, which gets wider at the bottom (probably a parking lot?). I would have taken the picture 10 meters further ahead and let the road start from the lower left corner. &nbsp Posted: 10/13/2020 08:45:08
Dr Palash Nath
Thank you for the feedback. It seems that the bottom part of the road is really a distracting element in the photograph. Thanks for pointing it out. &nbsp Posted: 10/20/2020 02:36:44
---
---
---
Randy Dykstra
The road provides a very nice leading line. the clouds add drama, and the barren landscape add a certain amount of starkness. It does seem to me to be a be tilted off of level. Even if it is not, the mountains give the impression the right side is a bit higher, which means you should rotate slightly. My only other suggest check for dust spots... &nbsp Posted: 10/16/2020 18:02:24
Dr Palash Nath
Thank you for the valuable feedback and comments. &nbsp Posted: 10/20/2020 02:39:46
---
---
---
Paul Hoffman
This must have been wonderful to see live, the open space and the feeling of freedom must have been amazing.
Technically a couple of little mistakes, the way you have composed the image and placed the track has made the right hand side feel very blank and empty, the large shadow in the foreground does not add anything to the image. Moving slightly so the track goes from bottom corner to just off center right would have balanced the image much better.
As for your tonal work, if you are going to do landscapes, specially like this, learn about luminosity mask and if it was me look at Tony Kypers TKV7 panel and how it works, it will change your photographic life.
But this is a wonderful place, please show more. &nbsp Posted: 10/19/2020 04:54:30
Dr Palash Nath
Yes, that was really an wonderful scene to witness physically at an higher altitude. I am convinced about the mistake regarding the use of the road as a leading line. At the time I took this photograph I was extremely cold and was experiencing low oxygen intake due to the higher altitude that I am not usually accustomed to. But I just thought it will make a beautiful image and so took this image. Technically, I am not that sound but I am always trying to learn. SO thank you so much for your reference about luminosity masks. will definitely check that. Thanks again. &nbsp Posted: 10/20/2020 02:44:26
---
---
---
Please log in to post a comment