Marilyn Peake
---
June 2020 - Blue Water Through the Canyon
About the Image(s)
I took this photograph at the Grand Canyon in Arizona. We climbed steps to see this view. I felt delighted seeing a ribbon of blue water winding its way through the canyon.

I shot this handheld with a Nikon D7200, f/18, 1/500 sec., ISO-1000. In Photoshop, I increased vibrance and saturation, decreased brightness and increased contrast.
---
This round's discussion is now closed!
6 comments posted
Paul Hoffman
I watched two nights ago a programme of a group of men rowing the length of the canyon in three crafts of the same design of the first person to navigate the canyon and you realised from that how vast and powerful it is.
This image beautifully shows an alternative view of how vast it is from the top of the world or that is the feeling you get. This would have been so easy to get wrong as the amount of light that was bouncing around this shot would have been awful. But you have handled the shot very well and have produced a pin-sharp, perfectly exposed image that shows off the canyon to its full effect for someone like me who will only get this close. Well done. &nbsp Posted: 06/12/2020 08:45:44
Marilyn Peake
Thanks so much, Paul! This was my first visit to the Grand Canyon and I look forward to going back. It's such a gorgeous place. &nbsp Posted: 06/13/2020 01:38:59
---
Elizabeth Mangham
Marilyn, I love your framing of this shot of the Grand Canyon. I feel that it looks hazy. I realize that it is hazy there, but I don't think we should let it filter out a great photograph. So I hope you don't mind, but I experimented a little-well, more than I intended, but each step was only a slight alteration (mostly).
Here is what I did:
In ACR I altered the temp to +6, the tint to +28, the highlights to -100, shadows to +97, whites to +3, blacks to -13, clarity to +13, contrast +11, luminance oranges +22, blues -6, de-haze +23, vignette -23. I leveled it with difficulty. It is difficult to find a good level place to use as a guide, so I really just guessed. Cropped it and went back to ACR graduated filter -180 on lower portion from the bottom to the peak of the center sun lit peak. This causes the eye to move on past that bright peak to the rest of the image. I then used the brush to lighten the highlites on the water to +11 in order to increase its focal point call.
Don't feel pressed to like the different version. If there is anything here that you want to use, great. If not that is fine. &nbsp
Posted: 06/12/2020 22:07:43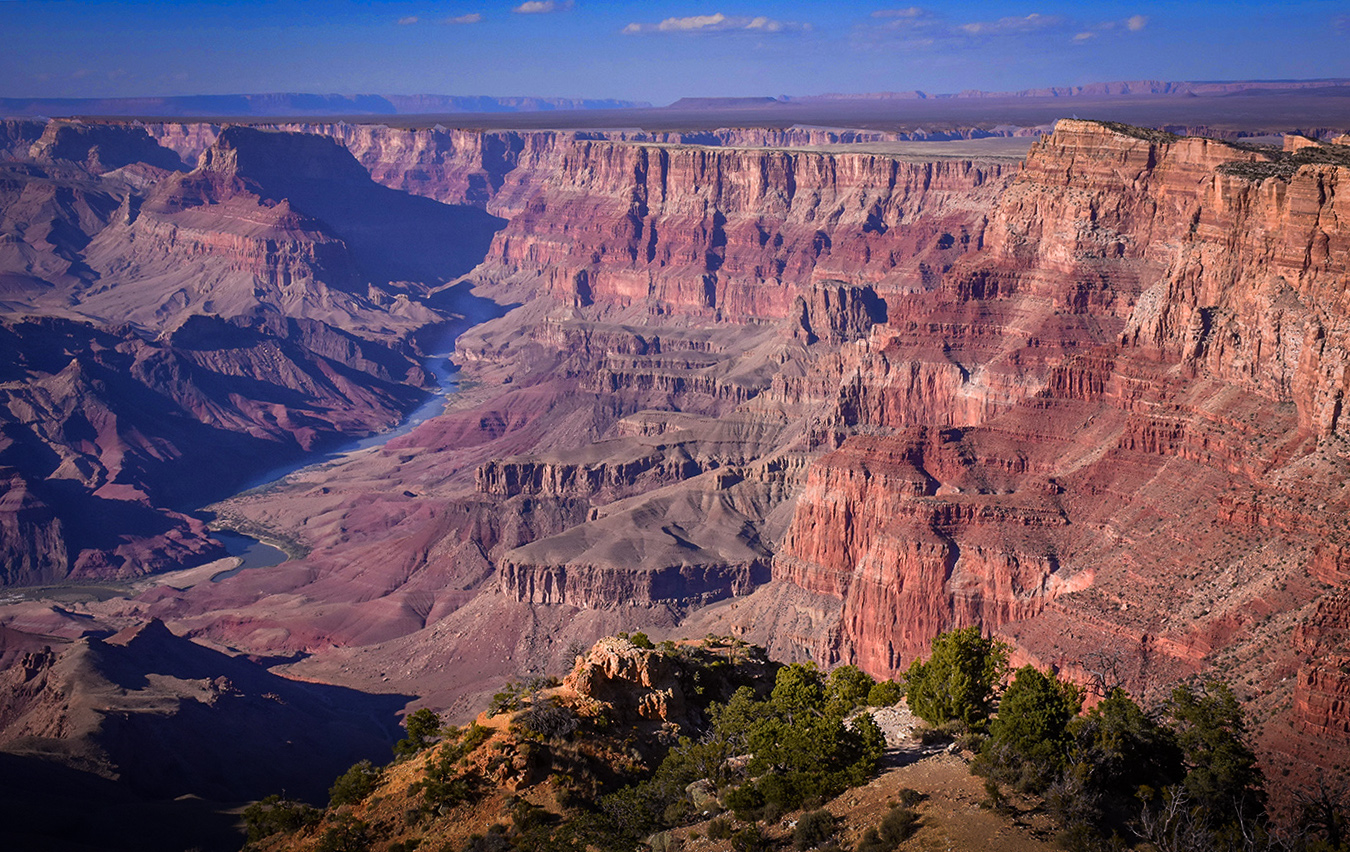 Marilyn Peake
Thanks so much for your suggestions, Elizabeth. That definitely improves the photo! I still have a lot to learn. :) &nbsp Posted: 06/13/2020 01:39:44
---
Raymond Zurschmitten
Nice shot of a great area. The different coloured rock steps with the beautiful structures are well visible. The foreground gives the picture depth. It's worth trying to lighten up the dark shadows on the left side (for example in Lightroom with gradient filter and area mask),maybe it has some information here. All in all a very nice picture. &nbsp Posted: 06/16/2020 06:03:51
Marilyn Peake
Thanks, Raymond! &nbsp Posted: 06/16/2020 16:13:25
---