Marilyn Peake
---
November 2019 - Waterfall and Rainbow
Original
About the Image(s)
The Gullfoss Waterfall in Iceland is formed where the Hvítá River plunges down what looks like three wide steps into a crevice. The day we were there, a large rainbow had formed along the wall behind the second step of the waterfall. I found that intriguing.
I shot this photo handheld with a Nikon D7200, f/7.1, 1/2000 sec., ISO-400. I edited in Photoshop to crop, sharpen the image and bring out the colors of the rainbow.
---
This round's discussion is now closed!
10 comments posted
I have been there also and found the crowds to be aggravating but the sight is very impressive. There is a lot of atmospheric water vapor flattening out the image. Did you try some dehaze to perhaps improve the contrast? &nbsp Posted: 11/09/2019 11:13:55
Marilyn Peake
Dehazing is something I still need to learn in Photoshop. Thanks for the suggestion. I plan to re-edit this photo after I learn more in Photoshop. I figured suggestions from this group would be helpful. :) &nbsp Posted: 11/10/2019 03:58:00
---
Paul Hoffman
Most people that have come back from Iceland in the last couple of years have all said the same, wonderful place, but getting so overcrowded with tourists it's getting hard to get images.
This does look a wonderful site and having the rainbow over it is an added bonus. Using dehaze in Photoshop is easy, it's one slider that you move left or right till you get to where you like it, with this you need to control all the individual tones. Doing your blanket adjustment has made the water too bright, but making a mask of the water and then making a reverse copy for the land would have given you the basic control. You then would have been able to pull more out of the ground without damaging the water.
&nbsp Posted: 11/14/2019 08:58:00
Marilyn Peake
Thanks, Paul! I've been working on masks. Sounds like a great idea for this photo. I'm looking forward to trying that along with dehaze. &nbsp Posted: 11/16/2019 03:59:16
---
Elizabeth Mangham
Nice composition of a lovely scene. You are progressing with PS at neck breaking speed. I am excited for you to be learning so fast. I think it a great idea to use the group to help you in places where you run into difficulty. They are a good group and very knowledgeable. Nice work. &nbsp Posted: 11/16/2019 17:07:23
Marilyn Peake
Thanks, Elizabeth! I've definitely found this group very helpful. :) &nbsp Posted: 11/18/2019 01:47:08
---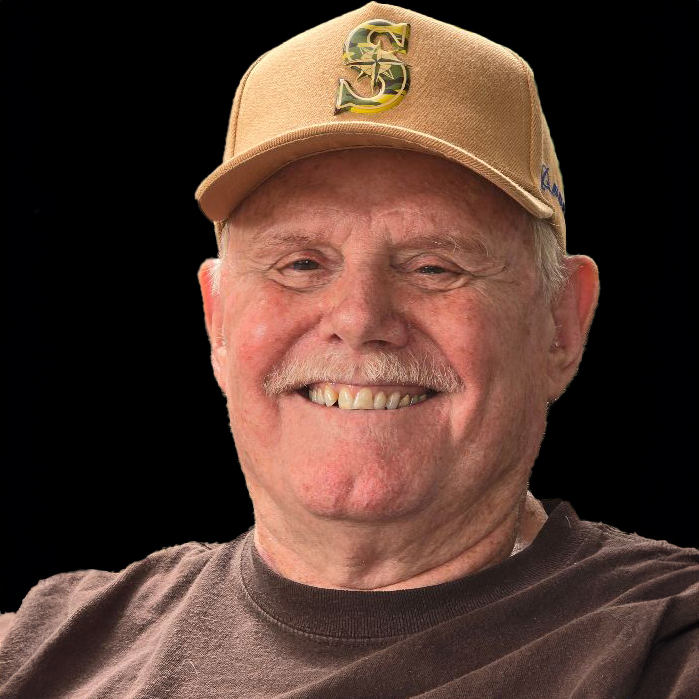 Bob Wills
I agree with the group that this is a very difficult image to edit. It will strain even Photoshop to handle the huge dynamic range you have presented us. Waterfalls normally are shot at a lower shutter speed to provide silkiness to the water probably about 1/6th sec, but you also tried capturing a rainbow, all the while handheld! What an ambitious trial.
So the waterfalls look blown out to me. With a jpeg to work with, it is hard to make suggestions, but here is one for really bad lighting. I created a B&W to consider, but of course the rainbow is lost, but in my opinion the waterfall is of greater weight in the image, and the muddy colors are eliminated.
I would also suggest getting a pen tablet to do your dodging and burning in PS. A mouse just doesn't provide the control that a pressure pen does. XP-Pen tablets are reasonably priced and will give you a faster learning curve. &nbsp
Posted: 11/18/2019 11:06:22
Marilyn Peake
Thanks so much for your detailed suggestions, Bob. I really appreciate that! I also love your black-and-white treatment of the photo. &nbsp Posted: 11/19/2019 03:33:06
---
Raymond Zurschmitten
Beautiful picture with great dynamics. The partially shining sun and the rainbow create a special atmosphere. If you divide the picture diagonally, the lower side is water and the upper mainland is. I think that this also determines the attraction of this picture. &nbsp Posted: 11/21/2019 06:26:59
Marilyn Peake
Thanks so much, Raymond. &nbsp Posted: 11/22/2019 04:30:25
---