Elizabeth Mangham
---
October 2019 - Aspen and Wildflowers
About the Image(s)
Cannon 60D Canon lens 24-105 SS 1/50, f8,ISO 100
PP: Very little. Vivenza to bump up the color and a couple of flowers added to direct the eye up to the aspen. Then a vignette to keep the focus in the frame.
I took this near Strawberry Fields Pool near Steamboat Springs. I loved the Aspen and felt lucky to also find wildflowers in bloom.
---
10 comments posted
Ken Carlson
I love it Elizabeth! I particularly like the volume of the flowers in the lower foreground as they seem to make a good base to anchor the image &nbsp Posted: 10/07/2019 12:46:23
Elizabeth Mangham
Thanks, Ken. &nbsp Posted: 10/10/2019 12:17:38
---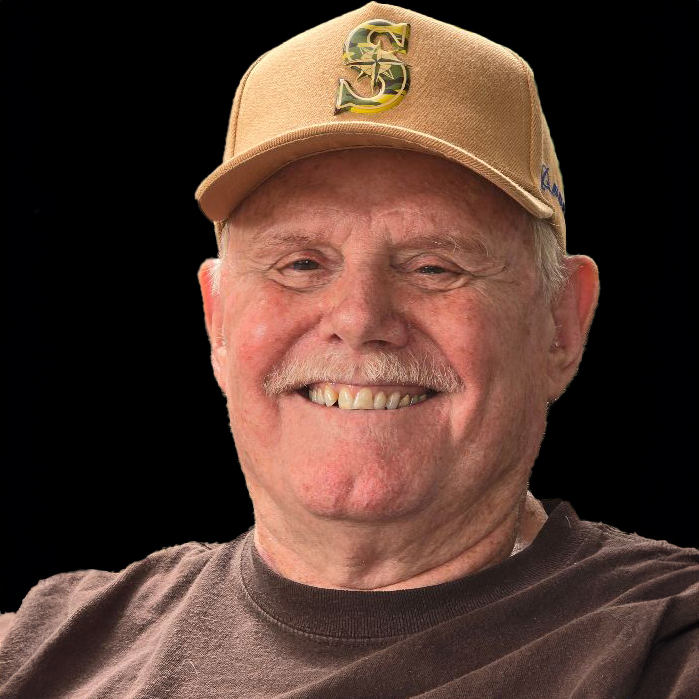 Bob Wills
Good capture. Elizabeth. I think from your 50/50 crop. your eye was drawn to the wonderful flowers in the foreground as much as to the trees. You have good instincts to see the light was probably better on the flowers. Love the colors, everything looks sharp to me. I think I'd recommended cropping the tops of the trees even though the trees were your original thought. &nbsp
Posted: 10/07/2019 20:29:11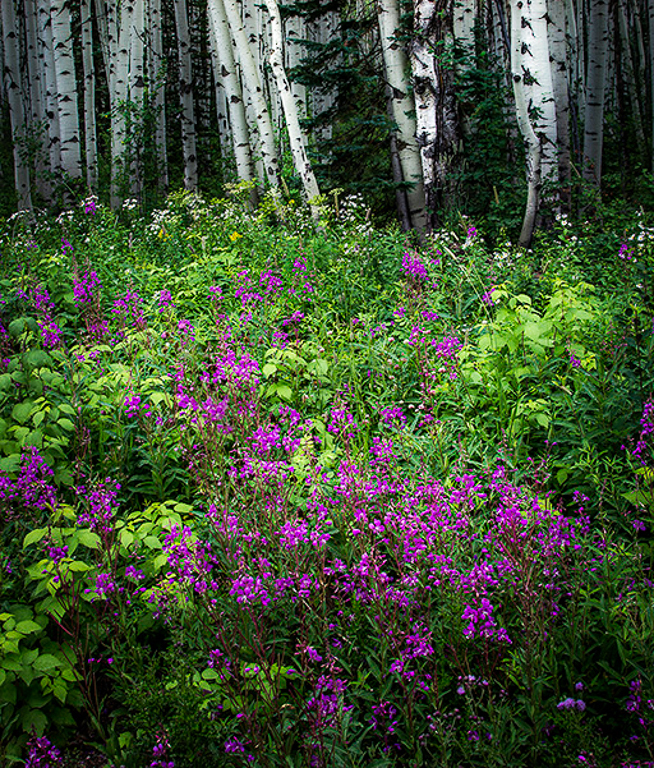 Elizabeth Mangham
That is an interesting idea, Bob. I will try it and see how it works. I have thought of cropping to just the flowers, but that is an entirely different photo. I may try cropping the top for one picture and the bottom for another. You spured my thoughts on this image. Thanks. &nbsp Posted: 10/10/2019 12:20:24
---
Marilyn Peake
I love this photograph! The purple and green colors of the plants and the round shapes of the flowers against the black-and-white straight lines of the trees makes for a beautiful composition. &nbsp Posted: 10/08/2019 19:14:28
Elizabeth Mangham
Thanks, Marilyn. &nbsp Posted: 10/10/2019 12:20:58
---
Raymond Zurschmitten
A very nice picture. I also think that the beautiful colored flowers and the rich green contrast well with the background with the black and white vertical lines of the birch trees. So the view is concentrated on the colored flowers. &nbsp Posted: 10/10/2019 10:40:21
Elizabeth Mangham
Thanks, Raymond. &nbsp Posted: 10/10/2019 12:21:32
---
Paul Hoffman
WOW! The contrast between the flowers and the Aspens are quite striking and come across to the viewer strongly. This is one for the card list. I agree you could brighten the Aspens a touch, but only a touch. Great image. Well Seen. &nbsp Posted: 10/14/2019 06:31:35
Elizabeth Mangham
Thanks, Paul. The birch and the aspen fascinate me. But I like all trees. They seem to hug, protect, and comfort. Maybe I am a tree nut. The oaks that grow here are magnificent! Every one is a story. &nbsp Posted: 10/14/2019 21:42:58
---
Please log in to post a comment