Tom McCreary, APSA, MPSA
---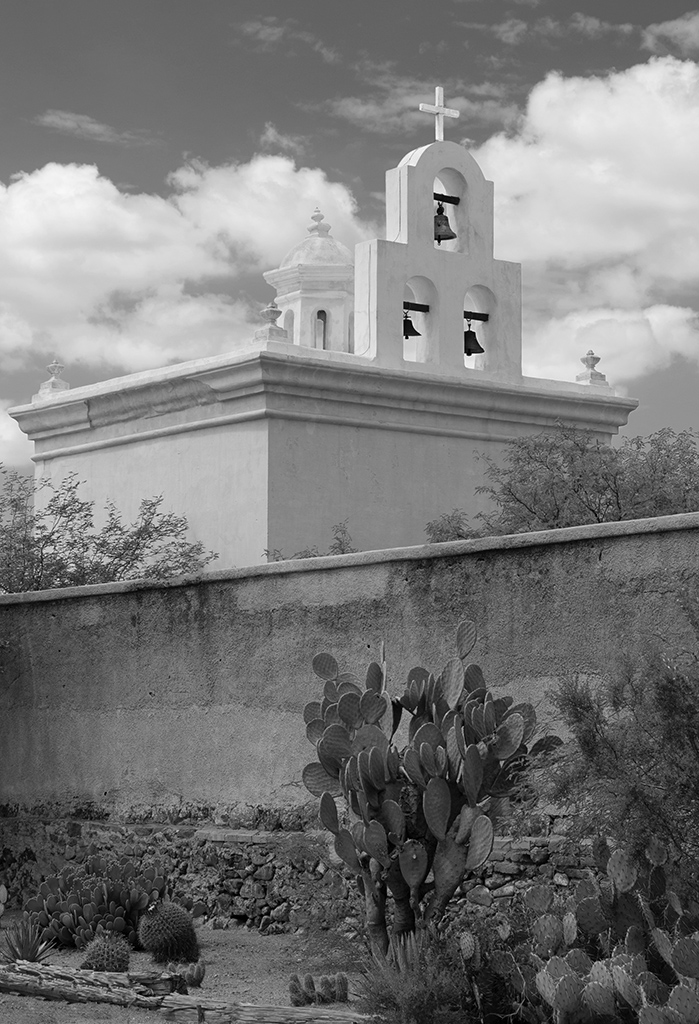 August 2019 - Tucson Mission Bells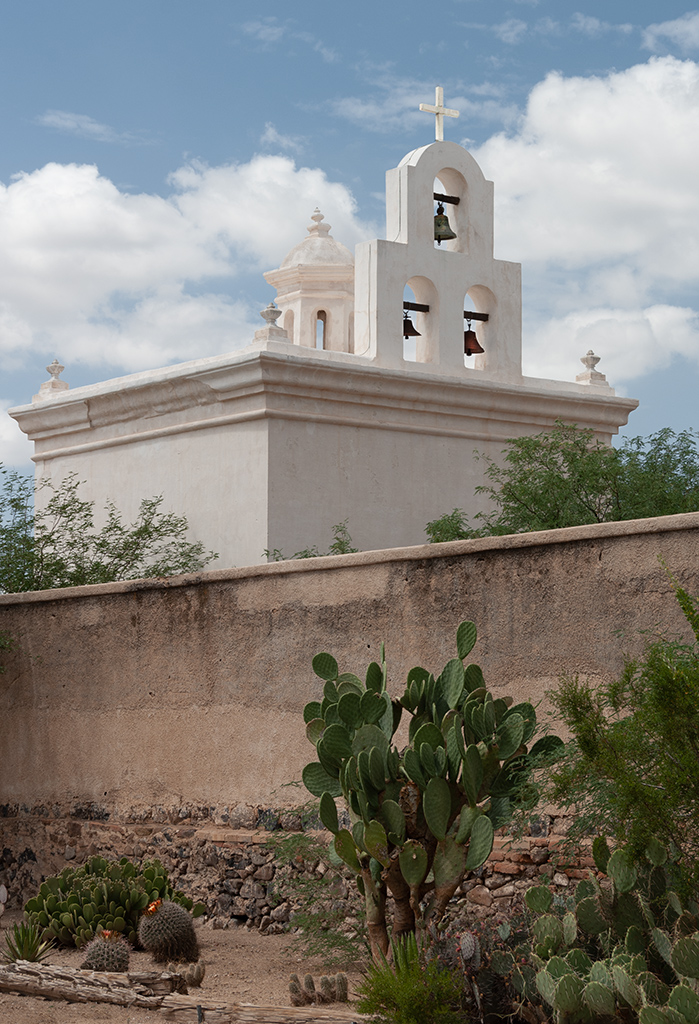 Original
About the Image(s)
Tucson Mission Bells

This is the Mission San Xavier del Bac in Tucson, Arizona. They were working on it while I was there, so the angles to take images from were limited. It was taken at 50mm, and 1/320, f9, ISO 100. I darkened the sky some, dodged on the bells, and changed the cross to white. I straightened the cross to be upright and cropped in just a little bit.
I converted to mono in Photoshop, adjusting the color sliders some.
Also included is the color version.
---
5 comments posted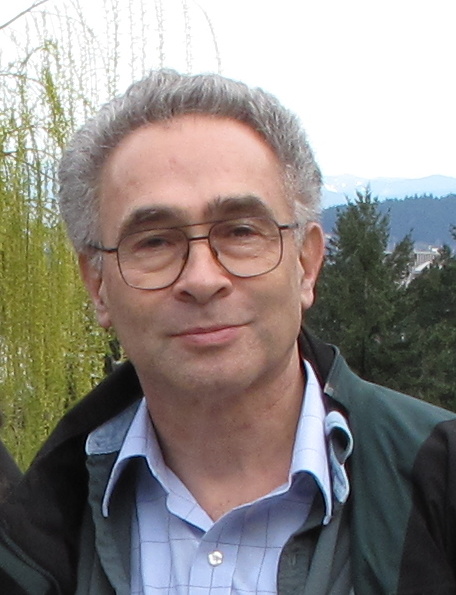 Stephen Levitas
Let's discuss. I am not getting much impact from this, and I think there is too much in the scene, and the mission bells are not prominent enough. What do you think about cropping out the cacti outside the wall? (I tried cropping even more, down to just the tower top and bells, but I did not like that.) &nbsp
Posted: 08/03/2019 10:32:17
Tom McCreary
I do not like images that do not have a base, and that is what you have done to it. I like the contrast between the dark cactus and the white tower. &nbsp Posted: 08/10/2019 15:17:42
---
Gloria Fine
Tom -For some reason I don't see the comments that I sent about a week ago. I agree with Stephen. I really like the clouds but I believe if they were darker it would give more emphasis to the bell tower. I also wonder about the structure behind the bell tower i.e. whether you could eliminate it because, while it is beautiful, I think it takes away from the bell tower as do the fixtures on the corners of the building. I am a real lover of cactus and I would love to see you do a black and white of the wall and the cactus and wild flowers and the bushes without the bell tower and the building... I can tell from your beginning photograph that it was a beautiful and visually interesting spot. &nbsp Posted: 08/09/2019 16:06:11
---
Diana Magor
I agree with Stephen here that the wall is a stopper to the viewer. I think a good crop is needed and I might go further than Stephen and take off the left corner of the square tower to put the bell tower inn a more prominent position. I don't object to the structure behind it as it is smaller and actually creates a triangle shape leading up to the bells. Were you aiming for a semi high-key effect as it appears a bit pale on my monitor? I think i would go for greater contrast -darken the sky so the bell tower stands out more. &nbsp Posted: 08/10/2019 08:48:27
---
Lynne Hollingsworth
It almost seems that there are two images here - the image with the wall and cactus alone, and then the mission bells. I like an anchor to my images as well so I can understand you keeping the cactus and wall in the image. I do think the wall gives the eye a hard stop. If the cactus has been taller and reached the top of the wall I think it would have brought the eye up and over the wall to the tower bells. &nbsp Posted: 08/10/2019 17:30:59
---
Please log in to post a comment