Ian Chantler
---
November 2020 - Tailspin
About the Image(s)
I have delved into the archives for this one, an image I have been thinking of seeing how this image looked in mono for a while so the groups thoughts as always would be appreciated.
The image was taken at the Southport Airshow 2016,the aircraft is one of a 4 plane aerobatic team called The Blades one of the finest civilian aerobatic teams in the world 3 of the 4 pilots are ex Red Arrow pilots the other is an International aerobatic instructor the aircraft they use are German built Extra EA 300L specifically built for aerobatics.
The aircraft is captured in a tailspin were the pilot climbs very steeply holds it on its tail using the rudder stalls the engine then lets he plane drop on its tail a very very difficult manouevre the plane is captured falling backwards through the smoke it created on the way up.


How I did it

Camera Canon EOS 70D lens EF100-400mm f/4.5-5.6L IS USM settings f9 ISO 500 at 1/800s RAW image converted in photoshop converted to mono using a gradient map image cropped sharpened using a high pass filter a little dodging and burning and a 2px border added.

---
This round's discussion is now closed!
6 comments posted
---
---
---
Michael Nath
Very well done Ian. Everything important is sharp and the composition fits the action that is occurring in front of the audience. &nbsp Posted: 11/06/2020 12:02:27
---
---
---
Ella Schreiber
Hi Ian: Just a great shot! I like your composition very much. There seems to be a bit of noise in the clouds and some of those dreaded sharpening halos. Other than that a great image! &nbsp Posted: 11/12/2020 05:55:45
---
---
---
Ed Ries
Hello Ian. Eye catching perspective and dramatic against the clouds. Sharp image. I wonder how a little circular motion blur would work. &nbsp Posted: 11/12/2020 14:13:39
---
---
---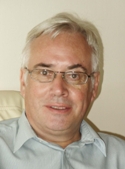 John Gilkerson
Something a bit different which is always welcome.
Very well caught and framed.
Well processed. &nbsp Posted: 11/14/2020 02:44:25
---
---
---
Peter Clark
Ian - well captured with a complimentary sky as the backdrop. Well lit and processed although I too noted the sharpening halos around the entire aircraft! &nbsp Posted: 11/14/2020 03:21:04
---
---
---
Paul Roth
Well captured Ian. As mentioned above the halos are a little distracting, but can be fixed! &nbsp Posted: 11/16/2020 18:18:08
---
---
---