Ed Ries
---
May 2020 - The Old and the New
About the Image(s)
Technical: Canon EOS 1Ds Mark III, 24-70mm lens set at 35mm.Three exposures combined by HDR in Photomatrix 6.02. Color HDR was processed using several CE Pro filters, then converted in NIK . The B&W was further processed with a red filter , with burning and dodging added. Sharpened by a high pass filter after size reduction and conversion from a tiff to Jpeg. Subject is the remains of stone church I found in Ireland. I thought the lighting was interesting as well as the contrast between the modern jet contrail and ancient church.
---
This round's discussion is now closed!
9 comments posted
Peter Clark
Hi Ed - a strong composition with the paving stones leading the eye to the building within the arch. Photomatix has handled the contrast range well and your processing has worked out fine. However I feel that the image is a little on the light side overall and the shadow areas a little flat.
I took the liberty of further adjusting the image on a series of masked curves - rough edit below ....
&nbsp
Posted: 05/08/2020 04:33:44
---
Paul Roth
I rather like Peters's modifications. In addition, perhaps cropping off part of the image at the bottom, just were the shadow cuts the edge of the image. &nbsp Posted: 05/08/2020 15:40:23
---
Ed Ries
Peter, I like your suggestions. I need to learn how to use masked curves.

Paul, I think the crop you suggested works better. Thanks &nbsp Posted: 05/08/2020 15:59:57
---
Ella Schreiber
HI Ed... I like your composition as it is! I was in Ireland last June and visited this very same church... to my eye, it looked exactly as you composed and captured it. Nice job! &nbsp Posted: 05/09/2020 11:06:39
---
Peter Clark
"I need to learn how to use masked curves"

Ed - When you apply any form of Adjustment Layer to an image you will have noticed that it is accompanied by a white rectangle - this is the mask. By default it is white which equals transparency and any adjustment is applied globally to the image. If you activate the mask by clicking on it and paint on the image in black the adjustment is masked out in the painted areas i.e. the image in the masked (black) area is shielded from whatever adjustment that has been applied. The opacity of the mask may be varied by using the brush at reduced opacity in different areas and if on second thoughts you want to remove or reduce the degree of masking in certain areas paint on the mask in white at 100% opacity to remove the masking in that area completely or at a reduced opacity to reduce the degree of masking in that area. When the mask is active the Properties box shows a slider which can be used to adjust the opacity of the mask overall.

Conversely you can make an adjustment looking at a specific area of the image (the whole image will of course be affected) and then fill the mask with black (Edit > Fill > Black) to mask out the adjustment. Then paint on the image in white to restore the adjustment in the specific area(s) either at 100% or at reduced opacity.

A mask can also be added to an image layer such as a Nik adjustment applied on a separate layer (Nik Settings > After clicking OK apply the filtered effect to a separate layer) by clicking on the Add a Vector Mask icon at the bottom of the layers palette (to the right of fx). The effect of the Nik adjustment can then be masked as required.
&nbsp Posted: 05/10/2020 13:37:55
Ed Ries
Peter thank for the information you provided. I'll add that to my bag of tools. &nbsp Posted: 05/10/2020 15:37:48
---
Ian Chantler
Hi Ed
Great composition great textures in the building and a really strong lead in line,like Peter I thought it was just a little bright and like the edit Peter had made.Well done great image. &nbsp Posted: 05/10/2020 14:57:13
---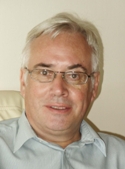 John Gilkerson
An interesting subject and largely well photographed.
I particularly like the wall shape contrasting with and framed by the arch.

Your image reminds me of a church in Yorkshire which I photographed many years ago. Perhaps I shall have a look at those images! &nbsp Posted: 05/11/2020 04:07:02
---
Michael Nath
Personally I like your composition as is. Unlike the others, I follow the image from the top and work my way to the bottom. I'm drawn by the texture of the stonework. A possible improvement might be to darken the arches some so that they are more pronounced. I did just the arch farthest from the camera using a rough selection (not very precise) and think that a false shadow of the arch in front could accentuate the arches a bit. Just a suggestion. &nbsp
Posted: 05/17/2020 20:26:45
---