Peter Clark, APSA, GMPSA, EFIAP/p, FRPS
---
March 2020 - Reynisfjara Black Sand Beach, Vik, South Iceland
About the Image(s)
An image from February 2016 of the black sand beach at Reynisfjara, South Iceland which is dominated by a large volcanic plug with the iconic Vik sea stacks on the horizon. Vik itself is on the other side of the headland and the beach there is the more usual location for photographing the sea stacks.

Captured on a Panasonic Lumix GX8 with the Lumix 12-35mm f2.8 lens set at 28mm (35mm equivalent 56mm), f8, 1/1000 sec, ISO 400.

Initially processed in colour in CS6 on two CEP 4 Detail Extractor and Pro Contrast layers (masked where necessary) followed by further adjustments on a series of Curves layers masked and unmasked. A masked Vibrance layer was applied to the sky to boost the saturation a little.

Converted to monochrome in SEP 2 and a little more contrast added with Pro Contrast combined with a Curves layer. Some granularity in the sky was minimised by the application of a couple of masked blur layers. As usual this jpeg was sharpened using the High Pass filter in Soft Light mode and sharpening halos removed where necessary.
---
8 comments posted
Michael Nath
There are several aspects of this image that I like. The curving leading line of the beach draws my view from the beach in the foreground to the far sea stacks. The detail (texture) of the near sea stack along with the sharp focus of the surf and spray is impressive and allows me to survey the entire scene in detail. Excellent work. &nbsp Posted: 03/01/2020 14:09:06
---
Ella Schreiber
HI Peter: Very nice image...My only comment is the sky on the right hand side appears noisy … maybe my glasses. There should not be noise with ISO 400... Reading your comments about granularity in the sky caused by mask layers explains what happened. &nbsp Posted: 03/04/2020 14:39:46
Peter Clark
Hi Ella - your comment re. 'noise' is spot on and it has appeared in a few images of late to the extent that I have revisited this image to ascertain the source. I don't think it is noise as Nik Define has virtually no effect on it, rather I have confirmed in the original colour version that the granularity is induced by the over zealous use of Nik CEP 4 Tonal Contrast and Detail Extractor (nowadays I would generally use Pro Contrast). That granularity was of course transferred to the mono conversion and enhanced a little by further contrast adjustment in Pro Contrast leading to the need to apply masked blur layers to minimize the effect as Define did nothing. I tend to process skies aggressively for impact, but clearly go over the top on occasions! Thank you for your observations. &nbsp Posted: 03/05/2020 06:37:58
---
Paul Roth
Your composition Peter is up to your high standards! I do agree that the image does have in my opinion a lot of noise. It may not apply to your image, however, I have found that when there is a lot of mist, fog etc, when you sharpen it tends to get noisy. &nbsp Posted: 03/08/2020 00:08:52
---
Ed Ries
Peter, Nice image as always. The composition leads my eye nicely all around the image back to the staring point, the foreground rock. Nice detail in the water and in the water streaks upon the sand. Just curious, in the lower left there appears to be a twig or similar object exiting from the sand. I might have tried to remove it to avoid it being interpreted as a defect. &nbsp Posted: 03/09/2020 13:07:31
Peter Clark
Ed - it's a bird! I thought about removing it, but decided to let it be. &nbsp Posted: 03/09/2020 14:06:16
---
Ian Chantler
Hi peter
As always composition is absolutely spot on I actually think the granularity adds atmosphere to the sky in the context of this mage and I like it for me a very very powerful image.
&nbsp Posted: 03/10/2020 15:44:39
---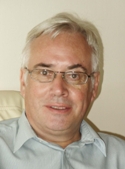 John Gilkerson
Peter, another super image.
The noise is a bit obtrusive.
The discussion of the noise is interesting. I have suffered from this myself, resulting in my not using an image.
The composition is good and it is good that the foregroung rock does not break the horizon.
Great stuff! &nbsp Posted: 03/11/2020 14:48:09
---
Please log in to post a comment