John Gilkerson, MPSA
---
January 2020 - Station Roof
About the Image(s)
This is part of the roof of Glasgow Central Station from hotel room window.

Quite an old image, but I am really struggling this month!

Made October 31st 2004
Minolta Dimage S404 4mb compact. 27.3mm 1/45 f8

Tonal Contrast applied in Color Efex Pro.
Converted to mono in Silver Efex Pro.
Tidied up with Dfine2.
---
This round's discussion is now closed!
6 comments posted
Peter Clark
John - an interesting pattern image made by the stairway running diagonally across. Maybe a touch more contrast would be beneficial. &nbsp Posted: 01/09/2020 05:10:12
---
Ian Chantler
Hi John
This image proves you have had that amazing observers eye for a long long time I agree with Peter maybe a touch more contrast and just brighten it slightly I might even crop it up from the bottom to the second dark line fantastic patterns diagonal works a treat and the steps break up the pattern and add a focal point and so much interest keep those eyes peeled John so love your take on photography. &nbsp Posted: 01/09/2020 15:52:36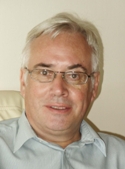 John Gilkerson
I have always had trouble with cropping this image.
Diagonal lines often give me this problem.
I shall try a few different crops to see what happens. &nbsp Posted: 01/10/2020 15:46:08
---
Ed Ries
The contrasting repeating patters( the stairs vs the panels) makes this image very appealing. With the panel composition on the diagonal the image does not seem static but rather dynamic. I enjoy the image. Well done. &nbsp Posted: 01/10/2020 15:41:09
---
Ella Schreiber
Hi John: I like the interesting patterns and textures of your image. To my eye, your image appears a bit flat and think a bit more contrast might work. &nbsp Posted: 01/11/2020 22:27:45
---
Paul Roth
An interesting image John. As Peter pointed out, it would benefit with more contrast. &nbsp Posted: 01/18/2020 16:49:35
---