John Gilkerson, MPSA
---
December 2019 - Charlies Garden
About the Image(s)
I have produced very little recently which works in monochrome.
This offering is perhaps the best I can find.

This lump of rock was once much larger but in common with the cliff erosion in the area it has been considerably reduced.
the rocks lying around the base were most likely once part of the rock column.
Many years ago a chap called Charlie Dockwray cultivated a grden on the top of the rock and produced vegetables there.
Hence the name Charlies' Garden.

Image made September 20th at Old Hartley.
Sony HX90V 24-720mm equivalent zoom ISO80 1/200 f8. actual focal length 16.5mm
Converted to mono in SEP using the High Structure Smooth preset as a starting point.
Brightness raised.
---
This round's discussion is now closed!
5 comments posted
Paul Roth
A very nice photo John. I believe with a little work on the clouds, and the seagull would benefit the image. &nbsp Posted: 12/05/2019 09:49:57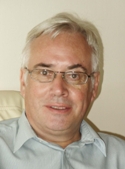 John Gilkerson
Agreed! &nbsp Posted: 12/22/2019 05:11:21
---
Ed Ries
Hello John. I would agree with Paul. A stronger sky would emphasize the bird. I thought about cropping but then you might lose the effect of scale which I think you may have been after. &nbsp Posted: 12/22/2019 14:47:55
---
Ella Schreiber
Hi John: I think the bird sitting on the rock, gives both interest and perspective to your composition. If this were my image, I might consider replacing the sky totally... OR...try to bring out some of the detail in the sky with a curves adjustment.. the light on the top of the rock appears a bit "hot" to my eye and would tone that down a bit and try to increase the seagull's presence a bit. The image appears sharp to my eye. &nbsp Posted: 12/22/2019 16:57:42
---
Ian Chantler
Hi John
Great texture and detail in the rock the seagull gives a fantastic pointer to scale the horizon lower third perfect I might try a little more contrast but a good image which suits mono.
Very best wishes for Christmas and a peaceful New Year
&nbsp Posted: 12/23/2019 14:32:58
---