Ed Ries
---
August 2019 - The Long Road
About the Image(s)
Hello John. I hope this finds you well. My image was made somewhere in the east mid Atlantic states during a photo trip. Probably West Virginia or there about. I trend to like images that have mystery or that allow the viewer to imagine. Photographed with my Canon EOS 1Ds mark lll, 24mm ; 1/125; f22; Iso 200. Converted to B&W wit Nik. Dodging and burning as needed. Sharpened with a high bypass filter. I liked the power of the leading line line of the road contrasted to the negative space of the field. the dramatic sky seemed to add to the drama of the image.
I call the image he Long Road Home. there was an author, perhaps Thomas Hardy, who wrote youth can never go home again", referring to the desire that many have to return to the time of their youth. A time that can never be recaptured.

---
This round's discussion is now closed!
8 comments posted
Peter Clark
Ed - your image certainly has a strong leading line, but it does not lead the eye to a point of interest - IMO the trees are not strong enough to be a focal point which is basically what the image lacks.I would imagine a vehicle/person on the road in the far distance to add a focal point and boost interest.
I feel that the sky has not been processed sympathetically and wonder if a 16x9 crop would improve the image by reducing the amount of sky.
I attempted to make a few adjustments to the image, but there is something strange going on - there is a blue line vertically down the LHS and applying a curve shows no histogram in the dialogue and NIK is not available - very weird. Solved the last 2 issues by converting the image profile to sRGB (which it should be) from Dot Gain 20% and now the application of Nik CEP 4 Detail Extractor improves the sky, but the blue line remains .... &nbsp
Posted: 08/14/2019 06:08:06
---
Ed Ries
Thank you Peter.I tend to like leading lines that lead off to an undetermined location as a vehicle for creating mystery. However, your point is well taken, they should lead to some point of interest as they do in your image for this month.as do those in your. Photoshop imposes an wanted blue line as a consequence of some key stroke I make. To eliminate it I need to select the View drop down menu and select "eliminate extras" It then goes away. I do not understand why I cause this line to appear. I don't know what it is supposed to represent. thanks for your comments. &nbsp Posted: 08/14/2019 15:50:44
---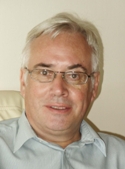 John Gilkerson
Ed, for myself the road does lead to a point of interest which is the mystery of just what is over the horizon.
The lines created by Photoshop are unfortunate.
Personally I do not use Photoshop! &nbsp Posted: 08/15/2019 02:50:20
---
Ella Schreiber
Hi Ed: I like your image... Dramatic clouds.. nice leading line. If this were my image, I might consider dodging the trees at the end of the road selectively to bring a bit more attention that way. &nbsp Posted: 08/15/2019 10:08:26
---
Rashid Galiev
Hi, Ed!

In all such images, where there is a strong guide line, I want to see something to which this line leads the viewer's eye. In your image the line is very dynamic and takes all my attention. Line leads away to the left corner, where there is nothing. I fantasize and see how a cart harnessed by horses moves from me or to me along this road. Or a group of people who are heading for haymaking.
&nbsp Posted: 08/19/2019 03:50:46
---
Paul Roth
Hi Ed, I feel I have to agree with Peter on this one. I do like the crop with the 9x16 format. It would be a plus if you had a stronger focal point. You did a masterful job on the clouds, however. &nbsp Posted: 08/19/2019 18:02:34
---
Ian Chantler
Hi Ed
We all have our own styles and favourite types of shots and I can so see from your write uo your thoughts when you came across this scene and applaud you for taking an image that not only pleases you,sits with your style of photography but above all pleases you,as you and others in the group have said it is a very strong lead in and quite an unusual one but for me an effective one in my eye the vast amount of sky does take away from the maim point of the picture and which is the road and the tale that it tells so I have made quite a severe crop to it yes its a powerful sky but hopefully what remains of the sky I hope gives the viewer an idea of the conditions on the day but does now not overpower the main subject of the image. &nbsp
Posted: 08/20/2019 17:28:38
---
Ed Ries
Thank you Ian. I like your crop. Will try that. &nbsp Posted: 08/21/2019 12:46:01
---