Ian Chantler
---
August 2019 - Sarah
Original
About the Image(s)
The 21st of July saw me travelling over to Leeds to cover the Vamos Festival, Vamos was 9 hours of South American live Music,dance culture and food I found out abut the Festival earlier this year when I did a photo shoot with Ana and Barbara from the Chilean group Mestissa they put me in contact with the organisers who said they already had photographers in place but would be delighted if I came and freelanced and let them see my work afterwards Vamos was 9 hours of fantastic Latin music wall to wall happy smiley fun people and some of the best Salsa dancers in the large crowd I had ever seen in my life I got some amazing pictures of the musicians and the salsa dancers in the crowd but I never miss the opportunity of trying to get some portrait images if the chance arises and a couple of people kindly posed for me this lady is Sara I do love the colour image I have attached a thumbnail but for me it also works in mono and the groups thoughts as always would be appreciated.
As a side note one of my crowd shots from the event is in group 4.

How I did it
Camera Canon FOS 5D Mk III lens Canon EF24-105mm f/4L IS USM f5.6,ISO 250 1/80s fovcal length 65mm RAW file adjusted in Photoshop for contrast highlights and shadows converted to mono using a gradient map on an adjustment layer sharpened using a high pass filter and a 2 px stroke added.
---
This round's discussion is now closed!
11 comments posted
Valerie Pohio

(Group 79)
Beautiful portrait! Lots of tonal contrast and has come up stunningly in black and white! Great image and great edit! &nbsp Posted: 08/05/2019 16:48:47
---
Ian Chantler
Hi Valerie
Thank you so much for your kind words which are so much appreciated I had never taken a portrait shot in my life until 3 years ago and so love doing them now if I get the chance at an event like this I use a camera mounted speedlite and the amazing Rogue Flashbender 2 which shapes the flash beautifully in this case the lady was sat in a large black Marquee so I just bounced the flash off the roof and got lucky. &nbsp Posted: 08/05/2019 17:39:24
---
Paul Roth
Ian Chantler
Hi Paul
Many thanks for your edit I was toying with the idea of cropping the hands out and I will probably go with it your advice as always much appreciated. &nbsp Posted: 08/10/2019 14:26:53
---
Peter Clark
Ian - a very competent portrait as usual, super expression and the character of the lady comes through nicely. I think Paul's crop strengthens the image and removes the light coloured bangle which I find a little distracting. In fact I might crop a little bit more to remove the light area lower left (just below the shoulder) or alternatively darken it down. I also wonder if the left hand side of her face is marginally over bright. &nbsp Posted: 08/10/2019 02:53:19
---
Ian Chantler
Hi Peter
As always your obsevations are much appreciated I will crop in slightly on the left side and just tone the bright facial areas slightly.Many thanks. &nbsp Posted: 08/10/2019 14:28:42
---
Ed Ries
Very nice portrait Ian. The conversion is very nice. The cropping helps remove the sense that her right shoulder appears a bit awkward. &nbsp Posted: 08/13/2019 19:08:29
Ed Ries
How did you use the gradient map? &nbsp Posted: 08/14/2019 16:24:48
---
Ella Schreiber
HI Ian: Great portrait! I love both versions. &nbsp Posted: 08/14/2019 20:06:24
---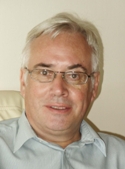 John Gilkerson
Ian, yet another superb portrait!
This is a genre which you have certainly mastered. &nbsp Posted: 08/15/2019 02:43:38
---
Rashid Galiev
Hi, Ian!

Very good portrait. Sensual and emotional. I really liked both the BW and color options. Well done!
&nbsp Posted: 08/19/2019 03:38:57
---