Jessica Manelis
---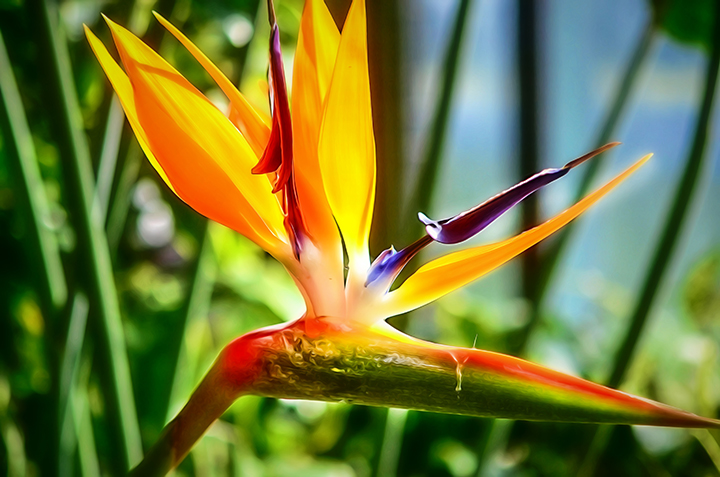 June 2020 - Birds of Paradise
About the Image(s)
I took this at Longwood Gardens just before Covid. I always struggle with getting good shots of this flower. I'm not sure why. They always look nicer in person than in my camera. I shot this hand held with my Nikon D7000 and a macro lens. Post processed in Topaz.
---
This round's discussion is now closed!
7 comments posted
Robert Schleif
You got great color and more detail than I would have expected from a hand held macro. I'd like this more if there weren't the greens in one half of the background and blues in the other half, and if the background had been more blurred. &nbsp Posted: 06/04/2020 13:40:38
---
Dorinda Wills
I agree the background needs to be de emphasized by reducing the saturation and/or blurring. I wonder if it might have been better to take a portion of the flower rather than the entire flower for a more abstract look. Just a couple of suggestions. My versions are pixelated because of the size of the original, but you should get the idea.
&nbsp
Posted: 06/04/2020 17:03:19
---
---
Jon Joyce
Lovely beautiful colors and contrasts here -- enough, in my view to not pose a distraction to the main subject. Nice and sharp too! &nbsp Posted: 06/05/2020 15:16:54
---
Tom Carnahan
Beautiful photo with briliant colors, sharp detail and a blurred backgrouhg. The close in shots of part of the bloom are good ideas and going the other way with a verticle format, includ all of the bloom, plus giving slightly more space around the top and sices would be another option . Good eye and keep shooting flowers like this months. &nbsp Posted: 06/06/2020 06:28:44
---
Judy Merson
Nice sharp image beautiful colors I agree with Cropping in I prefer Dorinda's second crop I would select the flower and blur the background even more &nbsp Posted: 06/06/2020 14:58:22
---
Leonid Shectman
Nice picture, agree with Dorinda &nbsp Posted: 06/07/2020 13:58:11
---