Kathleen Townsend
---
November 2020 - Beach Master
About the Image(s)
I took it in June2020 from the 17th floor of a hotel balcony. I created it with my Nikon 3400 I used My 18-135 mm zoom and the settings were F7.1 at 1/1600s ISO 400
I cropped it in photo shop and brought up the contrast.

I noticed the Pelicans were cruising by the hotel and going down the beach and returning with regularity.
I wanted to see if I could record their flight as they flew level with my lofty perch, (at 238ft)
So I positioned my self on the balcony to try and catch them and was lucky enough to get one with the bird in focus. I did not notice the sunbathers till later.
---
This round's discussion is now closed!
6 comments posted
---
---
---
Karen Harris
Judy Burr
Karen, I would love to know how you did that move! I am guessing you selected it and moved it, but I have trouble doing that. It does make a a more interesting image.
&nbsp Posted: 11/16/2020 15:39:53
---
---
---
Kathleen Townsend
Thanks for fixing my photo.... I agree but did not have the expertise to do that! &nbsp Posted: 11/12/2020 16:05:44
---
---
---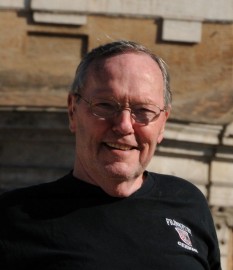 Bill Foy
I think your image has nice coloring and clarity, but the composition could be better. I like the idea of this image but I have to agree with Karen that there's too much space between the bird and the people. I like the way Karen changed a "fly by" to a "fly over". &nbsp Posted: 11/14/2020 14:17:02
---
---
---
Stephan Debelle
Fun and difficult shot to get the focus spot on. Composing on a flying bird is no small task, I think the people add to the story - I would try to crop the empty space on top and the change from Karen works well for me too. nicely done! &nbsp Posted: 11/15/2020 22:49:34
---
---
---
Judy Burr
I also love pelicans and you got a good shot. I think it would be better if you just had the pelican or do what Karen did--easier said than done for me! It makes me want to go through my pelican pictures form FL in Feb. --that will be our only trip this year! :-( &nbsp Posted: 11/16/2020 15:42:01
---
---
---