Karen Harris
---
November 2020 - Peek A Boo
About the Image(s)
When I was in Rocky Mountain National Park in September, I was intently photographing a big bull elk when I spotted this young one peeking at me from between the grass blades. It was so sweet and was seemingly unconcerned with my presence.

I hope when we return in late December that there is still some RMNP for us to see as the fires have been so destructive.

I was using my Nikon D750 with a 200-500mm zoom lens at 500. Other info: f6.3, iso 800, 1/500 sec.
---
This round's discussion is now closed!
6 comments posted
---
---
---
Angela Bonner

(Group 81)
What a lovely well spotted shot!! Love the way the youngster is blending into the grass as nature intended. The colours in the grass are lovely. &nbsp Posted: 11/10/2020 06:41:18
---
---
---
Bob Legg
A good find Karen. Well exposed, too bad you didn't have enough time to wait for Babe to stick his head above the obstructing grass. D750 and 200-500 work very well together. &nbsp Posted: 11/12/2020 13:44:42
---
---
---
Kathleen Townsend
Good shots are made by a photographer who comes prepared and your lens was just right for such a find...
What a sweety. Those ears are alert. I hope you get another chance to visit that park too. &nbsp Posted: 11/12/2020 16:22:25
---
---
---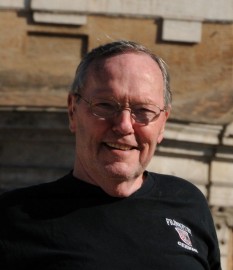 Bill Foy
A little bit of looking around can sometimes big a nice reward, like this image. I think it might be improved with a crop of maybe a 1/3 to 1/2 of the space above the deer. I also pulled it into PS and adjusted the brightness/contrast and shadows/highlights. What do you think? &nbsp
Posted: 11/16/2020 14:50:57
---
---
---
Judy Burr
Karen, Another one of your good catches. I also wish he had lifted his head a bit so catch an eye. I hadn't heard about fires in RMNP--only in CA. &nbsp Posted: 11/16/2020 15:58:58
---
---
---
Stephan Debelle
Beautiful shot from such a distance (by the lens used)! Not sure I would change anything. Seeing the eye more would of course be nice but that is animal photography! Get what you can! &nbsp Posted: 11/16/2020 21:38:38
---
---
---