Stephan Debelle
---
October 2020 - Aquatic Night Portraits
About the Image(s)
Settings: Two UW strobes, Canon 5D MK III - Sigma fisheye, 1/160th, f 6.3 ISO around 100

The idea is to shoot in a pool in dark water, we couch couples through some poses which they have to reproduce underwater. Being just beneath the surface normally allows me to capture a reflection. The processing / process flow is a bit more involved and I am just starting to figure it out. The original image is cleaned up / reframed in LR with some light / color adjustments, then the photo is cleaned up for backscatter (particles) in PS - Finally we apply makeup using Portrait pro, this final image is then processed in PS to add some special effect.

---
7 comments posted
---
---
---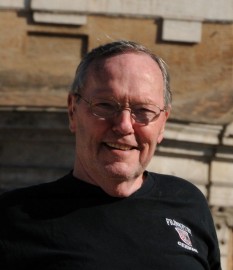 Bill Foy
This is really interesting to me for two reasons - the first being what goes into the making of a Wedding Album in your environment and second, what people are willing to subject themselves to for that album.

Your sharp composition is pretty nice and your colors are very good. The only suggestion I have is to remove the bubbles from the peoples' skin - her neck and legs, under his lower lip - they look unnatural to me. &nbsp Posted: 10/12/2020 13:43:01
---
---
---
Bob Legg
Stephan, what great ideas you come up with all centering around water. Nothing wrong with that idea. I do love the reflections that you captured up behind the couple. I think that the bubbles make it sure the viewers understand this was taken under water. Bill is correct, the bubbles do make it look unnatural, but I would never think that a couple dancing underwater at night could be made to look natural.
Well done Stephan. &nbsp Posted: 10/12/2020 14:55:26
---
---
---
Stephan Debelle
@ Bill and Bob,
Thank you for the positive comments, this is still in concept mode and I have much improvements to make. These sessions are actually difficult for many we have tested with, eyes closed, bubbles coming out of the nose, bad expressions etc..
The workflow to treat the image is quite different as it also involves doing the make up, basically, basic adjustments in LR, particle clean up in PS, makeup in Portrait Pro and then special effects such as the bubbles. We do do deliver "plain photos" meaning no bubbles and also some with added effects.
We started to add some of these on our web site
https://www.boraboraphotovideo.com/portfolio-aquatic-night-photography/
- with the idea to come up with a sun-real look.
We are planning one of these session to take place in Connecticut early May 2021. &nbsp
Posted: 10/12/2020 19:37:02
---
---
---
Kathleen Townsend
Stephan this is my only 2nd round and the deors you have used of your technique is way over my head but aside from that what a Great and challenging concept. Totally unique for couples . The intensity of their gaze was amazing considering they had to keep their eyes open
underwater.The
bubbles to me look like ones you would find on a glass surface.. were they added? &nbsp
Posted: 10/13/2020 16:50:35
Stephan Debelle
Hi Kathleen, Thank you for the feedback - While we do a good amount of Aquatic photography during daylight, doing it at night is new and thus I am still working on the concept. It is actually more than average challenging for the couples (as well as for myself) - Yes the bubbles were added after the fact at post processing, I am playing around with different effects from smoke to bubbles:-). Here is one of the original without any added effects. This couple actually did very well, realizing difficult poses underwater without any bubbles from the nose and with good expressions, they also had fun during the shooting:-) &nbsp
Posted: 10/13/2020 19:01:23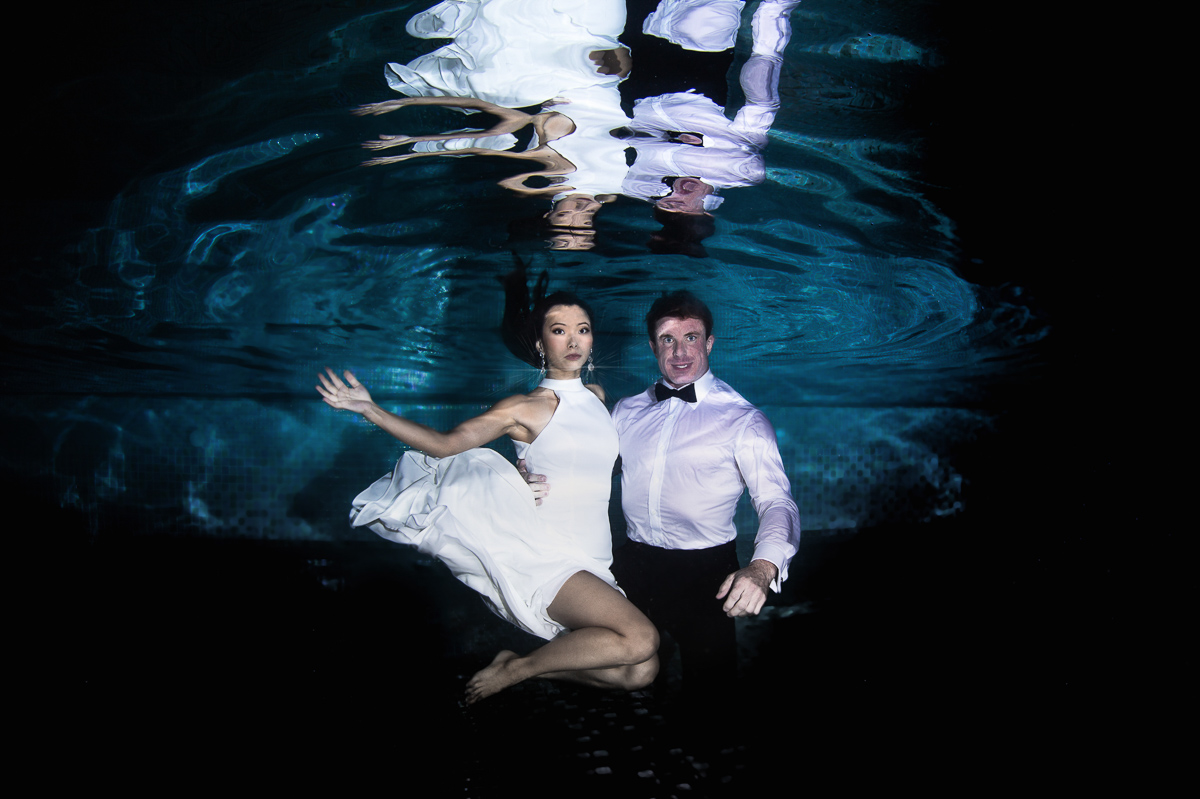 ---
---
---
Karen Harris
This is really cool. I have never done any underwater photography. I know nothing about what makes it work, but I like your results. &nbsp Posted: 10/13/2020 20:36:14
---
---
---
Judy Burr
You certainly do introduce us to a very different type of photography! I would never think to have a portrait taken that way. I love the color and especially the reflection. I would make a separate image just of the reflection. I have mixed feelings about the bubbles but they add something to get the viewer's attention. This is a very nice composition. &nbsp Posted: 10/16/2020 16:16:08
---
---
---
Please log in to post a comment