Judy Burr, APSA, MPSA
---
September 2020 - Man and Dog on a Beach
About the Image(s)
We spent time in Washington state after a bear trip to AK in 2016 so this is in honor of Bob, our faithful leader for so long.

I took in in Olympia NP with my Olympus EM5 Mark II+12-40/2.8 Pro lens at 34mm=68mm. Settings were: ss 1/250, ISO 200, aperture f 10. I processed it in Elements and NIK. I watched the man as he walked to try to catch him in a good spot. I know he is walking out of the picture but I think he was in the middle when we arrived and that would not have worked. It was harder to navigate the park than it was in 1990 or so when we took the kids!
---
8 comments posted
---
---
---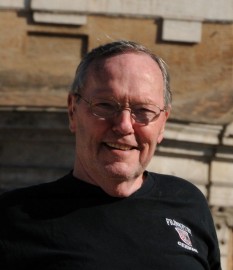 Bill Foy
That's a really nice scene, Judy. I especially like the composition and, I don't think anyone would have known the position of the man if you hadn't mentioned it.
My suggestions would be to lighten the background so we can see the details of the coastline and the trees, and to darken the sky a bit. What do you think? &nbsp
Posted: 09/14/2020 10:51:58
---
---
---
Bob Legg
Nice composition Judy. I think the man and dog are just fine where they are. I do like Bill's editing to open up the shadows and go for the bluer sky. I like the haze coming off the water. I'm not sure what is making the vertical lines against the cliff on the right side of the image. Maybe streams or dead trees, but I think I would use my eraser on them. &nbsp Posted: 09/14/2020 13:06:24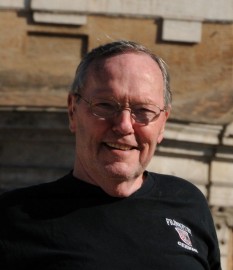 Bill Foy
Bob, I thought those vertical lines were small waterfalls &nbsp Posted: 09/14/2020 13:12:26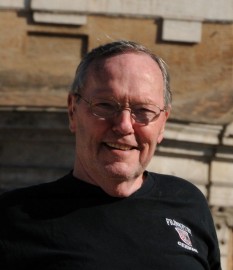 Bill Foy
Judy Burr
Bill and Bob,

Thanks for your helpful comments. I went back to my original and the white lines are bare tree trunks and it looks better without them! I like Bill's version and will go back and work on it some more. It is interesting that we miss things in our own images and notice them quickly in others'. Human nature, I guess. This group has always been a big help to me.

Judy &nbsp Posted: 09/18/2020 12:06:00
---
---
---
Bob Legg
I think that improves it Bill. Not sure what Judy thinks, but we'll know if she thought they were necessary. &nbsp Posted: 09/14/2020 21:50:11
---
---
---
Karen Harris
Nice coastal scene. I like the silhouette effect of the man and the dog. &nbsp Posted: 09/18/2020 12:30:31
---
---
---
Stephan Debelle
Nice scene, removing the white poles works. Perhaps the image needs a tad more contrast and may be work on the sky as mentioned. &nbsp Posted: 09/20/2020 20:10:26
---
---
---
Please log in to post a comment