Colleen Price
---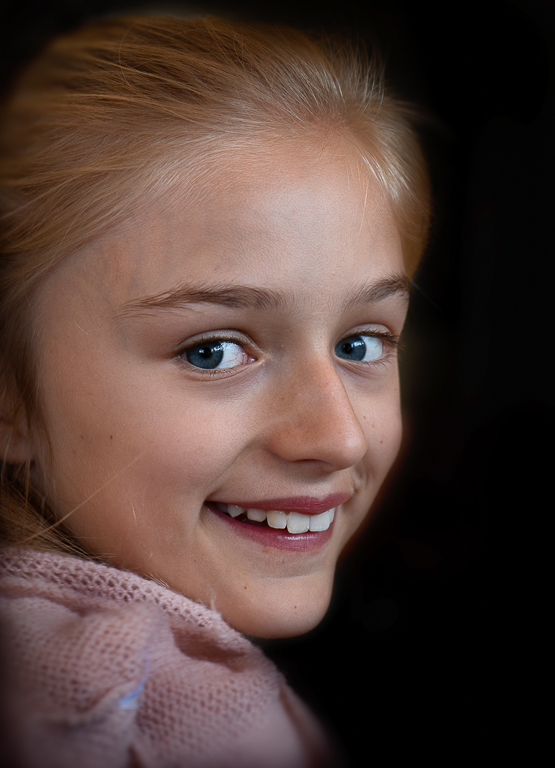 October 2019 - GEMMA
Original
About the Image(s)
I have chosen this photo I took of my grandaughter
Title: Gemma
Reason for choosing this image is that I was lucky enough to see great afternoon light streaming onto Gemma.
I called Gemma's name and as she turned her head I was able to capture her beautiful smile and her eyes.
I did darken background to get rid of distracting objects. To me the image shows her natural features and brings joy to me.

---
This round's discussion is now closed!
10 comments posted
Tom Johnson
Excellent comments about the makers image. Colleen gives the reason why she took this image and the feeling she felt about the time she took it. Since images are sometimes subjective, she adds here: "To me the image....". This should be standard on all our personal images. We should be like photojournalist critiquing our work giving comments like: why, where, how and when. One on my personal photographer friends (has been in many publications)travels the world to see all the solar eclipse (Africa, Ireland, Oregon, USA). He and his wife describes the incredible experience once they view it.
They tell me that they have an incredible "natural high" once they view it. I know that feeling. I stood on mountain tops and have experienced it.
Colleen keeps it simple here. Photography is very simple. I feel if we have to put too much thought into it, maybe we should consider another image.
Great job Colleen on your comments, lighting and composition.
&nbsp Posted: 10/05/2019 21:02:48
Colleen Price
Thanks Tom. I appreciate your detailed comments on my photo &nbsp Posted: 10/20/2019 01:23:37
---
Wanda Krack
What a wonderful portrait of a beautiful young girl. The black background works well, and the colors, model expression and feeling of the image is just delightful. Good job with changing the background! &nbsp Posted: 10/10/2019 03:53:20
Colleen Price
Thanks Wanda. I appreciate your comment. &nbsp Posted: 10/20/2019 01:24:26
---
Deborah Milburn
I think the editing brings out her features. I also thinking changing the background makes the image &nbsp Posted: 10/18/2019 10:24:58
Colleen Price
Thanks Deborah. The background definitely needed changing. I'm still learning how to do this. &nbsp Posted: 10/20/2019 01:25:52
---
Steve Jacobs
Very nice. Darking the background was the right move. The idea of taking the image as she turned and smile makes it feel so natural. I loved the story. &nbsp Posted: 10/19/2019 13:43:35
Colleen Price
Thanks Steve. I was lucky with the light and getting a natural smile. &nbsp Posted: 10/20/2019 01:26:43
---
Sheila Burke-Grey
Freeze that smile & that look! Gr-children grow up too fast! Getting rid of the distractions, was a great idea! Very sweet, Colleen! &nbsp Posted: 10/21/2019 18:47:11
---
Kathy Brand
I like your explanation and I, too, have been inspired by good light streaming in and took a picture which would have been ordinary but for the light became much better. Also like how you darkened background, it really makes the picture. &nbsp Posted: 10/22/2019 10:38:47
---