Wanda Krack
---
October 2019 - Halloween Abstract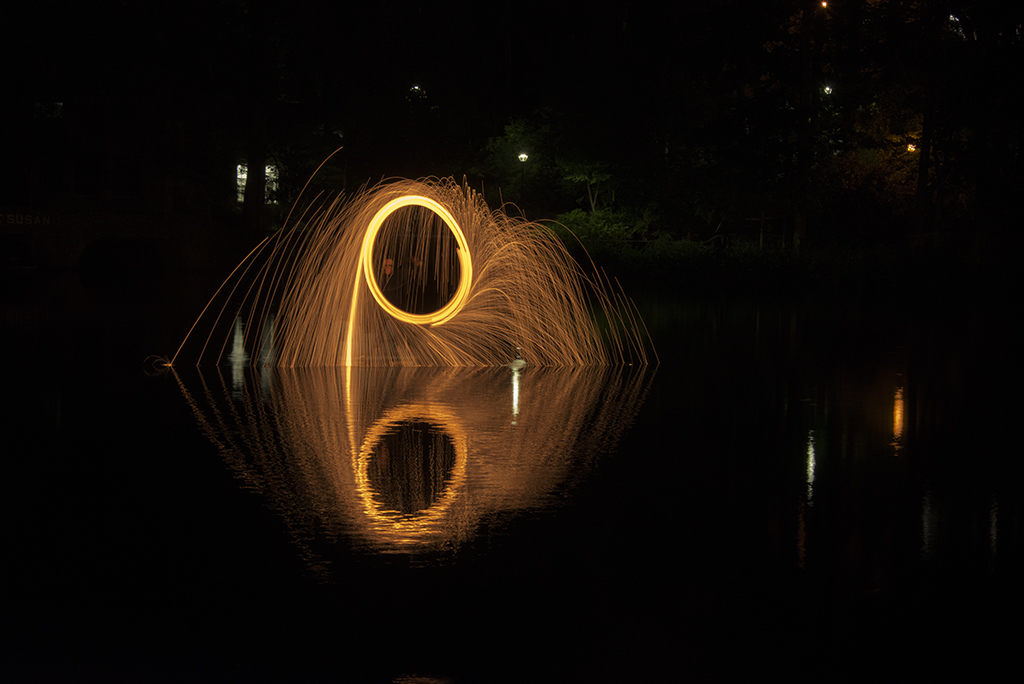 Original
About the Image(s)
I have been doing some experimenting with ps recently, and since I have a family member whose birthday falls on Halloween, I decided to send him a humorous card this year. The shot was taken at night, on a lake, timed exposure of burning steel wool. The reason I choose this image is because this is halloween month, and I am not usually much of an 'experimenter', so any time I do venture into the 'not natural', I can use the critique!

Camera settings: f-11, 1.5 sec., ISO 900, center weighted metering, auto WB at 68mm, on tripod.

A few adjustments in CR of exposure and noise removal, and in PS, cropped, rotated, cloned lights and extended the white line, duplicated layer, selected the corner with the trees, got it in place and burned the lights a little on the reflection side. Flattened and resized.
---
This round's discussion is now closed!
12 comments posted
Deborah Milburn
I like this image. I also like the experiment to get it. I have heard of the burning steel wool before. Good Job! &nbsp Posted: 10/18/2019 10:21:13
Wanda Krack
Thank you Deborah! &nbsp Posted: 10/24/2019 12:36:44
---
Steve Jacobs
Very good. I have tried the steel wool and it is not easy. Great image for October and Halloween. &nbsp Posted: 10/19/2019 13:53:03
Wanda Krack
Thanks Steve. I have found that just taking a long exposure with a tripod works well. Sometimes the light is a little bright, but that can be controlled, and sometimes must be changed in pp. Each situation I have shot the burning steel wool has had different amounts of ambient light. These can be shot in the front yard too! &nbsp Posted: 10/24/2019 12:42:11
---
Colleen Price
I love that you rotated the image to get the composition you wanted. Well done. &nbsp Posted: 10/20/2019 01:34:50
Wanda Krack
Thank you Colleen. I occ. change things up a bit, and have fun doing it. &nbsp Posted: 10/24/2019 12:40:00
---
Sheila Burke-Grey
Well done, Wanda..you achieved an eeriness to this image!
Great creativity! &nbsp Posted: 10/20/2019 18:42:55
Wanda Krack
Just for the 'spooky' month Shelia. Thanks. &nbsp Posted: 10/24/2019 12:39:08
---
Tom Johnson
Very Creative Wanda. I think you submit this image for the PSA's creative competition. &nbsp Posted: 10/22/2019 07:14:53
Wanda Krack
Thanks Tom. I've never entered a PSA competition, and am not sure I'd be comfortable doing so. Thank you for the compliment tho! &nbsp Posted: 10/24/2019 12:38:33
---
Kathy Brand
I like your creation. I had not heard of burning steel wool for photographic reasons and googled it. There is a wealth of how-to information out there. I will put this idea on my to-do list. &nbsp Posted: 10/22/2019 10:31:37
Wanda Krack
Thanks Kathy. I have been a part of three or four times shooting a burning steel wool, so I can tell you that it is easy to do. &nbsp Posted: 10/24/2019 12:37:54
---