Wanda Krack
---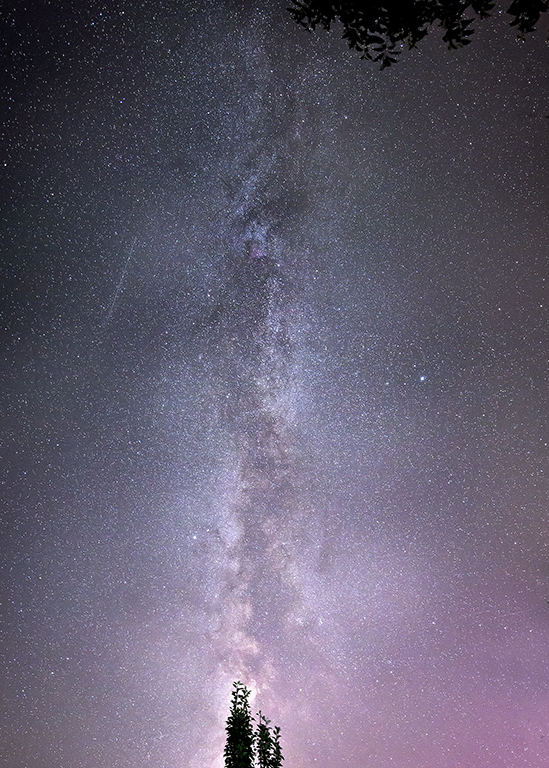 August 2019 - Milky Way Across the Sky
About the Image(s)
Milky Way Across the Sky
I think of August as being the milky way month because the time of night that this heavenly body is rising in the SW sky. It's not in the middle of the night, rather shortly after dark. This shot was captured in June, more towards the middle of the night, and is two combined, using PS. Our bi-monthly contest in the local camera club was for combined images, and this was one of my entries.

Settings: f 2.8
Speed 20 seconds
ISO 2500
17mm focal length
manual exposure, on a tripod, mirror up, cable release

I have not found the perfect WB setting for the milky way, so in pp, I usually adjust the WB to be somewhere between 3200 and 4200 K, and sometimes adjust the color balance. These were shot in vertical format. I actually shot three and which included more of the trees on the top side, but ps would only put these two together, so I left off the third. I think it would be improved by my adding a portion of the trees to the top side. What do you think?

---
This round's discussion is now closed!
6 comments posted
Colleen Price
It is a great image and not easy to master. I would like to have seen more of trees in foreground to add more interest. I'm also wondering if a different position, not straight up the centre of the image, may provide a better composition. &nbsp Posted: 08/04/2019 18:29:55
---
Deborah Milburn
I like to shoot milky way also. The combined image is interesting. Good job with a difficult subject. &nbsp Posted: 08/08/2019 12:41:32
---
Sheila Burke-Grey
Wanda, the colors are brilliant! Yes, I agree with you, more trees would add to the photo! &nbsp Posted: 08/17/2019 15:38:20
---
Kathy Brand
You have a good start on perfecting your night photography techniques. I like the trees in the picture and would put more of them in future photos, but not both top and bottom of picture, one or the other. Thank you for all the tech info as this kind of photography is on my list of things to try. &nbsp Posted: 08/18/2019 09:16:42
---
Tom Johnson
Hi Wanda:

I hope your having a great summer. Nice effect and colors of the Milky way. It looks like you captured a falling star also. The only improvement I would make is to tone down the white above the center of the tree. It looks like you have a ghostly halo around the top of the tree. &nbsp Posted: 08/19/2019 19:24:54
---
Steve Jacobs
Wanda Very nice I have not successfully done this. I love the placement of the tree my eye just follows it up. Great image &nbsp Posted: 08/25/2019 10:39:44
---