Brad Ashbrook
---
October 2020 - Ruby Throat Hummingbird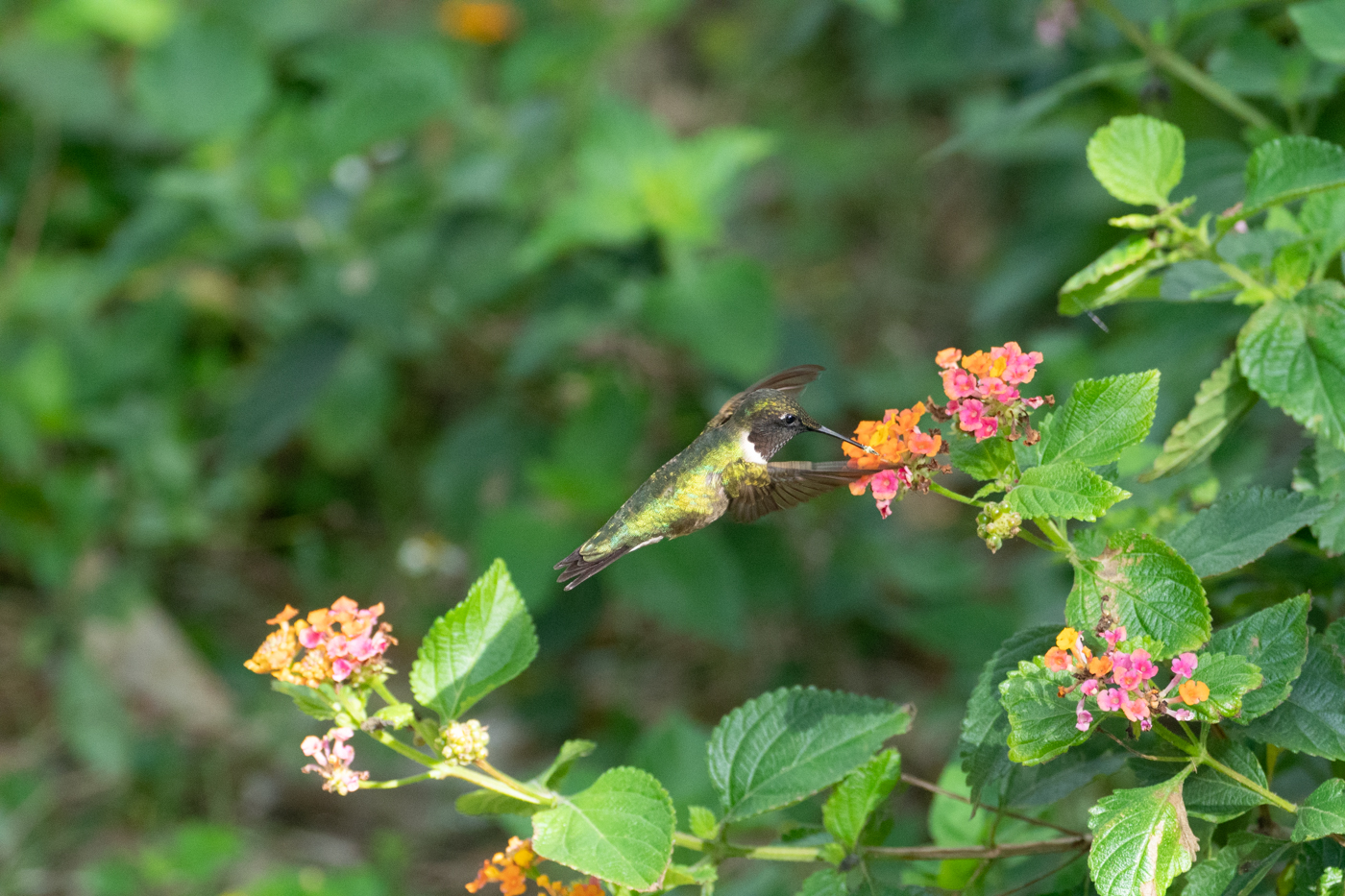 Original
About the Image(s)
While thinning out my large collection of photos, I came across this photo from April of 2018. Found this little bird while searching for other migrants at Fort Desoto Park in St Petersburg. This is an excellent spot for spring migration. This was shot with a Sony a6500 and 100-400 with a 1.4x teleconverter but only at 259mm. The speed was 1/1250 at ISO 3200, pretty dark area. I am not a fan a frozen wings and set ups, I like them in their natural habitat. Most of the work was done in LR, then opened in PS to crop and remove some extra leaves. I used Nik Color Efex4 for a slight pop and finally Topaz Denoise at a very low setting to remove some noise. There is still a little because I did not want to soften it all.
---
7 comments posted
---
---
---
Jon Allanson
Well done to capture and freeze the wings of the bird in flight. To me you have retained too much in the frame, the leaf at the base and the flowers bottom right both detract from the iridescence of the bird. I also do not like the current trends in creating set ups for photographers, they tend to create a sameness in the images that are taken and usually remove the natural feel for the birds environment. The key thing however is that they almost guarantee success. &nbsp Posted: 10/13/2020 02:22:28
---
---
---
Becca Cambridge
Love the captured wings. Wonder if there is any way to clone out the flowers in the lower right. I feel they are more noticeable in the crop than in the original. Fun shot. &nbsp Posted: 10/14/2020 11:34:33
Brad Ashbrook
Always possible with PS, lol. Do you prefer the crop or the original? &nbsp Posted: 10/14/2020 13:02:29
Becca Cambridge
I like the original crop as I find half the flower, well, annoying and distracting. Giggle. "There are some things money can't buy. For everything else there's (PS)."
The original has a visual triangle from the tip of the hummingbird's tail feathers, to the to top middle lantana and then to the bottom lower right lantana.
Then, again, since we appear to be in a "flipping" mode, what about this...? &nbsp
Posted: 10/14/2020 18:25:24
---
---
---
Jan van Leijenhorst
The bird is well captures, sharp with the wings frozen. I find that the flowers in the lower right distract from the main subject, the bird. I suggest cropping those out, or alternatively, place a gradient in that corner to darken those flowers. &nbsp Posted: 10/20/2020 12:38:17
---
---
---
Lauren Heerschap
I almost submitted a hummingbird too - it went to my other group #79. I like the flip from Becca! Cropping in is what my other group told me to do too. I think that too much zooming in doesn't give the perspective of the size of these little ones. &nbsp Posted: 10/20/2020 15:11:10
---
---
---
Please log in to post a comment