Becca Cambridge
---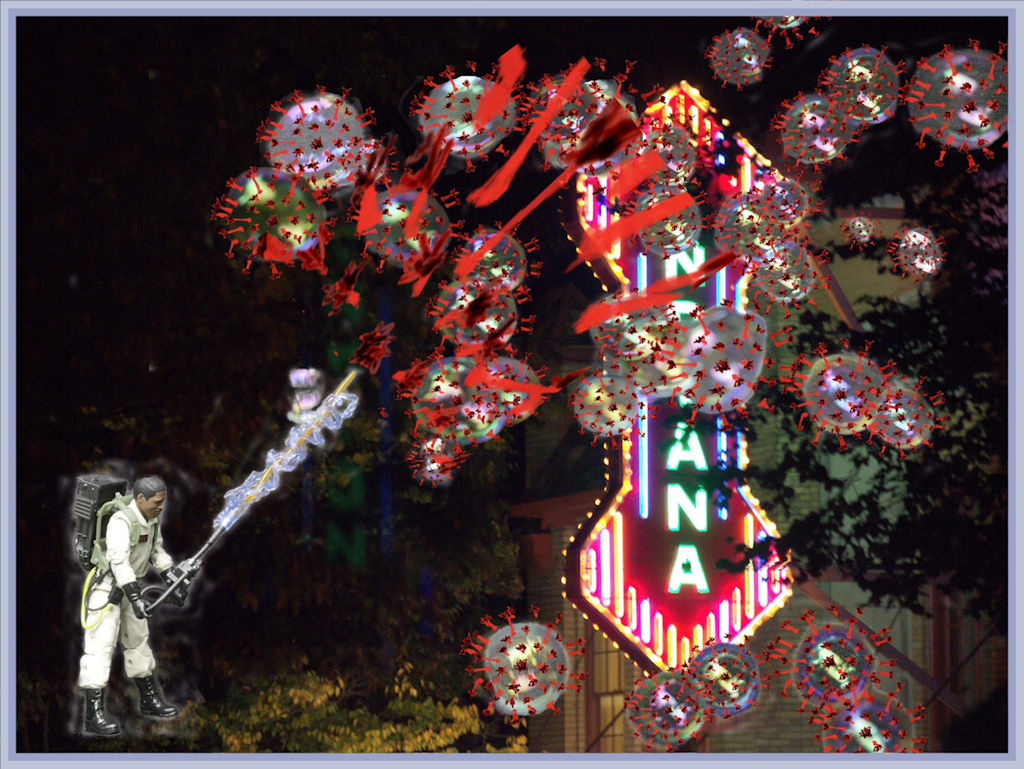 October 2020 - Covid Buster
About the Image(s)
It gave me great pleasure to be a Covid Buster. While not the best photo, I enjoyed using the perspective tool to shatter that Covid bubble. I did have to use a thread to help aim the Covid Buster into their cluster. I wued a bubble machine to get the Covid spheres and layered in the spikes.
Again, this was not for any quality photography but rather to lift spirits. That said, I would enjoy learning how others use selection tools, editing away sharp cut out lines and merging into a softer gentler plane. Drove me nuts. Tried three different post processing programs and was not really satisfied with them.
For fun, I am sending three others. Please note both super heros are wearing masks. Take 2 is the boundary of university and town where students merge with local citizens.
Next month is anything specifically October with bonus points for levitating Halloween objects.
---
9 comments posted
---
---
---
Jon Allanson
Your club appears to have been setting you a number of interesting projects/challenges. I like your concept of the covid buster, and I can appreciate the struggles you had an achieving your final image. I feel that your positioning of the buster and the viral spheres again the dark back ground is very good, however I think that the vertical sign is far too bright and draws attention away from the buster. The buster really needs better cutting out, this would remove the halo around him and anchor him to the ground. You would need to go to view at 300-500% to get do this very accurately. &nbsp Posted: 10/03/2020 06:16:15
Becca Cambridge
As always, you're the best. Thank you for your suggestions. &nbsp Posted: 10/03/2020 10:23:44
Becca Cambridge
Jon Allanson
Thats a great improvement, especially the cutting out of the buster. &nbsp Posted: 10/05/2020 02:12:06
---
---
---
Renee Schaefer
The halo around the covid buster and the brightness of some of the image is problematic, but a cute idea. &nbsp Posted: 10/03/2020 13:25:40
Becca Cambridge
See redo plz. &nbsp Posted: 10/04/2020 12:49:07
---
---
---
Brad Ashbrook
Fun images and you have received some great comments! These are also great images to practice your PS skills. &nbsp Posted: 10/12/2020 14:20:46
---
---
---
Jan van Leijenhorst
Fun image. What counts here is your "mission": blast that virus and from that point of view your image is a success. No need to go for perfection in such a case. &nbsp Posted: 10/20/2020 12:59:09
---
---
---
Lauren Heerschap
Wow Covid Busters blast away! I really enjoyed this, and admire your patience adding spikes! You could have probably gotten online a photo of Covid cells, but you went for originality! &nbsp Posted: 10/20/2020 15:19:22
---
---
---
Please log in to post a comment