Thorro Jones
---
April 2021 - Great Egret Reflections
Original
About the Image(s)
This image was taken December 28, 2020 along the Lake Houston shoreline. My goal was to capture the egret against the reflection on the water. I used Lightroom "Auto" to adjust the Tone, added an "S" shaped Tone Curve, adjusted the Sharpening amount to 50 and the Masking to 80, used the Adjustment Brush to bring out the details in the egret and cropped the photo slightly to frame the Snowy Egret against the background reflections. Any suggestions to improve this picture are appreciated.
Image data: Nikon D7500 with NIKKOR 18-140 lens at 140mm; 1/320 sec at f5.6, ISO 320, no filters, no tripod.

---
7 comments posted
---
---
---
Jim Horn
Thorro, well done on a stark white subject that is difficult to capture in detail. Your exposure shows the definition of the feathers. I like the separation from the background.
You might want to try cropping 20% off of the left side and a bit from the top. The branch and its reflection point to the right - where the Great Egret is looking. The white of the Egret and reflection keep the interest balanced. The ripples on the water help define the environment. Well done. &nbsp
Posted: 04/01/2021 10:42:21
Thorro Jones
Jim I hated to crop more off the left side and bottom as I would have lost the wonderful autumn colors reflecting on the water in the bottom-left corner of the photo. However, I like your edits as it places more space on the right-hand side of the photo in the direction the egret is looking. &nbsp Posted: 04/05/2021 13:22:43
---
---
---
John Tabaczynski
Thoro, I like the bird, I like the log perch and pose, I like the contrasting background, but I find the BIG Blazing white area at bottom and RH corner just too much. It swamps out the bird which deserves all my attention. The fuzzy branches in the corner do not help me either. So I would take a different approach entirely. The reflection of the bird is nice, but he is seriously amputated by the hot reflection so I am willing to sacrifice. If it were all there I would go after a vertical comp with the white sky reflection cropped out. It is a place to go back to again and again.
Tab &nbsp
Posted: 04/02/2021 10:22:51
Thorro Jones
Tab I see your point. If the photo is truly about the egret and not the reflections, then I would crop even more off the bottom to entirely remove the white area at the bottom. Let me know your thoughts on the updated photo.
Jim what are your thoughts on this updated photo. &nbsp
Posted: 04/05/2021 13:33:55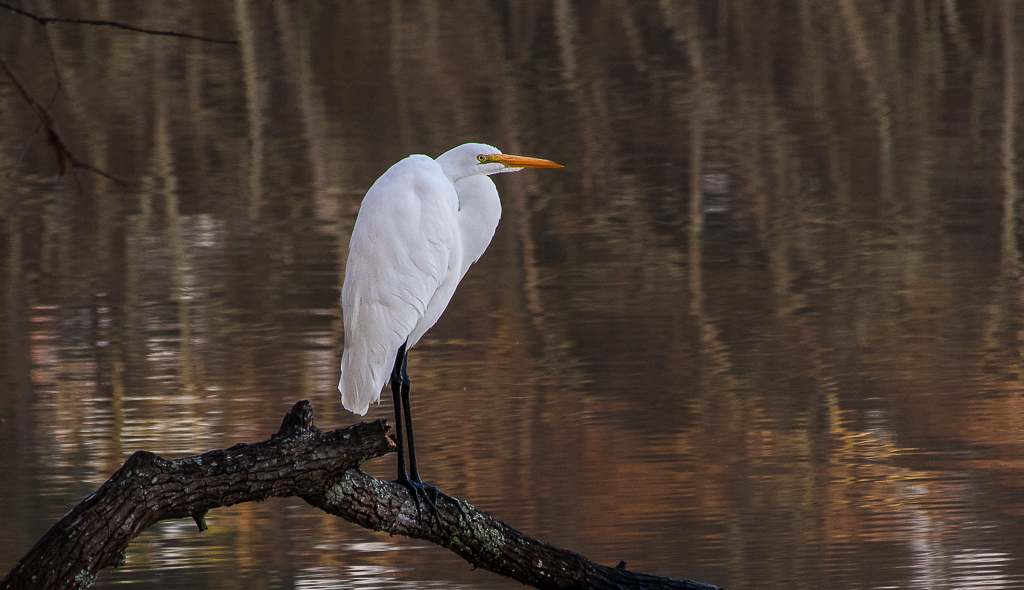 ---
---
---
John Tabaczynski
---
---
---
Albert Zabin
I think John's last crop is my choice The reflection of the perch and the bird takes this photo out of the bird book illustration class and
makes it real art.
&nbsp Posted: 04/13/2021 21:21:37
---
---
---
Sam Fernando
Thoro

Nice photo. Bird's details are fairly sharp. Due to contrasting colors between the background and the bird, the subject is very much in focus. However, the same is not true for the reflection of the bird in the water.

I have the habit of keeping more space on the side that a person/ animal is looking. If this is my photo, I would have cropped bit more on the left side to allow for more space on the right side. In addition, I would have reduced the brightness of the white patch on the bottom right side. &nbsp Posted: 04/18/2021 04:52:35
---
---
---
Please log in to post a comment